The Tacquila bar at Newark-Liberty International Airport. Photo by Benet J. Wilson
Knowing that they have access to captive and more discerning customers, airports across the U.S. have been giving their restaurants and bars major upgrades. Many of them have brought in local outlets of bars or created special concepts to entice travelers. Below are 10 you should consider on your next trip.
1. Tacquila, Newark-Liberty International Airport:
United Airlines and partner OTG Management are in the middle of a major $120 million transformation of Terminal C's beverage, food and retail offerings. One great option is this outpost, which calls itself New Jersey's largest tequila bar, which offers 200 varieties, along with mezcal options. Brands available range from El Jimador to Clase Azul Ultra Anejo, which runs around $1,500 a bottle. Bartenders can also whip up signature cocktails like El Jefe's Margarita made with Clase Azul Anejo, Mandarine Napoleon XO, agave nectar, a splash of Veuve Clicquot and fresh-squeezed lime juice served in a crystal margarita glass rimmed with Amethyst Bamboo Korean sea salt. Find Tacquila near Gates C120-139.
2. One Flew South, Hartsfield-Jackson International Airport:
The restaurant's cocktails were created under the theme "Salute to Aeromarine," which pays homage to Aeromarine Airways, an airline that flew from Miami to Nassau and Havana so wealthy guests could drink legally during the Prohibition era. Travelers can sip on the restaurant's take on classic cocktails including the Georgia Bellini and the Singapore Sling, along with signature drinks like the Jumping Jack Flight, made with Applejack brandy, or the Cab Calloway, a sherry-based cocktail. One Flew South, located in Concourse E, also offers select wines, beers and sake.
A sample of cocktails at Dallas-Fort Worth International Airport's Bleu Mediterranean. Photo courtesy of Bleu Mediterranean
3. Bleu Mediterranean, Dallas-Fort Worth International Airport:
You can eat at the restaurant, with locations at Gates A9 and D36, but the drinks are the star here. Mixologist Chiara Ricci uses fresh ingredients to create custom cocktails including Bite the Bulleit, made with Bulleit bourbon, the Myers rum-based Perfect Wedding and Sun in Sicily, featuring Tanqueray Gin and Limoncello. It also features guilt-free cocktails, craft beers, global wines and premium liquors.
4. Beaudevin, Chicago O'Hare International Airport:
If you're fond of wines, you'll love this bar, located across from the United Airline Polaris Lounge in Terminal 1 next to Gate C17. It offers 30 varieties of world-class wines and champagnes in a surprisingly serene location.
5. Lounge 5280, Denver International Airport:
This cocktail lounge has two great things going for it — great drink selections and a sweet location, on the quiet upper Mezzanine level in the center of Concourse B. The bar features 53 hand-selected wines, high-end liquors, unusual spirits — like Aperol, Lillet Blanc and Tuaca — and Colorado-made craft beers. It also offers Colorado-inspired and sourced cocktails including the Denver Cosmopolitan made with Leopold small-batch vodka, the Mile High Manhattan made with Stranahan's Colorado whiskey and the Rocky Mountain Shandy made with Breckenridge Agave Wheat beer and house-made lemonade.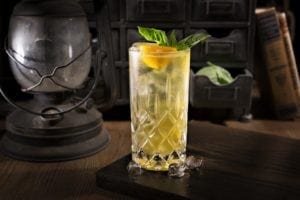 The Peaches and Beam cocktail served at Book & Bourbon. Photo courtesy of HMSHost
6. Book & Bourbon, Louisville International Airport:
If bourbon is your thing, this restaurant in the airport's pre-security upper level is the place for you. Travelers have access to nearly 90 bourbons from the region. Of course, you can get popular drinks like the Manhattan or the Mint Julep, but consider craft cocktails like the Peaches and Beam, made with Jim Beam, peaches, basil and apple. Local craft beers from Lexington Brewing & Distilling Co. and others are also available.
7. Cowboy Ciao, Phoenix Sky Harbor International Airport:
This outpost of a Scottsdale favorite restaurant is known for its Southwest twist on food and beverages. Located in Terminal 4 near Gate B20, the restaurant's bar features beers from the region and the world, craft sodas (used in cocktails) and a good selection of wines by the glass. Bartenders use fresh-squeezed juices, house-made syrups and specialty liquors like the rum-based Mari Tai, the Meat and Potatoes martini featuring potato vodka and deep-fried bacon and Aloha Blues, made with bourbon and blueberries.
8. Sky Azure, Baltimore-Washington International Airport:
Located pre-security on the second level of the observation gallery between Concourses B and C at my hometown airport, I accidentally stumbled on this jewel of a cocktail lounge that has become one of my favorite places to sip an adult beverage. It has a nice beer and wine selection but shines when it comes to it list of hand-crafted cocktails. They make one of the best Caipirhinas I've had outside of Brazil. As a fan of bubbly-based drinks, I also enjoy Sky Azure's La Verdad, made with a blood orange juice and prosecco.
9. Surdyk's Flights Wine Market & Bar, Minneapolis-St. Paul International Airport:
The restaurant is a local favorite that opened as Surdyk's Liquor in 1934. Located in Terminals 1 and 2, it features wines from around the globe available by the glass or in flights of three, along with beers on tap. But you go here for the mix of classic cocktails — a Moscow Mule, an Old Fashioned or a Mojito — and signature drinks, including: the Twin Cities Rendezvous, made with Minnesota's Silver vodka; the DC-3, with Buffalo Trace Bourbon; and First Glass, crafted with Valdoro Prosecco, St. Germain elderflower liqueur and a wild hibiscus flower.
United Airlines Polaris Lounge Mixologist Adam Seger. Photo by Benet J. Wilson
10. United Airlines Polaris Lounge, Chicago O'Hare International Airport:
I know, I know — you need to be flying in United's international premium cabin for access, but having visited the flagship club, I had to include it in this review. Passengers can sit at a cool L-shaped marble bar where they can have a glass of premium wines, beers or their choice of custom craft cocktails curated by mixologist Adam Seger. One to try is the London Spritz, Seger's twist on the Pimm's Cup, a popular British cocktail. Blood orange juice replaces lemonade, and the drink also has Balsam Amaro Americano, a bittersweet liqueur made with rare teas, exotic citrus and spices including vanilla and cinnamon. It's garnished with cucumber zest and mint and served over ice. All of the liquor is of the small-batch variety.