Las Vegas is full of wonder. There are so many interesting things to see and places to visit. I don't normally recommend making major plans when visiting Las Vegas. This is a great city to get lost in. It's easy to go 48 hours in Las Vegas and have a great time without visiting anything that you planned.
There's no equivalent to leaving Las Vegas having been lost in a haze while having the greatest time of your life. I've done it many times and it's fantastic! However, not everyone wants to simply go where Vegas takes them.
Here are a few must visit places in Las Vegas if you've never been here before. These are some of the most iconic attractions you'll find in Las Vegas. You may visit some of these places on every visit and others you may only need to see once.
Visit The "Welcome To Fabulous Las Vegas" Sign
Photo: Thomas Wolf, www.foto-tw.de
There is no more iconic place in Las Vegas than the "Welcome To Fabulous Las Vegas" sign. This is the ultimate location to take pictures to share on Instagram, Facebook, and Snapchat. Once you visit the "Welcome To Fabulous Las Vegas" sign you may only want to visit again for special occasions on future trips. That said, this is a must visit for your first time visiting Las Vegas. Here are some tips for getting to the sign.
Take In Bellagio Fountains
The fountain shows at Bellagio are a very close second on Las Vegas iconography. The fountain show is set in front of the Bellagio casino and beautiful lights right in the center of the Vegas Strip. This is a great sight day or night but there's something special about seeing it in the middle the lights at night. While the sign might be the most iconic location in Las Vegas, the fountain show offers a different experience every time you visit. This is the kind of attraction you may visit every time you're in Las Vegas and you must see if on your first trip. You can find show times here.
Experience The Fremont Street Experience
The mall of casinos is always a fun time. You can visit during the day for a mellow time looking at "Old Vegas." However, the real experience you want is at night when there are lights glimmering from floor to ceiling. Not only will you see beautiful and classic neon lights, but you'll enjoy a Viva Vision show on the canopy screen above. You'll also find better free entertainment at night. You'll never see anything like the Fremont Street Experience anywhere else.
Take In The Views At The High Roller
This massive ferris wheel offers some of the best views of Las Vegas. Sure you can see the world's tallest observation wheel from miles away but it's the views from atop the ride that matter most. These are unparalleled views that encompass off of Las Vegas from the mountain ranges far away to the Vegas Strip below. Visit HIGH ROLLER – LAS VEGAS during Happy Hour for dusk views and a few cocktails.
Eat At Peppermill or Drink At Fireside Lounge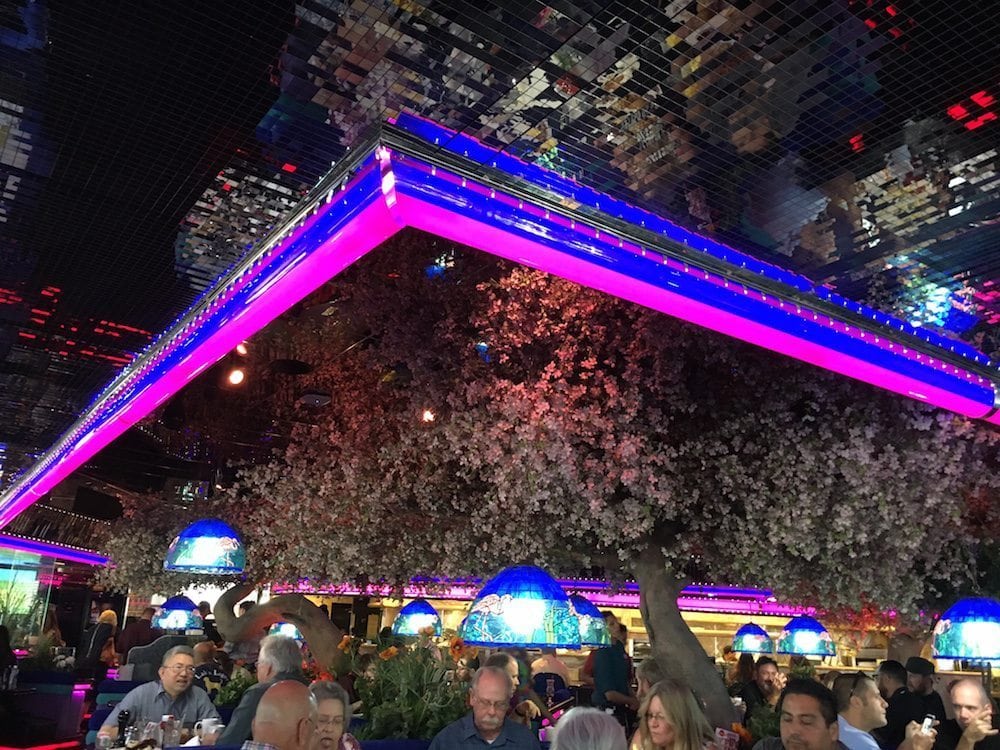 Nothing says "Old Las Vegas" like neon lights. This classic diner is one of the most iconic in the country, let alone Las Vegas. This is truly a step back in time. Peppermill has great breakfast, while the attached Fireside Lounge has a unique atmosphere for cocktails.