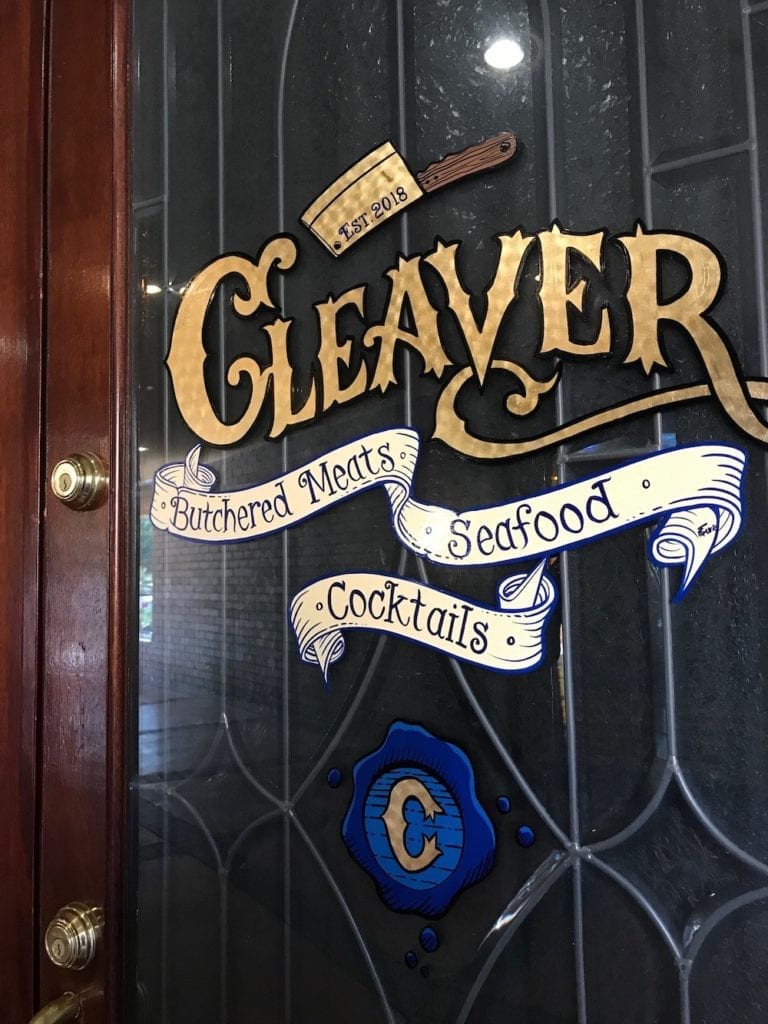 I was told about the legendary Happy Hour in Las Vegas at Herbs & Rye when I first moved to town. This classic cocktail lounge features half-priced steak during its twice daily Happy Hour from 5-8 p.m. and again from midnight-3 a.m.
Great cocktails and half-priced steak?! HOOK ME UP!
Happy Hour at Herbs & Rye is excellent. A fantastic Sazerac and the half-priced steak was a great find and something I imagined enjoying often. Sadly, that never came to fruition. I've only visited Herbs & Rye once.
The great Happy Hour deal at Herbs & Rye became so popular that people started lining up before the lounge opened so they could get a seat. I'm not the kind of person that is going to stand around in the desert sun so I can rush into the bar or lounge for a discount meal. Eating steak at midnight isn't my thing either so I never returned.
Thankfully, we have another similarly great Happy Hour at Cleaver.
Cleaver Butchered Meats
The owner of Herbs & Rye, Nectaly Mendoza, opened Cleaver Butchered Meats, Seafood & Cocktails in 2018. Cleaver is located at 3900 Paradise near Flamingo Road. It's in the space that used to be home to Ruth's Chris and between the Westgate and Hard Rock. You may have seen this plaza in the news last year as the building behind it was destroyed in a fire.
Cleaver has a similar vibe as Herbs & Rye but has room for more people. The new restaurant and lounge follows a similar model as Herbs & Rye. Cleaver offers great cocktails and that famous half-price steak during Happy Hour. There's one difference in the half-priced steak. Herbs & Rye steak includes a side. Cleaver serves the steak a la carte.
Individual steaks that are part of happy hour range in price from $48 for a NY Strip to $64 on the menu. During happy hour the price range is $24 to $32 per steak. There are ribeye steaks for larger groups that are priced up to $390 ($195 during happy hour).
Great Atmosphere – Cleaver
I love the atmosphere and service at Cleaver so much that I've been there more times this year than I've visited most steakhouses in the past year. The price, location, quality of food, and service make this a great place for an early dinner whether you're a local or tourist. They also have a slew of paintings with other actors besides Chris Farley.
Happy Hour at Cleaver isn't "cheap" (I'll discuss that shortly) but the discount is greater than you'll get at most other bars or restaurants. The quality of the steak at Cleaver is beyond what you'd expect from a $24-$32 steak. Just don't get twisted up and think you're getting a steak that rivals the best in Las Vegas.
I recommend reservations if you plan on eating after 6-6:30 pm.
Cleaver's official website has very little information. Visit Cleaver on Yelp for more information.
Las Vegas Happy Hours Are The Best
"Do people in Las Vegas cook?"
I'm asked this question often. Of course people in Las Vegas cook but maybe less than other cities. There are so many bars and restaurants around town that offer great happy hour deals that the prices are often worth going out for dinner.
Some More Favorites – Happy Hour Deals
I've never lived in a city with so many different options to eat and drink for relatively inexpensive prices. I've been enjoying off-strip happy hour deals 2-3 times a week. Here are some of my favorites.
In 2019 I tried happy hour at Echo & Rig, a favorite steakhouse for locals in my part of town. The small 17 seat bar has happy hour snacks for $1.99 with beer for $3 and cocktails for $4. I had steak (2 ounces) and egg (1 egg) along with a hot dog and vodka/soda for $10. This is a great happy hour but the portions aren't a full meal. That said, it's a great mid-day snack.
Shoutout to Faces and Aces Las Vegas podcast for the recommendation.
I first wrote about the happy hour deal at Hawthorne Grill at J.W. Marriott (Rampart casino) a couple of years ago on my blog. The beer selections have changed but the prices are right. The half-priced steakhouse burger is a great deal at $7.50.
Pair the burger with a couple $3 beers and you have a very filling early bird special for under $20. My friends say that happy hour is just a way for me to eat early bird specials without feeling like a blue-haired old lady.
When I'm in the mood to drink beer, I head to 595 Craft + Kitchen. Their beer selection is among the best in Las Vegas and changes weekly. The already low prices (this ain't the Vegas Strip) are discounted by $1 or $2. The happy hour dished cost anywhere from $5-$10. I recommend going off the happy hour menu for food. The pork belly banh mi is spectacular.
Another Great Feature from Marc
Downtown Las Vegas Breweries
A Long (Awesome) Night At Able Baker Brewing
Happy Hour In Las Vegas
These are just a few favorite happy hour deals mainly enjoyed by locals. I gravitate towards beer and burger but there are so many different options available.
A lot of locals casinos are diving into the happy hour game. Boyd and Station Casinos properties offer a social hour most nights of the week at the various restaurants. The deals in casinos aren't as good as independently operated bars and restaurants but they all offer a discount.
---
Be Sure To Also Check Out:
Local Life In Vegas – Lots of Goodness
Five Entertaining Gambling Films That You Probably Haven't Seen
Also, be sure to join the ZorkCast Group on FaceBook. This is the Facebook group to continue the conversation from the ZorkCast podcast and TravelZork website. Feel free to start a conversation related to anything TravelZork or ZorkCast.