$1.2 billion year-round destination resort in Monticello
Resorts World Catskills, the $1.2 billion year-round destination resort in Monticello, New York is the fourth and largest of the four Las Vegas-style upstate casinos opening under a voter-approved amendment to the state constitution. [Bringing The Extraordinary To Every Day] A partial opening on Thursday (February 8, 2018), occurred three weeks earlier than originally planned. The casino floor, most of the restaurants and 130 out of 332 all-suite luxury rooms, which range from 600 square feet to over 2,000 square feet, were ready for business. The remaining rooms and other amenities in the 18 story hotel, scheduled to be completed by March, are 12 penthouse suites, eight garden suites and seven two-story villas, along with two indoor pools, a spa, a fitness center, and a high-roller mezzanine floor.
Photograph Courtesy of Resorts World Catskills
Some Catskills History
The 1.6 million-square-foot resort sits on property that was once home to the Concord Hotel, a prominent hotel in the Borscht Belt-era of the Catskills. The region was once a thriving tourist area that had more than 500 hotels and bungalow colonies, most of which are long gone now. The hope is that by operating an all season destination resort around a commercial casino, it will breathe new life into this historic tourist region, which is now economically depressed.
The biggest challenge to success is a saturated casino market in upstate New York and competing for customers with other large, established competitors in New York, Pennsylvania and Connecticut. Resorts World Catskills is going to need to not only draw patrons from its local and regional competitors, but will have to grow the market overall. Can they accomplish this? They might. There are a lot of circumstances in their favor.
Close to the New York City Casino Market
Of the four commercial upstate casinos, it's the closest to the New York City market at about a two hour drive and New Jersey voters did not approve a casino in the Meadowlands in North Jersey, which would have added even more competition.
Arrangements have been made to fly gamblers to the casino. In addition to 100,000 square feet of casino floor, featuring over 150 live table games, 2,150 state of the art slot machines, a poker room and private gaming salons there will be a gambling wing tailored to Asian customers.
There are 10 bars and restaurants in the casino, including a sports bar, which will be ready to convert to a sports-betting book, if New York ultimately legalizes it.
Photograph Courtesy of Resorts World Catskills | Opening Celebration – exclusive high-limit table gaming
In April they unveiled an exclusive high-limit table gaming experience. Located on the third floor of the resort it features 38 table games including Blackjack, Roulette, Baccarat and Pai Gow Tiles. There are also six gaming salons with private decks. We can imagine the reasoning for the private decks is the ability to allow smoking, outdoors.
Non-Gaming Attractions
Although the casino is the impetus of the whole complex, there are going to be many non-gaming attractions on-site. An Entertainment Village providing additional retail, food, beverage and accommodations will be completed by the end of this year.
In early 2019 an Indoor Waterpark Lodge will be opened. The $150 million project will be run by the owners of the Poconos' Camelback Resort and it will be called the Kartrite Hotel and Indoor Waterpark.
Also in 2019, the old "Monster" Golf Course that was at the Concord Hotel will be upgraded to a Rees Jones-redesigned course.
There will be a multi-purpose convention center for events and concerts and there will be regularly scheduled live entertainment at the many bars and lounges.
Resorts World Catskills was developed by Empire Resorts, Inc., a gaming and entertainment corporation which has operated in the Catskills since 1993. Empire Resorts is owned primarily by billionaire KT Lim, the chairman of the Malaysia-based Genting. They have already invested heavily in the community, and have stated that they will continue their commitment to the region, both during and after the opening of Resorts World Catskills.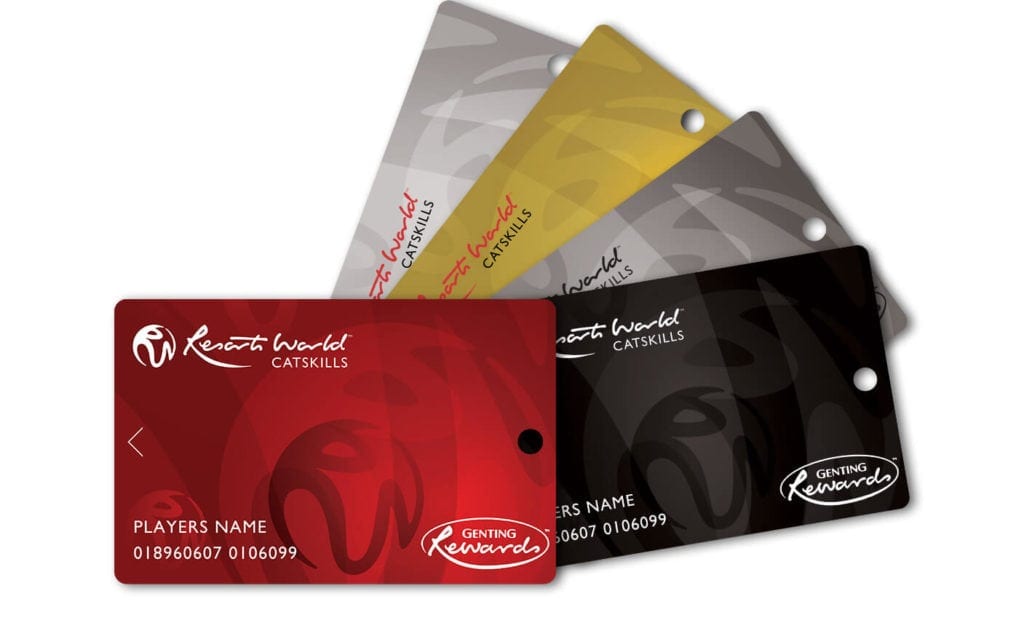 Photograph Courtesy of Resorts World Catskills | Casino Loyalty Players Cards
Genting owns the largest gaming hall in the country; Resorts World New York City in Queens and also owns and operates Monticello Casino and Raceway, a 45,000-square foot video gaming machine and harness horseracing facility, 6 miles from Resorts World Catskills. Empire is an established and successful company with a lot invested in this new venture.
The glut of casinos is certainly going to mean that some casinos will see profits decrease and some won't survive, but Resorts World Catskills has the opportunity to take advantage of a unique geographical location that has many outdoor activities and historical attractions that can augment what it offers.
You can ski, hike, explore lakes and waterfalls and admire beautiful vistas in the Catskill Mountains. There is also a long history of art and entertainment, from the paintings of the 19th-century Hudson River School to the locations of the venues that were a breeding ground for famous comedians. The Catskills have long been a haven for artists, musicians and writers and the town of Bethel, New York, located in the Catskills was home to the famous Woodstock Music festival which took place from August 15-18, 1969. I'd venture to say that seeing the abandoned hotels of the mid-20th century, such as the Grossinger's Resort is an attraction.
Interesting, For Sure
I live a little over 200 miles from the new casino, so I am a potential customer. I have plans to visit Mohegan Sun with my mother in the spring and when I look on the map, it seems doable to do a loop and visit them both. Though, a standard room rate from $200 to $700, depending on the season would certainly deter me from staying there, as would poor video poker pay tables. (The word is that the best game available is 9/7 Double Bonus at a 99.11% return, starting at the $1 denomination.) If added competition were to increase the pay tables or promotions at Resorts World or at any casino along the way, I'd be planning an itinerary and hopping in the car now!
Finally, Resorts World Catskills is a Non-Smoking casino, which is a plus in my book! I'm all for personal liberty and freedom, but I think I have the right to breathe while I'm gambling and not just in certain specified areas where smoke gets in my hair and clothes anyway!
It will certainly be interesting to see what kind of numbers, Resorts World Catskills is able to generate. If they can make money while revitalizing the whole area, like Borgata did when it first opened in Atlantic City, it would be a game changer!