Ocean Resort Casino, formerly Revel, is currently in a soft opening. The official Opening will be June 28th, 2018 with an official ribbon cutting and Gala for certain invited guests. Having the opportunity to return to one of my favorite properties, I did not wait for the 28th.
In many ways Ocean looks very much like the old Revel. Biggest changes I noticed were new carpeting, some walls have been moved , and flow through casino has been improved. A large sports book sits in the middle of the casino, that will be operated by William Hill. They added guard rails around the steep entry escalator and added a place specifically for children. Unsure if this will be a childcare amenity similar to KidsQuest in other casino destinations, and I was unable to find anyone who could speak about it any detail.
Related: In Memoriam | The Revel Atlantic City Ocean Suite
Photograph ©2018
Eric Rosenthal
| Ocean Resort Casino – Escalator View
Soft Opening – Table Limits
Entering the casino, the first clear sign that Ocean was not really open yet were the limits on the table games. EVERY table that was open, was operating with a $3 minimum bet and $5 maximum bet. This was a low rollers paradise. For those of us who prefer to play at higher levels, it could be frustrating. They did honor 5x odds on the craps table so I was able to get $25 odds on place and come bets. It required deviating from my normal strategy, but it was just nice to be back.
Photograph ©2018
Eric Rosenthal
| Ocean Resort Casino – Soft Opening Mix/Max Blackjack
Happy To Be Back!
I wasn't the only one just happy to be back. Every dealer, floor person and host that I encountered was a former Revel employee. Every single one of them explicitly discussed how happy they were to be back. The property, the management, and new ownership led by Bruce Deifik has made it a point to make employees and guests feel wanted and appreciated. I spoke at length with 5 different dealers about their transition away from Revel, and ultimately back to Ocean. Each one stated that they are hired as a full time employee with benefits and excited about the opportunity to return. While the grand opening has not officially happened yet, they all stated they feel appreciated and part of a family. The best way to ensure that guests are treated well, is to make sure that employees are treated well and feel appreciated. The trend in the industry has been the opposite, and customer service in general has become an afterthought. I'm hopeful this remains the standard operating procedure at Ocean.
Related: Everything you need to know about Hard Rock Hotel & Casino Atlantic City
Related: [Overview] New Jersey Sports Betting
Ultra Lounge – VIP Gaming With A View
My time at Revel was largely spent in their high limit tables area then known as the Ultra Lounge. While Ocean has dropped the name Ultra Lounge, it is still how the players and dealers refer to the space. This is by far my favorite high limit experience with incredible views of the Atlantic, right behind the dealer. (If you will recall, there was another casino in Atlantic City that had sweeping views from the casino floor.) During this experimental soft opening even tables here were only $3-$5 min/max. My buddy Ed and I sat in the high limit room by ourselves drinking premium alcohol with a spectacular view and dealers actually happy to be on the shift. We were informed that there will be one craps table operating in high limit offering 10x odds, with "no breakage". This means players will be allowed to place free odds of 10x or not at all. I've never seen anything like this, but happy to see another 10x opportunity in Atlantic City none the less.
Photograph ©2018
Eric Rosenthal
| Ocean Resort Casino – Ultra Lounge Bar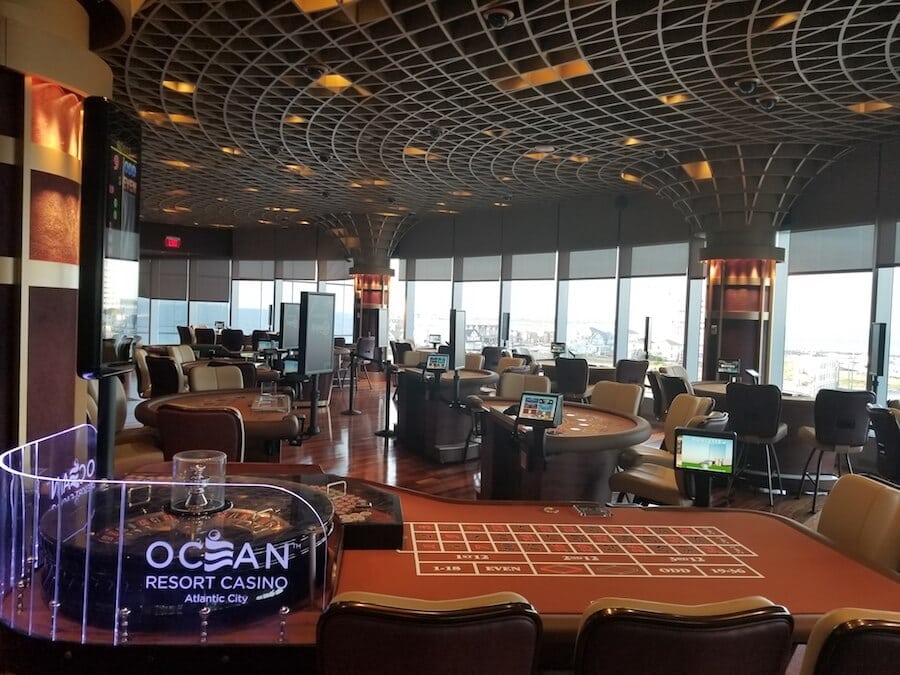 Photograph ©2018
Eric Rosenthal
| Ocean Resort Casino – Ultra Lounge VIP Gaming
Photograph ©2018
Eric Rosenthal
| Ocean Resort Casino – Ultra Lounge View
Dinner and Observations
After playing in what I will always call the Ultra Lounge, we attempted to get dinner at American Cut. They still have some bugs to work out. They weren't taking reservations and at two different times were turned away from even putting our name on the list. During the soft opening all off the restaurants in Ocean were offering 50% off, and the remaining proceeds were being donated to charity. Many of the restaurants were overwhelmed and demand far exceeded their expectations. Ed and I were able to grab dinner at Amada (Spanish Tapas) and had a great meal for a fraction of what one would expect.
I walked into a soft opening with tempered expectations and was pleasantly surprised. Not everything was perfect, and they definitely still have some things to figure out. I'm excited for the upcoming Gala and plan on spending most of my time in Atlantic City at Ocean Resort.