Photograph ©2016 Bob Rhodes
Krabi – Ao Nang is located in the far south of Thailand on the Andaman Sea. It has an international airport across town from the beach areas and although there are separate terminals for international and domestic flights. Ticketing is located in the international terminal.
You don't need a pre-approved visa to visit Thailand. Many countries' passports are simply stamped with a 30-day visa and Thailand also offers "Visa on Arrival," service before one goes through Immigration. To determine your status, general information is available at: general visa info and visa forms are available at thaivisa.com. Thailand thrives on tourism and could be considered tourist friendly.
The beach areas are about a 30 to 40-minute ride from the airport. Taxis are available for about 600 baht (around $17.31USD at the time of publication) with buses and hotel vans also available. Tickets for taxis and buses are purchased at desks in the terminal before leaving the building.
©2016 Phukhao Advertising | Phuket – Krabi Area
Krabi is a bit quieter than Phuket, Hua Hin, Pattaya, and Bangkok. That is not to say Krabi is dull, but the other places mentioned have a frenzy about them similar to Spring Break in Fort Lauderdale, are much more inundated with tourists, and have far more lady-boy bars.
The main beach area consists of three main beaches, Ao Nang, Railay, and Pra Nang. Due to the presence of limestone karsts which encircle both Railay and Pra Nang beaches, they are accessible only by boat. The larger tour boats may leave you 50 yards from the beach at low tide, forcing you to wade to shore but the long tail boats can beach themselves for you to get on and off.
Photograph ©2016 Bob Rhodes | Wade in from boat
Photograph ©2016 Bob Rhodes | A large karst ridge separates Railay Beach from Ao Nang
Tourist Services
The ocean front ticket stalls and tour offices all offer boat tours and if one chooses to be dropped off at a beach and picked up later that service is also available. There's nothing deficient about Ao nang Beach, but many people enjoy the intimacy of Railay and Pra nang. It may be possible to go from Railay to Pha Nang by wading at very low tide but normally a boat is needed. Railay is less crowded than Pra Nang and has shade trees along parts of the semi-circular beach, Pra Nang has a large cave at the south end of the beach. Railay has some tourist services. A limestone karst island at Pra nang with a beach on the island and long tail boats beached in the surf.
Photograph ©2016 Bob Rhodes | Pra Nang Beach
Ao Nang is where the majority of shops, restaurants and tourist facilities are located. I've had good experiences with the Krabi Resort, on the beach, and the Thai Village Resort located slightly up the hill from the beach. The Thai Resort is a solid 4 star and the Krabi Resort is a high 3 star. Both have substantial free breakfast buffets.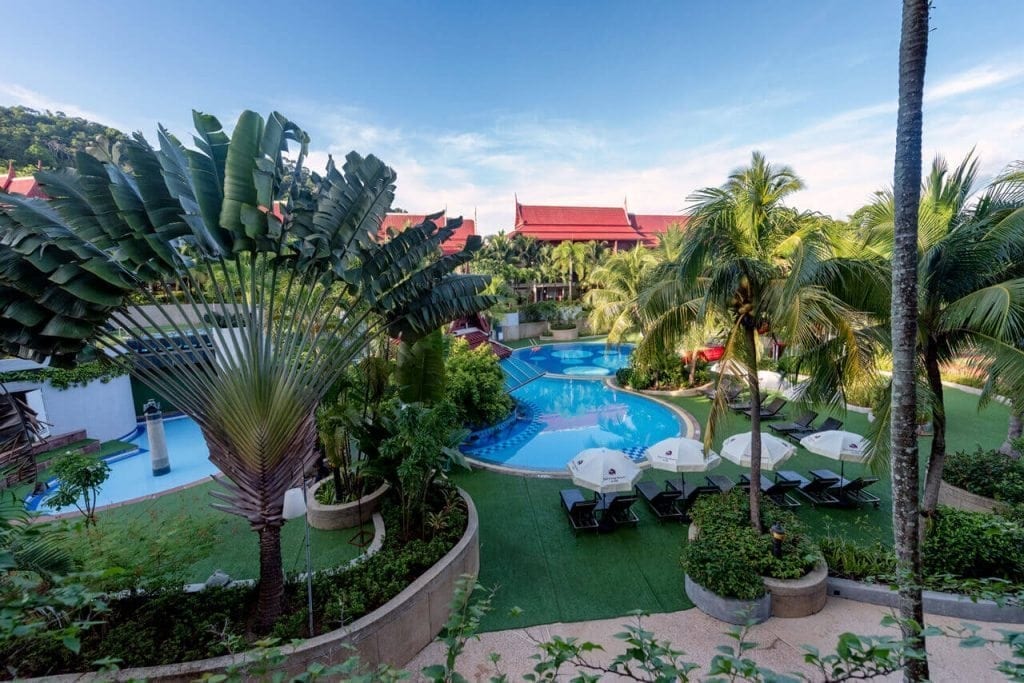 Photograph ©2016 Bob Rhodes | Thai Resort Village
Restaurants
Lae Lay restaurant is perched atop one of the bluffs in Ao Nang and affords a very nice place to dine at sunset. Along with Thai, seafood, Italian, and quite a number of Indian restaurants, there are two Mexican restaurants. The beachfront street in Ao Nang has something for everyone and there are a number of street food vendors just past the Krabi Resort on the main street. Most Thai restaurants assume western tourists don't want spicy food but if you are very sensitive to spicy, emphasize that to your wait-person. If you do like very spicy food, it may be difficult to convince your waiter, but they can always bring more peppers if needed.
Island Hopping
One of the "must do," activities at Krabi is island hopping. Long tail boats, excursion-adventure boats, motor boats, and tour boats offer trips to the many islands surrounding Krabi.
Photograph ©2016 Bob Rhodes | Chicken Island
Boats may be shared but getting a boat for yourself or small group is not costly.
Some of the popular islands are Chicken Island, Phi Phi, and the Hong Island group. The famous James Bond Island is on the other side of the Andaman Sea. The iconic limestone karst in the inlet is instantly recognizable from the movie "The Man with the Golden Gun." Going there, the floating City and the National Park will require a land vehicle and a boat. The tour vendors can provide both. James Bond Island is on the opposite side of the bay, about 25 miles distant from the Krabi side.
Photograph ©2016 Bob Rhodes | The famous James Bond Island
Some of the islands have caves, beaches, restaurants, and rental kayaks and canoes. The limestone karsts are popular with climbers. In places where the vertical wall of a karst meets the water, SCUBA and snorkeling are popular. Diving excursions can be booked that supply hotel pick-ups, diving equipment, boat, and guide.
The boats are all covered overhead but one should remember the sun's reflection off the water can burn you quickly. If you're going out on a boat, carry sunscreen. A curious thing is that Thailand does not allow SPF lotion over 50. If you burn easily, you may want to consider bringing a higher rated sun-blocker from elsewhere.
Photograph ©2016 Bob Rhodes | Longtail boats
Climate
Tourist season is from December through February when temperatures are very good for outdoor activities in Krabi. April and May may see 107 F (42 degrees C) but after the rainy season starts in late May. Temperatures fall back to 80's during the day and seventies at night. The rainy season tapers off in September. Except for April and May, any month is good for visiting the south beaches and the islands.