Since the announcement of the new Air France business class at the beginning of 2014, I was excited to give the product a try.
Per the Air France press release in February 2014 :
Air France is continuing its move upmarket and is today unveiling its new Business class seat, for a completely renewed travel experience.

In total, 2,102 seats will be installed between June 2014 and summer 2016 on 44 Boeing 777,the core of Air France's long-haul fleet.

Every detail has been specially modelled to give the seat its unique design. The passenger is instantly enveloped in its graceful curves into a cocoon-like state of special care.

This real cocoon, with its particularly refined finishing touches (leather upholstery, topstitching) provides an ideal level of comfort and offers the prospect of a perfect sleep.
The new Air France Business class seat was developed around the concept of 3 "F":
• Full flat – the seat converts to a fully flat bed – for crossing time zones without fatigue;
• Full access – direct access to the aisle, regardless of the seat's location in the cabin;
• Full privacy – a protected area through the seat's enveloping curves, providing a true bubble of privacy in the sky.
It is a great product, configured 1-2-1. Quite similar to the Delta BusinessElite (DELTA ONE) product on the A330-200/300. (YES, starting March 2015 Delta BusinessElite has been re-branded DELTA ONE, you can read about it HERE.) Personally, they have improved on the Delta configured planes with a much larger tray table, coat hook and super convenient storage area with mirror.
I started my trip after a lovely weekend at Mohegan Sun in Uncasville, Connecticut. Finally getting to try the new Air France business class seems akin to hitting the Roger-bonus on a Mad Men slot machine.
Since Mohegan Sun is equally distant from both BOS (Boston Logan) and JFK (John F. Kennedy Airport), AF009 was particularly convenient due to the late departure of 23:35. I am assuming that this was one of the first 777s deployed to the States with the new business class due to the improved flat-bed seating for a late departing eastbound overnight red-eye flight. I probably left Connecticut earlier than I had to, but it is difficult to predict Sunday evening traffic. Was still quite pleased to get the entire day at Mohegan by departing on one of the latest SkyTeam flights from the east coast to Europe. As is the usual procedure, Mohegan provided a lovely (albeit super large) limo to JFK.
After a super quick (just over 2 hour 15 minute) and comfortable ride, I arrived at JFK terminal 1. I happened to fall asleep for the final 45 minutes of the ride, which was not planned; but all the better to enjoy the lounge experience at JFK. I had not been paying very much attention to the opening of a new Air France lounge at terminal 1, so it was very much a surprise.
I woke up just as we were pulling up to Terminal 1, and immediately saw the very prominent Sky Priority and La Première signage. So, I guess I was in the right place.
Check in was seamless, and I was assisted by one of the La Première agents. There were actually two La Premiere agents working, but since the earlier flights ex-JFK seemed to have all been checked in, they were not busy at all. AF009 is configured in a three class configuration : business class, premium economy class and economy class. Air France has excellent twitter support; and even though a window seat (my preferred, especially in a 1-2-1 configuration) was not available they advised they would "keep an eye" on my record and assign a window seat closer to departure. This was absolutely true, and I was assigned seat #4A and advised via twitter a few days before departure.
This 777-200 is configured with 40 flat bed seats. It also has a second mini-cabin for business class right before premium economy. In the picture below, you can see my original seat assignment before being assigned my preferred window seat.
Right behind the business cabin are three rows of Air France premium economy. (these are rows 19, 20 and 21) Regarding upgrades on Air France, premium economy upgrades to business class. The "trick" is that "O-bucket" upgrade space must be available to process an upgrade from premium economy to business class. (for Delta Medallions, this would require 25K miles for the upgrade. Depending on premium economy fare class 10K or 15K miles for Flying Blue members)."O-bucket" upgrade space has become rather rare, and a brief overview of dates for the next few months found few available seats from JFK. For some full fare reservations, you can upgrade to the "Z-bucket," which is a bit easier, but requires a much higher premium economy fare. The nice thing about Air France, though, is that even if you purchase a premium economy ticket (which is often fully changeable/refundable) you are still in an upgraded class of service if your business class upgrade does not clear. In this instance, I started out looking for the upgrade space. Once I realized how full this Sunday evening flight was I changed my ticket to a non-refundable promotional business class (Z) fare. Z-fares also receive bonus MQMs (or Level Miles) in the Delta and Air France programs respectively.
There is a dedicated bank of Air France SkyPriority check-in desks at JFK terminal 1 (also for business class) as well as dedicated La Première check counters.
There was a dedicated "VIP" security section for first and business class passengers. I did not notice a TSA Pre✓™ security screening line. This didn't particularly surprise me, since most foreign carriers do not offer KTN (known traveler) services in your passenger profile. The new Air France lounge at JFK is located in close proximity of the Air France gates. I guess I haven't been paying a lot of attention to enhancements at JFK recently, but was informed this new lounge has only been open for a month.
Per the Air France website, this lounge features extensive food and beverage selections as well as a spa. The spa has not officially opened, but will be opening soon.
The Air France lounge
– Opening hours: 12:00 PM – 11:00 PM
– Location within the airport: Terminal 1, after security, not far from the Air France boarding area
– 2 buffets, hot meals served at dinner
– 2 Clarins spa treatment areas
– Showers
– VIP space on the mezzanine level for La Première guests
– Local, International, French newspapers
– Wi-Fi
– Computers available
– TV
– Copy, Fax machine
I found a seat upstairs and since AF009 was the last flight of the evening the lounge was not very crowded, especially upstairs. Surprisingly AF009 does not have a modified late night meal service, even though it departs just before midnight. The food offerings in the lounge could definitely be a more than adequate dinner, allowing for maximum sleep on the flight to Paris.
There were a wide range of salads (including roasted eggplant and grilled chicken), mini sandwiches, two soup choices (Saffron Carrot and Coriander Soup and Tomato Soup) and multiple hot entrees. Options included Chinese stir fried noodles, sun dried tomato risotto, "Provencal" beef stew, and a lovely quiche. There were also a number of sides including jasmine rice, vegetables and a few sauces. To complete things there was a small assortment of desserts as well as a cheese presentation.
In addition there was a self-sevice bar with multiple wines and Champagne, and additional snack items.
I found a nice corner of the lounge, with readily accessible power; and had a pre-flight snack with Champagne. I must admit I did got back for more risotto, it was surprisingly good. The glassware used in the lounge is the same Air France glassware (two sizes) used inflight.
A few more shots of the lounge, which is a very open space. The furniture is a bit minimalist, which seems to be the direction Air France "style" has been heading.
View of the Air France logo unit on the wall from upstairs.
Large floor to ceiling windows and ample seating upstairs and downstairs.
Boarding was slightly delayed, but since this is an Air France lounge they make a point of saying they will be announcing departure in the lounge. The lounge basically closes after this final departure of the day. Air France does a great job with SkyPriority boarding at both JFK and CDG. There is a clearly defined special lane for boarding. The only hitch was upon presentation of my boarding pass it denied boarding; and I needed to see a gate agent. Even though, the agent checking me in had checked in my three bags and noted my SkyTeam Elite+ Status (which allows +1 baggage allowance in addition to the normal two bags allowed for business class), for some reason the Air France system was querying for payment for the third bag. The gate agent was able to correct this rather quickly; and I was on my way.
There were two boarding doors for the 777, one for business class and the other door for premium economy and economy class.
I had hoped to get on the plane early, but due to the baggage fee "snafu" I was somewhere in the middle of boarding. The interiors were very fresh, and the cabin looked great. Or, perhaps, I was just super happy to be on a modified 777 as my previous Air France flight in November from MIA-CDG was on the same type of 777 in the old configuration. Would have been great to have the flat-bed seats on that (longer) red-eye transatlantic flight.
The seats also include a nifty storage cubicle for in flight storage during the flight
The usual Air France amenity and slipper kit was also included.
Other nice touches include a coat hook, which I used for my sweater during the flight. In addition there was a stylish "pop-out" reading lamp. Ample power and storage, including an extra water bottle tucked away by the power outlets. I always use a 1 meter USB cable; and it was super easy to access the plug. Seat adjustment was easy, and the tray table was extra large and easy to stow. There was also a one prong headphone port for my Bose headphones, if I preferred to use those over the supplied Air France headphones (which were stored in the cubicle).
The amenity kit was the usual assortment of items; with no out of the ordinary speciality items. Video controller was intuitive and made accessing the videos and other entertainment quite easy. The screen is also a touch-screen; in case you prefer that.
The food service was quite similar to my flight in November MIA-CDG. A few menu items choices and a daily special, which is what I chose, green curry chicken with poppy seed rice. (Poulet au curry vert, riz au pavot)
The starter included foie gras terrine, something you can almost always count on with Air France. Perhaps, one of my favorite reasons for flying Air France. The food is always above average; and I might argue some of the best European business class catering. Enjoyed the Champagne (note the label), and sampled the Bordeaux and Bourgogne Blanc. Only had a taste of the green curry chicken; since I had quite a pre-departure snack in the Air France lounge. I also skipped dessert, since I was anxious to get a few hours of sleep before arriving in Paris.
The tray with your appetizer comes plated with both a cheese and dessert course. While Air France does do an additional after dinner drink service, I do find it odd that they do not do a formal cheese and dessert service from the cart. This is something that is very nice on Delta BusinessElite transatlantic service. Not to mention, the ice cream sundaes. But, I don't find that to be a big loss. A nice cake, or sorbet selection (as my recent MIA-CDG), especially if it varies is more than adequate. I guess, I just missed my "formal" cheese course.
The seat was quite comfortable, and I had no problem quickly falling asleep. Perhaps, the late hour and the wine also helped. Flight attendants were also great at keeping me hydrated with Badoit sparkling water. Perhaps, even nicer than my usual San Pellegrino that is the norm on Delta in BusinessElite.
I tend to sleep quite well on airplanes, and optimally I just need 2.5 to 3.5 hours of semi-deep sleep. This worked out quite well, and I woke up just over an hour before arriving in Paris. Perfect timing, since the cabin lights were still dimmed and I would have easy access to the (unoccupied) forward business class restrooms. Was very impressed how many pass-throughs the flight attendants made on this flight. Was very easy to get an immediate sparkling water refill, and I never felt I was looking for a flight attendant. This was an excellent, experienced Air France team. In addition, I always give Air France flight attendants credit for "properly" displaying the wine bottle and pouring the wine in plain view. Had a very nice chat with the purser, and she truly seemed enthusiastic about the new business class product. Air France also features illy espresso; and I always partake in at least two double espressos with the breakfast service. Air France does a continental breakfast, which is more than adequate, but it is really the espresso that makes me happy.
Arrival at Paris-CDG was basically on time, even though we departed a few moments late. Overhead bins were very high (or perhaps, I am short); but the cabin definitely had a very open feeling.
A few more pictures of the new business cabin, including the privacy divider between the middle seats. Recall this is a 1-2-1 configuration, and the two middle seats have a removable divider if traveling with a partner.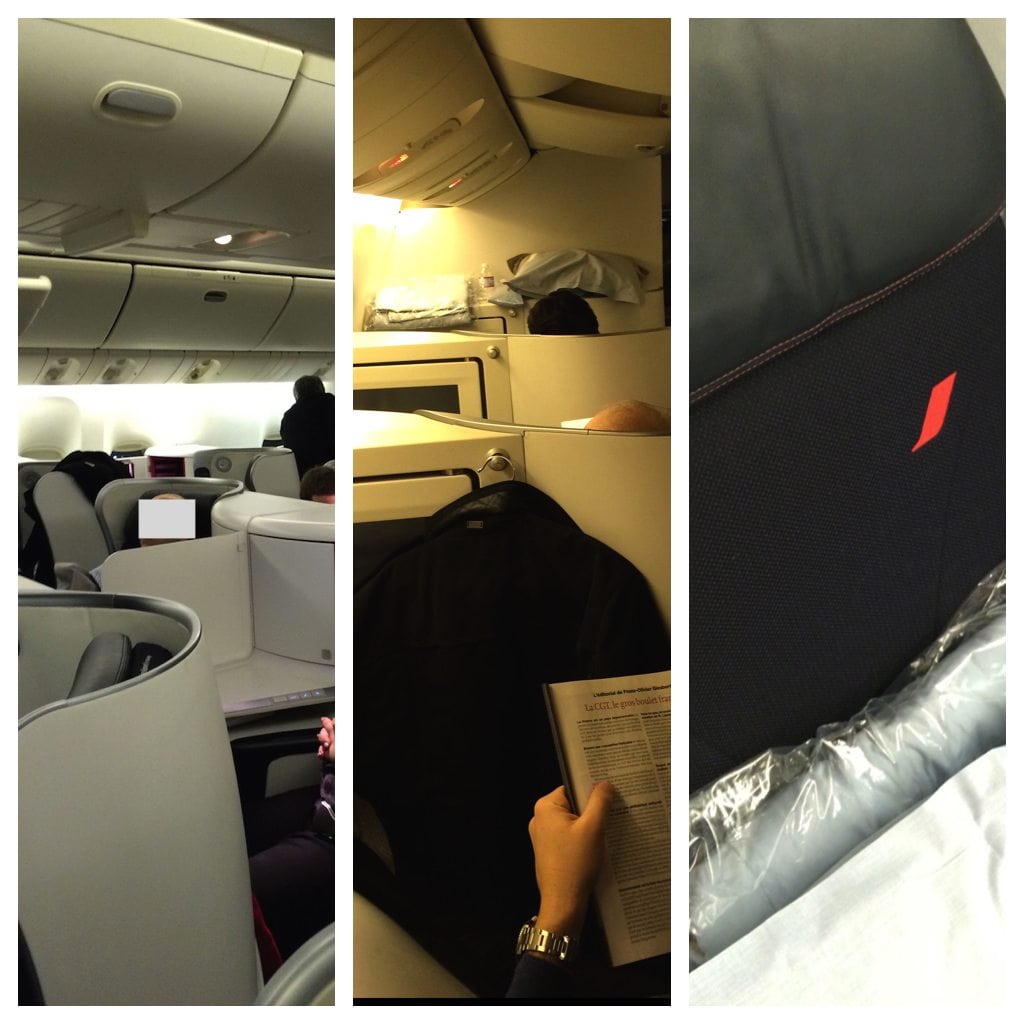 Overall, I was very impressed by the Air France experience at JFK. The new lounge and new business product are great, and quite an improvement over the old products offered by Air France. The new lounge is a great asset to SkyTeam travelers, since anyone who is traveling international that is SkyTeam Elite+ can access the lounge, regardless of class of service flown. Definitely a great place to relax and have a real dinner before a flight in economy class on Air France or any other SkyTeam airline (such as Alitalia) departing from JFK terminal one. I will be very interested in viewing the new Clarins Spa once it opens. I am especially positive about this service from New York, since the 23:35 departure is very convenient with regard to : ease of getting to JFK from the NYC area, quieter airport experience and a more natural time for sleep on a red-eye (especially, if you skipped dinner and went directly to bed). I find arrival in Paris in the early afternoon to be much more natural than early morning arrivals. Connections to Europe and beyond are relatively seamless with the afternoon flight blocks. I will leave it for another post, but connecting at CDG on Air France both Schengen and Non-Schengen has improved substantially over the past year or two. I also find immigration at CDG to be rather easy, especially with the use of priority queues for SkyTeam Elite+ (SkyPriority) passengers.
Have you flown the new Air France Business Class? What did you think?
Glossary :
MQM : Medallion Qualifying Miles (the miles that establish your elite status or tier)
MQD : Medallion Qualifying Dollars (for US residents, the second requirement in addition to MQMs to achieve elite Medallion Status)
RDM : Redeemable Miles (the miles used for awards or free tickets, for example : "I need 25,000 RDMs for a free economy class ticket.")
JFK : John F. Kennedy International Airport in New York City
CDG : Paris, Charles de Gaulle airport in Paris
MIA : Miami International Airport
Skyteam : One of the three major global airline partnerships that includes Delta, KLM, Air France and a number of other carriers.
Skyteam Elite+ : Status level that is consistent among member airlines. Includes increased baggage allowance and access to Skyteam airline lounges. Delta Gold, Platinum and Diamond Medallion, as well as Flying Blue Gold and Platinum are Elite+
Flying Blue : Frequent Flyer program for Air France/KLM (Elite level is Flying Blue Silver, Gold and Platinum)
Delta SkyMiles : Frequent Flyer program for Delta (Elite level is called Medallion, and includes Silver, Gold, Platinum and Diamond Medallion)
MQM : Medallion Qualifying Miles (the miles that establish your elite status or tier on Delta)