Cleopatra's Barge
It would be fair to say that if you walked into Caesars Palace Las Vegas after a nearly 50 year hiatus, a lot would be different. The softly lit exterior of the building is gone, replaced by intricate and heavy Roman colonnades and balustrades. The intimate lounges and spaces inside have been expanded, from one tower to now over 6, spanning from the hotel's opening to it's latest expansion, our previously reviewed Octavius Tower, several years ago.
But wondering this ever growing maze of new buffets and restaurants, signature towers and entertainment venues, there are still bits and pieces of Caesars and it's original flair that remain tucked away like hidden gems amongst the likes of Nobu and it's first branded hotel and the lavish Bacchanal Buffet. The most obvious is of course the original pit, with it's domed, crystal lined and lit ceiling holding some of the most fast paced gaming action on the strip, but just off to the right of the main pit, down a corridor, is something a little more fun and filled with all the theatrics that makes Vegas what it is.
At first glance, especially on the night we visited, there was not much to see. A glimpse of what looks like an Eyptian-styled masthead for a boat bathed in red curtain. But just beyond the bar next to it, an entry flanked with golden sphinxes leads into what on this particular night had been transformed into the "Gossy Room" for longtime Caesars performer Matt Goss. But the sound of flowing water ebbing over the conversations revealed the venue's true nature, a long standing Caesars staple…Cleopatra's Barge.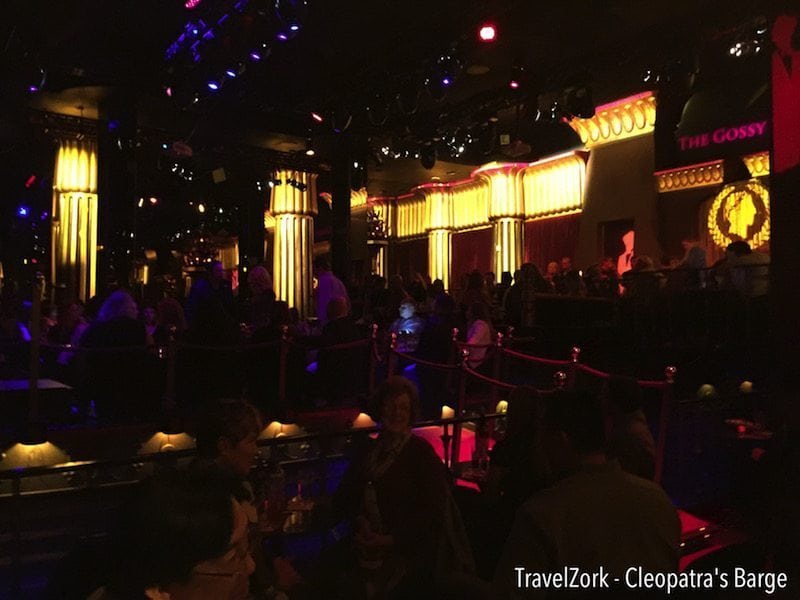 On night's when the venue isn't sold out for the ladies fawning over Mr. Goss (Fun fact, his twin brother Luke starred in Hellboy 2! And even if the show is going on there's a separate bar that's not nearly as impressive but still open.) the barge is one of the longest standing original nightlife venues at Caesars Palace. And what a venue it is. When not obscured in curtains, and as you can see from the images taken when we stepped into the vestibule thanks to a very kind hostess, the room itself is a facsimile of an Egyptian temple, columns glittering in gold, flanked with plush seating, cozy tables, and bars fit for the Pharaohs.
And in the center of it all is the room's namesake, a barge, the mast of which protrudes out into the hall (and through the curtain on this particular night) and is a tribute to Cleopatra in recognition of her place in Roman history. It's a romantic, fun, and wonderful piece of Vegas history that still exists today, whether in use as a showroom, or on the other night's when it's simply a no-cover venue that takes you back to Vegas of yesteryear.
So next time you're at Caesars, check out a bit of the history and swing in for a show or a drink at the barge.
Whether you're on the boat or the shore, the sound of the water and the atmosphere of the room will take you back to that Sarno tradition of making everyone feel like a Caesar, or in this case, Pharaoh.
The Details:
Venue: Cleopatra's Barge (aka The Gossy Room)
Cover: None (Unless seeing Matt Goss in the Lounge on a Show Night)
Hours: Bar: Daily 5pm – 2am
Lounge: Sun-Thurs 8pm – 2am / Fri-Sat 11pm – 3am
Matt Goss: Tuesday, Thursday, Friday, and Saturdays in the Lounge at 9:30pm
Tickets via Caesars Palace Box Office, $60
Our Guest For Next Episode:
Scott Roeben of Vital Vegas
ZorkCast LIVE!
REGISTER TODAY!
---
Cloth face coverings designed by independent artists,
so your personality won't disappear behind your mask.
Shop Masks at Redbubble!
---

Advertisement - Privacy and Cookie Policy Disclosure