Vegas News Rumors
We made it through another Vegas summer! High temperatures appear to be in the double digits for the rest of the year. Low temperatures will be in the mid 50's by the end of the week with highs less than 80. This summer in Las Vegas wasn't as brutal as recent years, but it's still nice to be able to drive with the windows down again.
There are lots of rumors floating around about the future of a few Las Vegas casinos. "Rumors" might have accelerated to "talks" but the deals still aren't agreed to so there's nothing officially happening…yet.
I love to hear a good rumor when people are talking but I don't believe anything until the deal is agreed to. Let's get to the Vegas News rumors! Anyway, you love the juicy news so let's get to it.
MGM Resorts May Sell Bellagio and MGM Grand To Real Estate Company
Bloomberg is reporting that MGM Resorts International is in advanced talks to sell Bellagio and MGM Grand to Blackstone Group (owners of the Cosmopolitan).
This isn't exactly news. Vegas News rumors about this kind of deal have been swirling much of the year. During its second quarter earnings call, MGM Resorts said they would have an announcement about any real estate deals by the time they report third quarter earnings. Well, the third quarter ends in less than two weeks so an official announcement should happen shortly.
This is potentially a leaseback situation where MGM Resorts will sell the land and properties to Blackstone. The real estate firm will, in turn, lease the property back to MGM Resorts. The casino operator will continue to operate Bellagio and MGM Grand.
This would be a real estate transaction. Nothing should change for guests at Bellagio or MGM Grand. MGM Resorts will have more cash for stockholders. This could be meaningless for anyone that isn't deep in the weeds about the casino business.
Expect to hear more about this (and the next section) soon. I'll tweet the information if anything happens during the week. If there's more news about this potential deal, you'll see it here next week.
Treasure Circus Island Circus
Last week we shared some thoughts on Vital Vegas' rumor that Circus Circus was being sold. We're another step closer to that becoming a reality – and now we have a potential buyer.
Bloomberg had a busy week and is reporting that MGM Resorts is in talks with Phil Ruffin to sell him Circus Circus. There isn't much information about this potential sale but it would give Ruffin an ownership stake in Treasure Island, Trump Tower, and Circus Circus.
Ruffin is a real estate guy and it wouldn't surprise me if he's sniffing around the land Wynn Resorts owns in front of Trump Tower. The land was going to be used for Wynn West before Steve Wynn got the boot from his company. Wynn won't have plans for the land until next year at the earliest.
I'm not sure building another casino or anything is part of Ruffin's grand plan, but it could make sense to own something connecting all of the properties. This is getting a little ahead of things.
First, the Circus Circus sale to Ruffin has to happen. Everything beyond that is just speculation ("Vegas News Rumor"). I'm just having fun thinking about a far out idea.
Mohegan To Operate Virgin Hotels Las Vegas Casino
Mohegan Gaming will operate the casino when Virgin Hotels Las Vegas opens in late 2020. The property is still the Hard Rock so the change won't take place for a while.
This is a big deal for a few reasons:
This will be the first Native American tribe to operate in the "Las Vegas Strip resort corridor." I highlight the words from the press release because it's a look at how the off-strip property will market itself as a "Vegas Strip" property.
This is a new casino operator in Las Vegas. I reached out for details on the casino but haven't heard back. The Mohegan staff is great and I hope to hear something this week.
Momentum players club members from Connecticut, New Jersey, and Pennsylvania will now have access to a Las Vegas property. You can learn more about Momentum here.
Virgin Hotels Las Vegas will be part of Curio Collection by Hilton. Discounted and complimentary rooms at Virgin should be easy to come by between the Momentum players club, Hilton's loyalty club (Hilton Honors), and Virgin Hotels' The Know loyalty club. You can see a rendering of the rooms at Virgin Hotels Las Vegas here.
While we're talking about the Hard Rock, they're going to have memorabilia on display until they close in 2020. You can read the press release here. If nothing else, it's another excuse to grab a Hard Rock chip the next time you're in Las Vegas.
Wynn Drops Valet Parking Fee
Wynn Las Vegas dropped the fee for any visitor to use the valet. This replaces the recent policy that only offered complimentary valet for hotel guests. Earlier this year Wynn rescinded the self-parking fee. There's now no charge to park anywhere at Wynn or Encore.
There could be a number of reasons Wynn has gone back to free parking for all guests and visitors. Nobody likes paying to park. This will affect visitors (not hotel guests) dining at the high-end restaurants, partying in the clubs, seeing shows at Encore Theatre, gambling in the casino and shopping in the new plaza.
Businesses on all four corners of Sands and the Vegas Strip once again have free parking. The Palazzo, The Venetian, Treasure Island, and Fashion Show Mall all have free self and valet parking.
Potential customers for the new Wynn Plaza might have avoided paying the parking fee when they can shop for free at the Fashion Show Mall across the street. Some might have also skipped the paid parking and eat, drink, or gamble at The Palazzo or The Venetian. I don't think there's much crossover between the families visiting Treasure Island and Wynn.
Updated: Vegas Strip Parking And Resort Fees
[Danger Wynn Robinson!]
Wynn Slots App CHANGES with VIP Levels
OYO Las Vegas Is Here
Hooters officially became Oyo Las Vegas this week. The rebrand started with the simple name change. The property will undergo a transformation to be completed this year. From what I've seen the property is still Hooters with new branding.
Paragon Gaming will continue to operate the casino so there shouldn't be too many changes with gaming. William Hill will continue to operate the sports book. You can see the press release that doesn't offer much insight into the new company here.
Judging by the look of the Oyo Las Vegas website, they will clean up the property and give it a more modern and slightly more upscale atmosphere than Hooters. The branding ranges from the generic model photos to an adorable mother and son playing roulette.
Oyo Rewards Club
The new Oyo Rewards Club is straight forward and more transparent than other players clubs in Las Vegas:
1 point earned for every $1.50 of coin-in on reel and video reel games
1 point earned for every $3.00 of coin-in on video poker, keno games and video blackjack
100 points = $1.00 in free play or comps
Points can be used for free play, food, retail or hotel stays. They also have a new member sign up bonus where players can earn up to $500 in free play on their first day.
Visit the Rewards Club for more information. You can sign up online here.
Room prices look to be the same for the Oyo as they were for Hooters. I didn't think the recently renovated Hooters was all that bad for a near strip low roller casino. If Oyo modernizes the property, it could become a nice cheap place to stay that's a few steps from the Vegas Strip.
Some Great Credit Cards which are TravelZork Favorites
Learn how to apply!

Chase Sapphire Preferred Card

Business Credit Cards
Chase Ink Business Cash
Chase Ink Business Preferred
Business Platinum Card from American Express
(A new 100k bonus offer launched!)
Two New Breweries In Downtown Las Vegas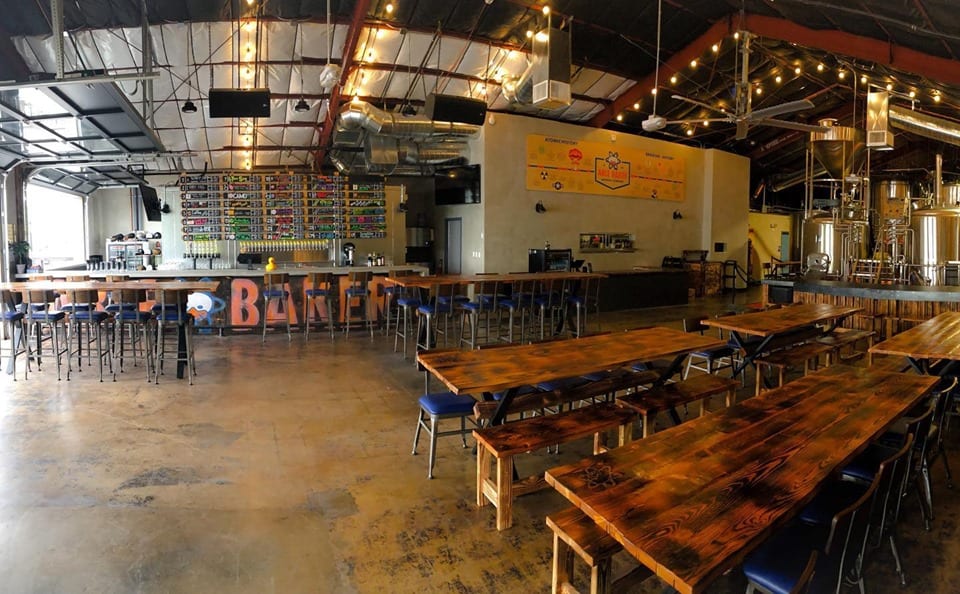 I haven't been drinking much beer this year but that's about to change. My favorite local beer bar and restaurant (595 Craft & Kitchen) is teaming up with the maker of my favorite local beer maker. Able Baker just opened its brewery at 1510 Main Street. The kitchen is operated by the brains behind 595 Craft & Kitchen. There are more than 30 taps with 25 being Able Baker beers. This video from earlier this year will give you an idea about the collaboration.
CraftHaus Arts District taproom also opened this week. They brew the beer at the Henderson location and bring it downtown. They have 24 taps with 16 devoted to CraftHaus beers. They also have four guest beers, cider, Vesta Cold Brew coffee, and white wine on tap. Small bites are provided by their neighbors across the street Esther's Kitchen. You can find more information here.
This is just the beginning of the Arts District becoming a booze district. More breweries and bars are coming. You can find more information here.
Quick Hits
In case you haven't had enough, here are a few more newsy nuggets around Las Vegas.
Buy Hilton Points To SAVE On Your Hotel Stay?
Yup, And It's Not Just Las Vegas!
---
Want direct access to casino news, casino reviews, narratives, loyalty programs and video poker? Visit our casino/Vegas section directly at CasinoZork. Join the thousands of people who read TravelZork every month! Sign up here for one email per week updates. (Email is sent weekly on Monday afternoon Eastern Time, and includes our popular weekly Vegas news series)
---