Vegas News April 26, 2023
Increased Spending In Las Vegas
Spending in Las Vegas increased last year. You can read a press release that focuses on just a few items here. The full report isn't too big. You can read that here.
The following stood out from the press release about the report "Total spending by visitors in 2022 outpaced the prior year by 24.4 percent and the 2019 total by 21.8 percent."
This sounds about right for visitors and residents like myself.
A's Making Moves – Quick Hits Style
There's a lot of mixed messaging about the A's possibly moving to Las Vegas. To be clear – this is not a done deal.
The A's do not own land in Las Vegas. The team does not have funding for a stadium yet. MLB will not grant the team permission to move until it has funding for a stadium.
The Oakland A's signed a binding agreement to purchase half of Station Casinos' land where Wild Wild West once operated. Read more here.
If everything falls in place, the construction of a new baseball stadium will begin next year and will be completed in time for the 2027 season.
This is a developing story. Stay tuned. If you're curious about the subject, read baseball media not based in Las Vegas. Most of the mainstream news outlets are just cheerleaders for whatever makes Las Vegas look good in their eyes.
Let's get to the rest of the news in and around Las Vegas

Las Vegas Quick Hits
I haven't explored the app (it was acting wonky when I downloaded it) but it appears as though Hard Rock Dice players can earn Unity Rewards to use at The Mirage and other Hard Rock properties. You can see the iOs app here.
Hard Rock has a fun promotion for the Janet Jackson tour. I look forward to when the company starts doing things like this for tours in Las Vegas. Read more here.
Pearl Jam is selling tickets for their next tour at an all-in price and no fees. I look forward to a Las Vegas hotel following this model. Read more here.
Blackstone is having financial problems and might sell its Las Vegas land at Bellagio and Cosmopolitan. Read more here.
MGM just released the MGM Grand Summer Poker Festival schedule from May-July. Check it out here.
MGM also released dates for the Aria Poker Classic. Read more here.
If you're in MI, NJ, PA, or Ontario, CA, you can play online to win a trip to play in the BetMGM Poker Championship during the Aria Poker Classic. Read more here.
Wynn Las Vegas has new daily poker tournaments. See the tweet here.
Katy Perry just announced the final 10 shows for her Resorts World residency. Read more and see the dates here.
Just a heads up that Resorts World is still matching Genting Rewards tiers with other casino rewards programs.
The Mirage has a few new promotions for locals. This includes a rewards program upgrade for free self-parking. Read more here.
Caesars Entertainment reports earnings in a couple of weeks but it prepping stock analysts now. It appears that occupancy at its Las Vegas hotels was 96-97% in the first quarter. We'll get confirmation on this number soon. In the meantime, you can read more here.
Unless you're a big spender, you might start seeing those comps turn into discounts at best. There are events almost every weekend and conventions or meetings during weekdays.
Speaking of big events, last week Blackpink dropped a teaser that the K-Pop group will play at Allegiant Stadium later this year. Allegiant Stadium announced the date for Aug. 18. You can listen to their latest album here and find ticket info here.
Erika Jayne, a real housewife of Beverly Hills, is doing 11 shows at Mandalay Bay. Read more here.
Heads up that the WinPoker app is no longer in the App Store and if your mobile device offloads it you won't be able to reload the app. I found out the hard way with my iPad last week.
Red Rock is replacing Hearthstone with a Mexican restaurant. Read more here.
MGM Resorts is another step closer to a casino in Osaka, Japan. Read more here.
You'll be able to stream WSOP for 47 straight days. Read more here.
It looks like you'll have to check out the straight payout when looking at video poker paytables. Read more here.
F1 topped off the paddock building for the Las Vegas Grand Prix. It's about 60% completed and will be ready for the race in November. Read more here.
It looks like F1 will have more general admission seats for the LVGP next year. Read more here.
Miami F1 prices are also ridiculous. Read more here.
Las Vegas is the sixth-best city for cannabis even though you can't legally enjoy the product in public. Read more here.
Don't be surprised when your favorite low-budget hotel dumps housekeeping. Read more here.
BravoCon is coming to the Caesars Forum in November. Read more here.
Virgin is now a partner with the Las Vegas Grand Prix. Read more here.
The Golden Nugget's sports betting app no longer works. Read more here.
The MSG Sphere at The Venetian confirmed details on the Postcard From Earth show. Read more here.
I haven't seen this elsewhere but Casino City says the Sphere is opening on 10/6 since that's when show tickets are available. See more here.
MSG sold Tao Group to help pay for the Sphere. Read more here.
By the time you read this U2 may have announced residency dates at the MSG Sphere. Read the rumor here.
Danzig is singing Elvis songs at the Tropicana. I wouldn't be surprised if this ends up being quietly canceled like the last time the Misfits were supposed to play Las Vegas. Read more here.
There's a chess festival coming to Resorts World. Read more here.
Golden Monkey Tiki at Resorts World is open. It looks like a set for a high school play. See more here.
Gogo bus is now available in Las Vegas. These can be used for party buses or meeting charters for large groups. Read more here and see Las Vegas specifics here.
Single-game tickets for the Las Vegas Lights soccer team are available now. Find more info here.
The deal for land across from Luxor has closed. There are no specific plans yet but the motel on site could be demolished. Read more here.
Vinnie from Jersey Shore is coming back to Chippendales inside RIO All-Suite Las Vegas Hotel and Casino. Read more here.
A cannabis casino should be more fun than this sounds. Also, this is in Detroit. Read more here.
---
Also, be sure to join the ZorkCast Group on FaceBook.
This is the Facebook group to continue the conversation from the ZorkCast podcast and TravelZork website. Feel free to start a conversation related to anything TravelZork or ZorkCast.
---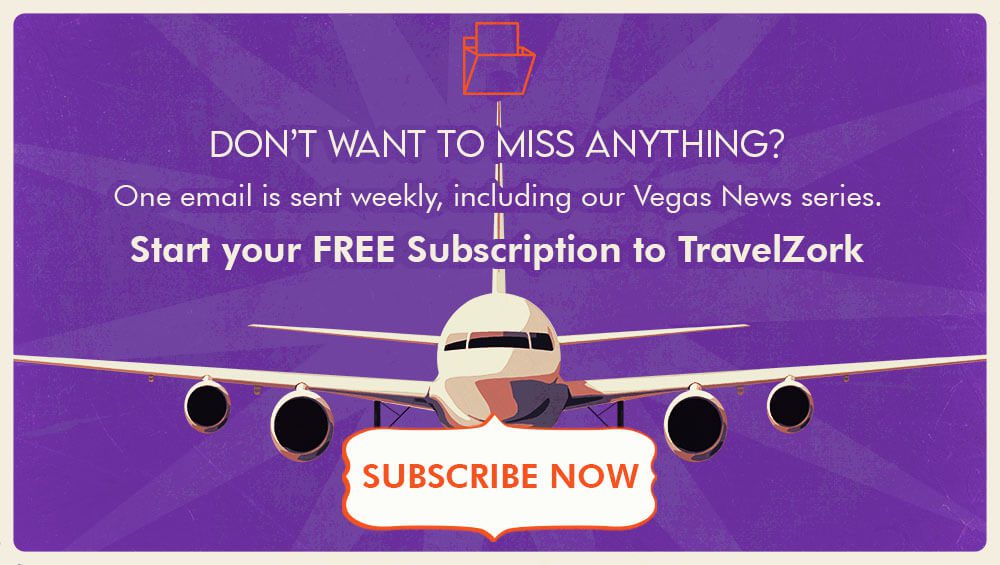 ---