Vegas News August 16, 2023
Here's a preview of the new walkway from Vdara to Bellagio. Guests can also stop at The Cosmopolitan.
Las Vegas Casino Earnings Highlights
MGM Resorts reported earnings earlier this month. Read about the financials here.
The big news was from MGM was released a day before earnings. The Cosmopolitan will become an MGM Rewards property on Feb. 1, 2024. Read more here.
MGM says room rates during the Las Vegas Grand Prix are about four times higher than usual and that it's shaping up as an all-time event for the company.
Super Bowl weekend hotel rooms for MGM are about three times the typical rate of the already busy weekend since the Big Game is taking place in Las Vegas. My interpretation of their tone is that they're much more impressed with the F1 crowd.
One interesting note from the earnings call was that MGM says the Marriott deal will replace 5%-7% of the low-end room nights. They expect this will increase revenue by approximately $100 per night.
Coincidentally, Caesars appeared to be nonplussed by hotel chain partnerships during their earnings call.
Caesars Entertainment also reported earnings this month. See the financials here.
Caesars – Expects 5% Lift In Earnings From the Las Vegas Grand Prix
The company reiterated that it expects a 5% lift in earnings from the Las Vegas Grand Prix saying that the high-end demand is very strong.
The William Hill NV sports betting app will receive an upgrade to the new tech the Caesars app is currently using.
Caesars says some of the new rooms in Paris Las Vegas (in the former Horseshoe Tower) will be available before the end of the year.
Red Rock Resorts (Station Casinos) reported earnings. Read about the financials here.
During the Red Rock earnings call, the big news was that Durango Resort & Casino will open on Nov. 20. Read more here.
Red Rock Resorts is planning a phase two of Durango if necessary and is also getting ready for its next casino in the Inspirada section of Henderson. The article above has some info on this property from earlier this year.
Mohegan Sun reported earnings this week. My only takeaway is that gaming revenue in Las Vegas (at Virgin) was down bigly. I have context for this and no opinion. See the financials here.
More Las Vegas News
Vital Vegas has some info on a couple of restaurants at Fontainebleau. Read more here.
It looks like The Eagles will do a residency at The Sphere. Read more here.
The William Hill sportsbook renovation at The Venetian is almost complete. It will be nice to see the space without those hideous red desks. Here are a few pics.
There was a lot of news about the ESPN Bet app this week. It will not be available in Nevada so I can move on. Read more about the app here.
An adult mini golf venue called Swingers is opening next year at Mandalay Bay. Read more here.
Make sure to spell "Swingers Las Vegas" and not "Swinger Las Vegas" when searching for more information. The results are very different.
Golf attractions are so hot right now. Popstroke from Tiger Woods and Taylormade will open just south of Mandalay Bay at Town Square. Read more here and here.
Palms is installing cameras in its parking garage. Most casinos don't offer this. See the tweet here.
Casino Royale could be replaced with a very tall building. Read more here.
It appears as though the Nevada Gaming Control Board is investigating Resorts World President Scott Sibella. Read more here.
This is neat gaming tech. Acres has a way for players to sign up for a rewards card at a slot machine in 10 seconds. Read more here.
Speaking of new Acres tech, TIBO is a new TITO system. Read more here.
No word if the name TIBO was inspired by TEBOW.
Another month, another $10 million plus Megabucks jackpot.
Lady Gaga is back at Park MGM for more Jazz and Piano shows. Read more here.
Luke Bryan's residency at Resorts World is coming to an end. Read more here.
I'm not sure why, but an offshore sportsbook has 6-1 odds for Kanye West announcing a Las Vegas residency. See the tweet here.
Queen Las Vegas will be "The Only Gay Hotel, Restaurant, Bar and Nightclub On the Las Vegas Strip" Read more here.
Gabriel "Fluffy" Iglesias added another night at The Cosmopolitan. Read more here.
Bruno Mars is also returning to Park MGM for more shows. Read more here.
You can pay $25 extra to sit at "Martha's Table" at The Bedford at Paris Las Vegas. Read more here.
Evidently, every casino needs a Mediterranian restaurant. Michael Mina is opening one at Mandalay Bay. Read more here.
Red Rock Casino already has a Mediterranian restaurant so they're adding a Mexican restaurant. Read more here.
This is somewhat Vegas-related – Nickelodeon will be broadcasting the Super Bowl. Since this is a kid-oriented broadcast there could be some different Las Vegas footage and info. Read more about the broadcast here.
There could be some changes coming to the Pac-12 (RIP) Championship and Las Vegas Bowl with the recent college football conference changes. Read more here.
Donny Osmond signed an extension for his Harrah's residency. Read more here.
Kylie Minogue sold out her 10 residency shows at The Venetian! Read more here.
Good news! It looks like she'll be adding more shows. Read more here.
Sorry, Steve. The demand for tickets is very good but it isn't quite massive. Kylie Minogue sold fewer tickets than one U2 show at The Sphere.
Paulina Rubio is playing two shows at The Venetian. Read more here.
Last and least, Bojangles is opening 20 restaurants in Las Vegas. Read more here.
---
Also, be sure to join the ZorkCast Group on FaceBook.
This is the Facebook group to continue the conversation from the ZorkCast podcast and TravelZork website. Feel free to start a conversation related to anything TravelZork or ZorkCast.
---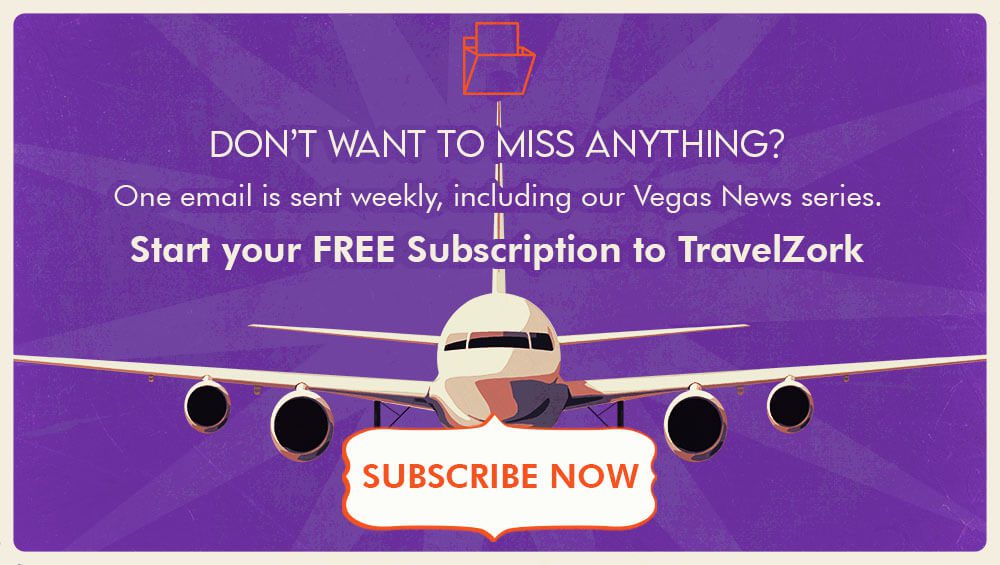 ---