Vegas News August 17, 2022
Las Vegas Earnings Season – Continued
We're going to start Vegas News with a look at casino earnings again. The season is over, so we can get back to regular news about what's happening in and around Las Vegas next week. Also, some sparkling news about Caesars Palace Las Vegas and why Caesars Palace Casino shines!
In the meantime, there were a few interesting notes to share.
Wynn Earnings
Wynn Resorts reported earnings last week. Company-wide earnings weren't great, but Wynn Las Vegas did great business in the quarter. You can see the press release and financials here.
Wynn broke records like some other casino operators this quarter. The following stood out to me about Wynn Las Vegas in the second quarter:
The average daily room rate for the second quarter of 2022 was $460. Occupancy was 90.5%.
The average daily room rate for the second quarter of 2021 was $333. Occupancy was 67.2%.
Like other Vegas Strip casino operators, July was off to a good start with 91% occupancy.
I'm not sure where stock analysts get their information, but it seems like the only people in the world that were sharing information about lower hotel room prices to the mainstream media in Las Vegas last quarter were incorrect.
During the call, Wynn pointed out that travel from the UK was now at 109% of 2019 levels, according to the Las Vegas Convention and Visitors Authority. I couldn't find the supporting data, but that has to be good news for Vegas Strip casino operators. I'll share more when I can find it.
Red Rock Resorts/Station Casinos Earnings
Durango will be at least three times bigger than this.

Visit our tiny oasis in the desert. On display at Red Rock Casino.

See more: https://t.co/1K6fWioLD3 pic.twitter.com/s2B833OV9e

— Durango Casino & Resort (@durangoresortlv) August 13, 2022
Station Casinos' parent company Red Rock Resorts reported earnings this week. You can see the press release here.
Good Quarter – Interesting Info Beyond What Has Been Shared
The company had a good quarter and we've reported much of the news about demolitions, construction and land purchases over the past week. There's still some interesting info beyond what's been shared already.
You can see some new renderings of Durango Resort above. Station Casinos expects to top off construction this fall with the fourth quarter 2023 opening on target.
The company won't start construction on a new property until Durango is completed.
In the meantime, Station is working on plans for a new casino in North Las Vegas. The company hasn't started planning what it will build on the recent land purchased in south Las Vegas yet.
It sounds like either location could be next for a casino. Station will decide if north or south Las Vegas will get the next casino.
Station Casinos will have title and zoning secured for new properties before one property is completed so they can move quickly. This is a smart tactic as it gives Station Casinos time to accurately create a property for the part of Las Vegas it sees as the most profitable.
Golden Entertainment Earnings
I don't track earnings for the parent company of The Strat closely because it's rarely interesting. However, I missed an interesting note from last week.
Evidently, Golden Entertainment lost millions of dollars last quarter due to a linen problem. Read more here.
The company building a golf driving range at The Strat broke ground on the project this week. They expect to open in the fourth quarter of next year. Read more here.
Let's get to the rest of the news in Las Vegas this week.

Las Vegas Quick Hits
Caesars Palace Casino Shines
Sparkly casino @CaesarsPalace

pic.twitter.com/dmpqhhRfOC

— Marc (@MeltzVegas) August 13, 2022
Caesars Palace Las Vegas finally finished renovation to the original casino. It was much needed and looks gorgeous.
FanDuel received a recommendation to operate the sportsbook at Fremont Casino. The recommendation should be approved before the end of the month. Read more here.
Boyd employees will actually operate the sportsbook with the betting menu and odds provided by FanDuel. If all is approved, the sportsbook at the Fremont will open later this year.
The Fremont is not a large casino and the sportsbook will fit the space. There will be seating for just 76 people. There will be four betting windows and seven betting kiosks. Reminder, FanDuel will not have a sports betting app and the company will not offer DFS in Nevada.
The NFL Pro Bowl is returning to Las Vegas next year. Read more here.
While we're talking sports, bus rides to and from Raiders and Golden Knights games from a variety of locations around Las Vegas are $2 each way. Read more here.
The Bedford by Martha Stewart is now open at Paris Las Vegas. Read more here.
Sapphire wants to add video poker. Read more here.
For what it's worth, Monday Night Football at Sapphire is a great experience. There's plenty of seating, big video screens, and a small bar. The only nudity is during halftime when lapdances are $1 for 30 seconds. It's a scene, man. This could eventually be a room that acts as a video poker sports bar.
The company planning to develop the Hawaiian Marketplace has plans going before the Clark County Commission next week. The space will include "retail shops, restaurants, supper clubs, service bars and outdoor entertainment space." They're leaving open the possibility of adding a hotel in the future. Read more here.
I didn't realize that the company, Gindi Capital, also developed the Showcase Mall on the Vegas Strip. Read more here.
Flanker Kitchen + Sports Bar will open at Mandalay Bay next summer. Read more here.
We're all looking for major changes when it comes to Cosmopolitan becoming part of the MGM Resorts family. Here's a simple one – instead of performing after hours at NoMad at Park MGM, Silk Sonic headed down the street to the Barbershop inside Cosmopolitan. See a short clip here.
Wynn Las Vegas will be hosting a few Wine Dinner Series events in Sept., Oct., and Nov. Read more here. (Hint: $10k)
The Las Vegas Concours d'Elegance returns to Wynn Las Vegas in Oct. There will be cars and food. Read a lot more information here.
Tip Bells?
Last but not least, I stayed at Palms for the third time since its reopening. I stayed in the Fantasy Tower for the first time. I liked the room better than the Ivory Tower we reviewed earlier this year. You can see a walkthrough below.
There were a few differences since my last visit. Ghostbar is open and the view is beautiful.
Bands are no longer performing in the sportsbook. I'm glad, the music wasn't good and it was audible for way too much of the casino.
One thing that's surprisingly still at Palms is the tip bells at the table games. Sadly only one of my Fortune Bonus tip bets at the Pai Gow table won. We only got to ding once.
Overall, the staff at Palms remains great. The only disappointment was how slow the wifi was for my mobile devices. For some reason, wifi was fine on the laptop.
---
Also, be sure to join the ZorkCast Group on FaceBook.
This is the Facebook group to continue the conversation from the ZorkCast podcast and TravelZork website. Feel free to start a conversation related to anything TravelZork or ZorkCast.
---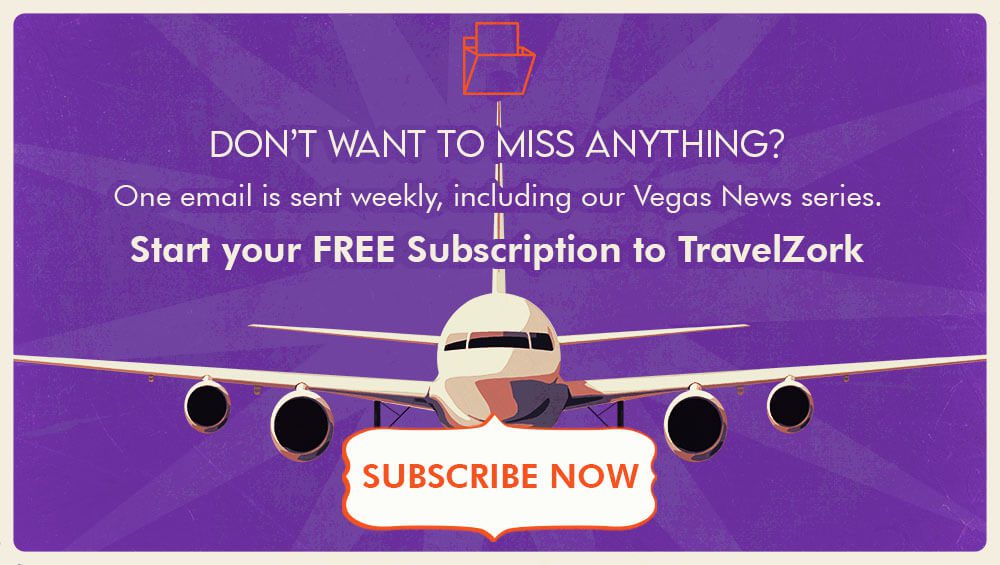 ---