Vegas News August 8, 2022
Las Vegas Earnings Season
We're going to start the Vegas News by looking at casino earnings ("Las Vegas Earnings Season"). Both Caesars and MGM Resorts released their information last week.
The bottom line is that both companies had record-setting quarters financially in Las Vegas. You can see the press release and financials for Caesars here and MGM Resorts here.
If you've been reading Vegas News, you know that I don't listen to casino earnings calls for the EBITDA or EBITDAR. First, I listen for useful information that isn't in the press releases. Then I listen for some context around the financials that explains how this will impact trips to the casinos.
While there wasn't a lot of news, there's plenty to share:
Caesars Earnings
Once again, Caesars didn't announce the casino sale they've been teasing since the company merged with Eldorado in 2020. I wanted to share thoughts on this during the call but I couldn't find the right words.
The great Stiffs and Georges blog shared what I couldn't fit into a tweet. From the blog post:
"Chances are, having knocked the price down from $2 billion to $1 billion to $800 million, Reeg is still having trouble finding takers for the property…Another possible reason CZR is suddenly hoarding hotel rooms is that what once looked like overexposure now is a bonanza. The company record levels of room revenue last quarter on 97% occupancy, as Strip takings vaulted 34% from 2Q21."
There's a lot more information in the full post but what they're saying and what they're doing. Anyway, it's beyond time to stop speculating on if/when/what Caesars will sell.
Caesars' Las Vegas hotels were at 97% occupancy in the second quarter. July looks to be a little lower but not much and the company expects occupancy to rise again.
Useful Information
The company says the 55+ customers are beginning to return to Las Vegas which should be a boost for the rest of the year.
Lastly, the renovations at Caesars Palace Las Vegas that were supposed to be completed by New Year's Eve last year should finally be done in Sept. Believe it when you see it.
MGM Resorts Earnings
I was hoping to get some information on The Cosmopolitan being folded into MGM Resorts during the call. That was a bit ambitious.
MGM Resorts has only been operating The Cosmopolitan for six weeks. The company shared very little about operating the property. MGM did say that The Cosmopolitan generated just under $60 million of earnings (EBITDAR). That's $10 million a week.
I was expecting that it would take a year for The Cosmopolitan to completely become part of MGM Resorts (and Rewards). Since little has happened yet it wouldn't be a surprise if the heaviest lift – merging Identity entirely with MGM Rewards – doesn't happen until a year from today as Vital Vegas shared.
I think we'll start to see MGM Resorts begin merging some of the easy things on the merger to-do list for The Cosmopolitan sometime this month or next.
MGM Resorts Las Vegas Hotel Renovations
New York-New York and MGM Grand room renovations are underway and should be available soon. It seems as though all New York-New York rooms will be updated. Only some of the 6,852 rooms at MGM Grand will be updated.
MGM is devoting capital expenditures in 2023 and 2024 to more room renovations. Expect to hear about more renovations later this year or early next year.
MGM Resorts and F1
There was one strange and funny moment during the call. MGM Resorts reps on the earnings call started giggling when discussing the Las Vegas Grand Prix F1 race next year.
The company is expecting to charge at least 3 times for hotel rooms during the weekend F1 is in town. They don't expect a big bump in gaming revenue from the race.
It sounds like the company is expecting a huge jump in non-gaming revenue from the F1 race after seeing the ridiculous prices of every kind of event at the Miami Grand Prix this year.
MGM Resorts expects to buy $20-$25 million in tickets. CEO Bill Hornbuckle then said the company will have "the ability to charge as we want and package as we want."
Get ready to see some ridiculous MGM/F1 packages next year. It's probably safe to assume all sponsors of the race will have similar offerings.
If you get bored, you can read a transcript of the MGM Resorts earnings call here.

Las Vegas Quick Hits
The D will be opening a 24/7 bacon-inspired restaurant next to Bar Canada on the second floor. You can read more about BACON NATION here.
The A's called on Circus Circus owner Phil Ruffin to discuss possibly building a stadium on his land. Read more here.
Hard Rock announced Joe Lupo will become president when the company takes over operations of The Mirage. The deal with MGM Resorts should close before the end of the year. Read more here.
The company reaffirmed that it will be building a guitar-shaped hotel tower. This will be one of the first parts of the planned renovation of The Mirage. Just sharing as a reminder to check out the volcano while it's still operating.
The deal for Bally's Corp. buying Tropicana should close later this quarter. It looks as if the company will take a year to decide how to redevelop the property. Read more here.
Chip collectors might want to make a visit to the Tropicana on their next visit. Even if the property is still standing, I think it will have a different name.
If FanDuel receives regulatory approval from Nevada this month it will open its first Las Vegas sportsbook at the Fremont Casino. The app will not be operational in Nevada. This will be a retail-only betting venue with the same odds as the app. Read more here.
Travis Scott will have a residency at Zouk Nightclub at Resorts World. This seems like a small venue for a performer that headlines festivals. Read more here.
For scale, imagine Metallica or Green Day playing a venue that holds under 1,000 people when they're not headlining Lollapalooza.
Former Dallas Cowboy Emmit Smith's restaurant at Fashion Show Mall should be open in September. Read a press release about the chef here.
A few weeks ago I mentioned, part-jokingly, that Million Dollar Listing could be coming to Las Vegas with a real state company opening up shop. It looks as though I may have been onto something. Read more here.
The city of Las Vegas is adding 50-foot-tall showgirls to the downtown gateway near The Strat. The little 25-foot-tall showgirls are moving to the Arts District. You can see a brief explainer below:
---
Also, be sure to join the ZorkCast Group on FaceBook.
This is the Facebook group to continue the conversation from the ZorkCast podcast and TravelZork website. Feel free to start a conversation related to anything TravelZork or ZorkCast.
---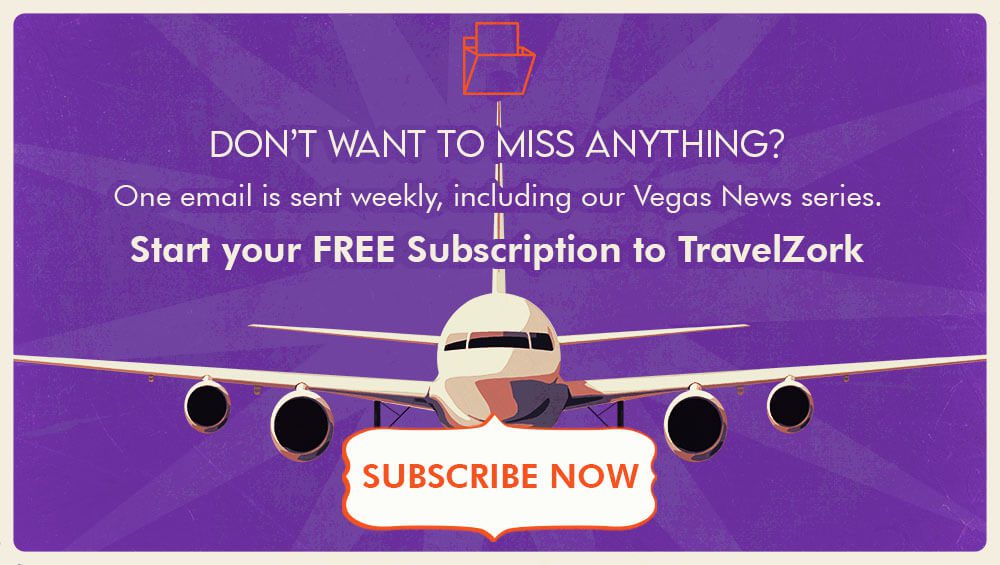 ---