Vegas News December 28, 2022
Proper Eats at Aria
I visited the new Proper Eats food hall at Aria last week. The fancy food court occupies space old buffet space on the second floor of the casino.
The layout is similar to the Aria buffet with new food stations and seating. I went for lunch on the eve of Christmas Eve since I knew it wouldn't be swamped with holiday visitors.
Visited proper eats food hall @AriaLV today. pic.twitter.com/exz0b07kKi

— Marc (@MeltzVegas) December 22, 2022
I didn't notice signage for Proper Eats on my way to lunch. Similar to the food hall at Cosmopolitan, I expect this will be crowded once people realize it's open.
I arrived a little before my meeting time so I could check it out. The smell of a toasted everything bagel greeted me at Wexler's. It was music to my nose. I definitely stood around enjoying the smell for a bit.
Ordering and paying for food is similar to the Resorts World food court. Most orders are done via mobile phone or kiosk. Temaki Bar (sushi) Egghead (fake Eggslut) must be ordered in person.
I used the kiosk since it wasn't too busy. There aren't many kiosks, so there might be a line to order when more people are visiting.
MGM Rewards Points – Earn Points at the Kiosk
You can use your MGM Rewards account at the kiosk to earn points. I'm not sure ordering on a mobile phone offers this. I didn't see a place to enter a number.
As I previously mentioned, I went to Seoul Bird for Korean Fried Chicken. The food tasted like tempura chicken fingers with Korean-flavored dipping sauces.
A Side Of Tots – Seoul Bird
I added a side of tots because I love tots. The food itself was fine, but it wasn't what I expected.
The tots were crisp but not seasoned at all. The chicken was not bad but it was so unmemorable that I probably won't have it again.
Early reviews I've seen for the food at Proper Eats are mixed from bad to good depending on the food stall. My chicken, tots, and cold brew all fall under the category of "fine." Nothing was awful or special. On the upside, I was so full I didn't eat dinner.
Food courts are rarely destination dining spots. They serve the purpose of quick and relatively inexpensive meals. Proper Eats falls in that category.
It seems like it will fill a void for someone at Aria who doesn't want to go elsewhere for a quick meal. It's probably not a place people are going to flock to for a specific meal.
I'll likely be back because I'm at Aria fairly often. I'll keep my eyes out for reviews for the next time. Read more about Proper Eats here.
Let's get to the rest of the news in and around Las Vegas.

Las Vegas Quick Hits
Hard Rock is now operating the Mirage. You can read the press release from Hard Rock here. You can see the MGM press release here.
The rewards program desk is open inside the casino but the Unity website has no information about benefits for the Mirage. You can reference it here.
The Mirage is matching Hard Rock Unity status to MGM Rewards status and giving away slot dollars for all tier matches. Read more here.
I received the Hard Rock Icon level for MGM Rewards Gold. There should also be enough comp dollars for $100 to be used at the Mirage. I'll check that out next year.
MGM Rewards is extending 2x Tier Rewards until Jan. 21. Check current promotions here. (Note: MGM Rewards has been changing and rearranging a lot lately. Be sure to review and also "screenshot" your promotions. Of course, most promotions are subject to change per terms&conditions.)
One more on the topic of casino rewards benefits. Resorts World will charge for self-parking next year unless you're a rewards club member. Read more here.
Randy's is taking over the donut spot inside Suns Out Buns Out at Resorts World. Read more here.
There was a BetMGM security breach. Read more here.
The Las Vegas Convention and Visitors Authority put together a list of what's happening in Las Vegas on New Year's Eve. Read it here.
Fontainebleau secured the money to finish construction. The property says it will open in the fourth quarter of next year. Read more here.
Peppermill is 50! Read more here.
The Punk Rock Museum opening date has been pushed back. Read more here.
CES is expecting 100,000 people to attend the expo in January. That's a big step forward but still only a little more than half of the number at the conference before Covid-19. Read more here.
Caesars Entertainment has a $5 million F1 package. Read more here.
Bad news: Herbs & Rye caught fire last week. Read more here.
Good news: Herbs & Rye should be open by the time you read this.
Adele is the most in-demand show ticket in Nevada. You can see the same for every state here.
The Meatloaf show at Paris is closing. Read more here.
Extravaganza at Bally's/Horseshoe is closing. Read more here.
John Mull BBQ is now a historic site in Las Vegas. Read more here.
Treasure Island's owner Phil Ruffin says the guitar tower at the Mirage won't hurt business. Read more here.
Mohegan Gaming reported earnings last week. There's no information about Las Vegas as usual, but you can read more here.
---
Also, be sure to join the ZorkCast Group on FaceBook.
This is the Facebook group to continue the conversation from the ZorkCast podcast and TravelZork website. Feel free to start a conversation related to anything TravelZork or ZorkCast.
---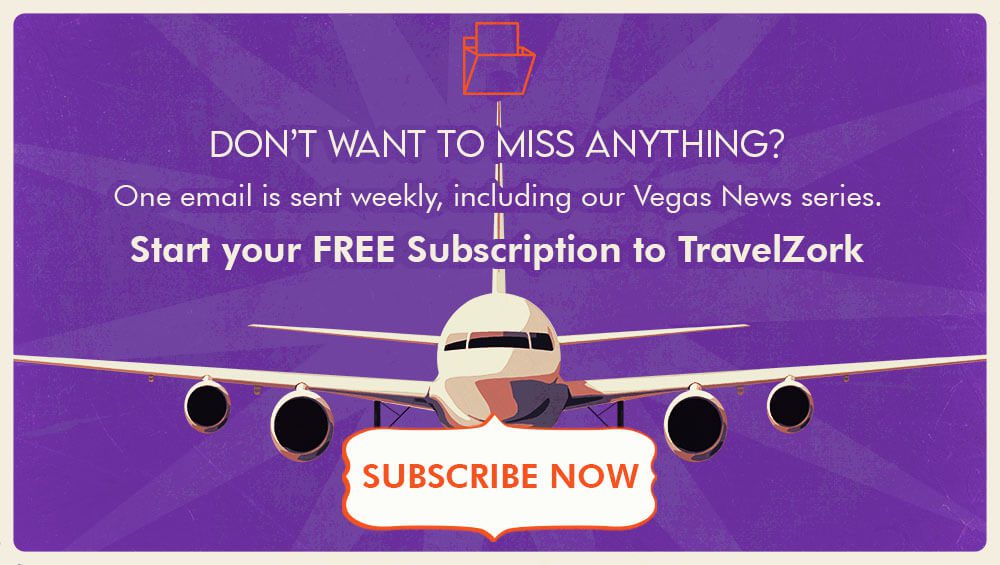 ---