Vegas News December 5, 2021
This was a big weekend in Las Vegas. The headliner is that the NFR (National Final Rodeo) is underway in Las Vegas! In addition to a slew of country music concerts, there was a Foo Fighters show, Raiders game versus the Washington Football Team, and a lot more.
I enjoyed one of those things and will be enjoying the other by the time this is posted. I can't wait to share my four-day holiday on the Vegas Strip with some of my favorite tourists from around the country.
In the meantime, let's look at the news that happened in and around Las Vegas this week.
Oakland A's + Las Vegas
Imploding The Trop? – Did I Get Your Attention?
The headlines this week say that the A's are looking "considering" building a stadium where the Tropicana is. The team hasn't made an offer on the land.
The team is "considering" a lot of locations including land at the Las Vegas Festival Grounds, in Summerlin, and near Wild Wild West Casino.
Yawn.
My favorite headline on this topic comes from Field of Schemes. This is a great old school (90's/early 00's) blog that focuses on funding sports stadiums. Their headline for the news about the A's new "plan' for Las Vegas is "Somebody at a gambling conference thinks they might know where in Vegas the A's want to buy stadium land, maybe".
This is a good blog post to read for anyone that wants to dig a little deeper than the mainstream media will discuss the topic. This aligns with my thoughts as well. It's my personal opinion that the A's are using all sorts of vague tactics to manipulate Alameda County (Oakland) to build a new stadium.
What Do I Know?
Having said that, I thought the same about the Raiders before they were gifted a stadium. What do I know?!
Nevada Governor Steve Sisolak says the state won't have a special session about the potential A's stadium. However, he didn't emphatically say that Las Vegas won't assist in building a small 35,000 seat baseball stadium.
Sometimes these things take a while to work themselves out. Stay tuned for more.
Look For Palms To Reopen Around Pool Season
San Manuel received the first approval needed to begin operating Palms. Final approval should come during the next Nevada Gaming Commission meeting on Dec. 16. You can read about the hearing earlier in the week here.
San Manuel is still keeping their large presentation with plans for Palms private only sharing with the gaming control board. Presenters did drop a few more hints on San Manuel's plans.
If final approval happens on Dec. 16 as expected the company has a goal to open Palms by pool season. San Manuel will share plans for its pool at a later date.
Las Vegas pool season usually starts in early March.
The rooms will mostly be the same since they were renovated shortly before Palms was closed. Some restaurants, but not all will return to Palms. One of the speakers mentioned Scotch 80 will remain at Palms.
Expect to hear more news after San Manuel receives final approval later this month.
Visitation And Gaming Revenue Quick Hits
I want to point out a couple of things from October's Nevada Gaming Control Board's monthly Revenue Report and Las Vegas Convention and Visitors Authority monthly Executive Summary so I thought I'd dedicate a small section to it.
Nevada had its eighth consecutive month with a gaming win over a billion dollars. Read more here.
More than $1 billion was wagered on sports in Nevada for the first time. Read more here.
Casinos won a greater percentage from Three Card Poker than any other casino game. See all games here.
The Average Daily (hotel room) Rate (ADR) for Las Vegas hotels in October was $173.68. That was up 11.5% from Sept., up 66.1% from Oct. 2020 and up 28.3% from Oct. 2019.
Visitor volume continued to rise. In Oct. it was less than 8% less than 2019.
Vegas Is Back!
Vegas is back! This is a great time to get your casino and hotel loyalty preferences in order. Prices will continue to rise and rewards programs are always a good way to get discounts and comps. Perhaps, also consider attending ZorkFest on December 17th and 18th.

Las Vegas Quick Hits
General Quick Hits
The pace of Las Vegas news isn't crazy but it's not quiet. Let's get to the other news happening in and around Las Vegas.
« Farewell Rio 2005-2021 » @RioVegas pic.twitter.com/8RQzHKQo0E

— WSOP (@WSOP) December 3, 2021
---
Also, be sure to join the ZorkCast Group on FaceBook.
This is the Facebook group to continue the conversation from the ZorkCast podcast and TravelZork website. Feel free to start a conversation related to anything TravelZork or ZorkCast.
---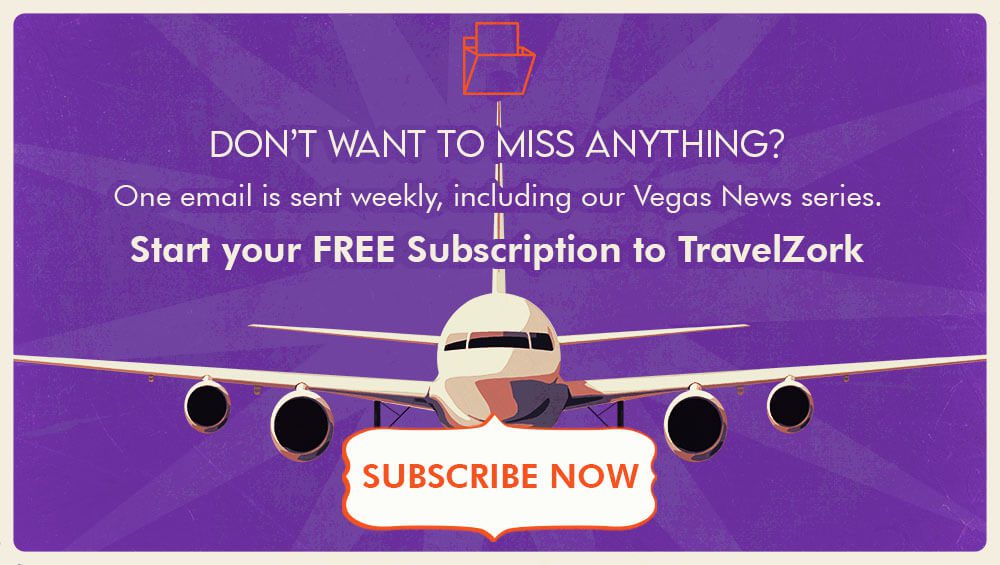 ---