Vegas News February 6, 2022
It's quarterly earnings season and a couple of corporations with local casinos really got things rolling. Boyd Gaming and Station Casinos both had great financial earnings in 2021 and during the fourth quarter. Plus, we have news of Fremont Expanding.
You can see the Boyd Gaming earnings press release that covers mostly financials here. The Station Casinos earnings release is here for anyone that just wants the bare-bones info.
Earnings for both companies are typically very similar. The last earnings period and year were no different. Both crushed revenue and profits and broke more quarterly records.
While impressive it's helpful to remember that these companies are becoming more profitable by focusing on big spenders and weeding out low-profit customers.
These companies are not looking for customers that try to game the rewards system. This isn't new but the quarterly earnings calls are a good reminder that anyone looking to maximize their casino experience will have to be sharp and always look for new advantages.
I expect we'll see similar but different information when the big companies, MGM and Caesars, report earnings in the next couple of weeks.
Boyd Expanding Fremont Casino – Fremont Expanding
Vital Vegas was the first place I saw mention of the work being done at the Fremont. The rumor about expansion goes back to 2018 so I was anticipating some information on the work Scott saw.
Boyd confirmed the expansion ("Fremont Expanding") during the earnings call. The company was light on specifics but here's what we officially know. The expansion has a relatively small $50 million budget and should be finished in early 2023.
Boyd Expanding Casino Floor – Fremont Expanding
Boyd is expanding and enhancing the gaming floor. They're also adding some dining options. Scott tweets that the company will hop on the food hall/food court train. This would essentially replace the buffet. I'm pretty sure this was the buffet from Vegas Vacation but that's another story.
Expect more details about the expansion later in the year and next year as it gets closer to opening.
Boyd Gaming remains open to adding properties but there's nothing on the horizon. The company is keeping its ears open but they're looking for a deal. Hey, they're just like us! Who doesn't want a deal?!
Construction On Durango Station Underway
Station Casinos quietly broke ground on the construction of Durango Station. They're currently leveling out the land preparing for work.
The company has deals in place for steel and concrete to move into the next phase. Station Casinos is trying to make sure the company doesn't get behind schedule by purchasing things that could get delayed if the supply chain continues to have problems.
During the call, the company noted they're buying things they won't need for a couple of years like some kitchen equipment. Again, in an effect to avoid possible supply chain issues. The property will take 18-24 months to complete.
Station Casinos is currently working on plans for its other undeveloped land. While there's no timetable, the company appears to have an idea of what they'd like to do.
They did mention the Insparada part of town as one of the possible locations for a new property. I expect we'll hear more before the year is over.
Boyd And Station Earnings Notes
I'm going to share a few random notes from both earnings calls. There isn't a particular topic so I'll be jumping around. Feel free to drop a comment below with questions.
Station Casinos' cashless gaming passed a field trial and will be installed at all properties over the next couple of quarters. Expect to hear more once it's more readily available.
Boyd Gaming continues to do better with its locals casinos than downtown properties. That said, the company mentioned Circa is driving business downtown.
Guests from Hawaii were coming back for Boyd properties until Omicron. They expect this to change as Omicron goes away.
Station Casinos continues to see more high-end customers migrating from the Vegas Strip. These more profitable guests are replacing locals who were looking for discounts and buffets.
Station Casinos has no plans to reopen its closed properties. The vast majority have moved to other nearby Station Casinos.
Wild Late Friday News
I was mentally done with the week when the Nevada Gaming Commission sent out a press release detailing how they located an unidentified jackpot winner back home in Arizona. I'm just going to quote the press release because it's direct and to the point.
"On the evening of January 8, 2022, casino patron Robert Taylor, a resident of Arizona, appeared to hit a jackpot on a progressive slot machine at Treasure Island Hotel & Casino in Las Vegas, Nevada. However, due to a communications error that occurred, the slot machine experienced a malfunction that prevented Mr. Taylor and casino personnel from realizing that a progressive jackpot had been won."
The story ends with the gaming commission tracking him down and paying him nearly a month later. You can read a more colorful take on the story here.

Las Vegas Quick Hits
It's All-Star Weekend in Las Vegas for the NFL and NHL. Although the latter is technically a "Pro Bowl" weekend the games and events highlight the best players in the league. The NHL seemed to be having more fun around town throughout the week with fan events along with player and mascot appearances.
Before we get to the rest of the Vegas News let's look at the Philadelphia Flyers mascot, Gritty, getting almost naked with Chippendales.
You can see the full video and read about Gritty's appearance here.
The NHL had a couple of Skills competitions outside of the venue. One event took place on the fountains at Bellagio. The other was a blackjack-style competition on the Vegas Strip. Read about them and see pics here.
It was great to see the NHL embrace Las Vegas for its All-Star Game. The NFL was low-key for the Pro Bowl. The NFL Draft in April should really be the league's showcase for Las Vegas. I'm happy to see plans for the Red Carpet on the Bellagio Fountains will still happen. Read more here.
Fontainebleau received approval from Clark County to build a nightclub and dayclub on the ninth-floor pool deck.
MGM Rewards has officially launched. Read the press release here.
Life Is Beautiful was sold. It sounds like the downtown Las Vegas music festival will also be popping up in locations outside of Las Vegas someday. Read more here.
The Nevada Gaming Control Board recommends the sale of The Venetian goes through. Full approval should happen later this month. Read more here.
Apollo Global Management was light on details about the future of The Venetian. The company did they're putting together plans for the property. One interesting note from the hearing was the mention of possibly adding rooms. This could bring the St. Regis tower back into play. Read more about that tower here.
This movie tour sounds interesting.
It's Super Bowl week. You can see the huge list of prop bets from Caesars Palace Las Vegas here.
Anita Baker is coming back to Las Vegas. Read more here.
Crazy Horse 3 is accepting crypto. Read more here.
Lady Gaga is coming back to Vegas. Read more here. ​​
Another Boring tunnel update.
Prufrock-1 has arrived at Resorts World on the Vegas Strip! Thanks to @ResortsWorldLV @LVCVA @ClarkCountyNV for their amazing support. pic.twitter.com/dr7VJLv3Lt

— The Boring Company (@boringcompany) February 4, 2022
---
Also, be sure to join the ZorkCast Group on FaceBook.
This is the Facebook group to continue the conversation from the ZorkCast podcast and TravelZork website. Feel free to start a conversation related to anything TravelZork or ZorkCast.
---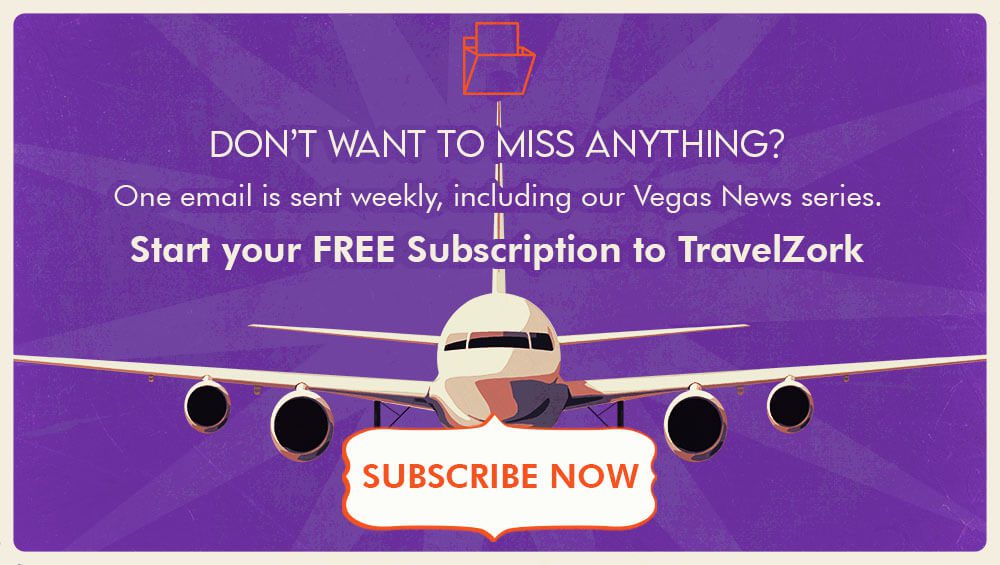 ---