Vegas News February 9, 2023
New Casinos Opening
Two new Las Vegas casinos are opening or have opened this week depending on when you read this. Chances are few tourists will take the trip to visit more than one but new casinos are always fun so let's take a look. Of course, don't miss the news below about MGM Tier Match downgrades, which is a huge topic of conversation in the casino and travel loyalty world.
While one is open on Fremont Street, it's not within walking distance from where the tourists usually hang out. The other new casino is about 15-30 minutes away from the Fremont Street Experience.
Ojos Locos Sports Cantina Y Casino
Ojos Locos Sports Cantina Y Casino at Hotel Jefe opened in North Las Vegas on Feb. 6. The small casino is a small 10,000 square-foot gaming floor. For comparison, this is just over half the size of The Cromwell casino and smaller than Ellis Island.
The hotel has less than 100 rooms that are still being renovated. The casino has 280 new slot and gaming machines. There are no live dealer games.
Ojos Locos Sports Cantina is a chain restaurant with seating for about 300 people. There's a sportsbook and 90 TVs throughout the property.
This should do well in this part of town. It also offers visitors something different to check out. Read more about Ojos Locos Sports Cantina Y Casino and Hotel Jefe here.
Wildfire Casino
Station Casinos Downtown Wildfire officially opens on Feb. 10. This is a 30-minute walk or six-minute drive east of El Cortez.
Wildfire casinos are typically no-frills casinos for nearby locals to bang away on slot machines. This Wildfire will have some more bells and whistles with an IHOP and a couple more restaurants.
Wildfire Casino Details
The casino has about 200 machine games and a sportsbook. There are no live dealer games at the Downtown Wildfire.
If you miss the marquee outside you might not even realize this is a casino based on the building design. The building reminds me of the Party USA I used to visit for the secret post office in the back.
The Station Casinos blog has more information about the Wildfire Casino here.
If you like machine games and visiting different parts of Las Vegas, either of these might be a place to check out.
Short Trip To South Point
I haven't been to South Point Casino since before the Covid-19 pandemic. I made a triumphant return to record the Beating The Book podcast.
The South Point is exactly how I remember it. I've never visited this casino often since it's about 30 minutes from where I live. There are three casinos within a few minutes of me and it only takes about 15 minutes to hit downtown or the Vegas Strip.
Driving the extra distance to visit a casino is only for special occasions. I was reminded that South Point has a lot to offer visitors.
It's a huge casino with lots of slot machines and table games with very fair limits and rules. There are plenty of bars and dining options and the sportsbook has some of the best odds in Las Vegas.
Everything at South Point is fairly priced and there are plenty of deals and promotions throughout the year.
On the downside, South Point is crazy smoky. I didn't walk ten steps into the casino before I was crushed with cigarette smoke at 8 am. It only gets worse as the place fills up.
I mention South Point since I started Vegas News, discussing different places off the beaten path to visit.
South Point it's a great option for someone looking for good games at low limits with plenty to do other than gambling (GASP!).
The casino is about 10-15 minutes from Mandalay Bay for anyone that wants to try something different close to the Vegas Strip. Lastly, the property has free watch parties for big sports events like the Super Bowl, March Madness, and the Kentucky Derby.
Visit South Point for more information on the property.
Let's get to the rest of the news in and around Las Vegas.

Las Vegas Quick Hits
Boyd Gaming reported fourth-quarter and full-year earnings last week. The company seems to have had another great quarter and year. Unfortunately, the call was relatively uneventful for those of us looking for future plans.
Once again Boyd's Las Vegas locals and downtown casinos had great revenue quarters. Visitation from Hawaii was finally back to pre-pandemic levels.
The company is seeing growth at Fremont casino with the new sportsbook, slot machines, food court, and renovated hotel rooms.
Read the Boyd earnings release for specifics here.
Penn Entertainment (formerly Penn National Gaming) owns M Resort and reported earnings last week as well. The company had nothing to say about the rumor that its selling M Resort. The earnings presentation has nothing about Las Vegas but you can read it here if you're curious about the properties around the country.
Hard Rock is testing the ground at The Mirage. This is preparation for construction that will eventually happen at the property. Read more here.
MGM Resorts has new tier-matching levels. For example, Caesars Rewards Diamond and Cosmopolitan Identity Gold are no longer matching to MGM Rewards Gold. You can see the tier-matching levels here.
I have thoughts but I'll save them until my status is downgraded at Cosmopolitan.
You can see the future of the Grand Bazaar Shops at Horseshoe Las Vegas here.
Rumor: Harry Styles might do a residency or limited engagement at the MSG Sphere at The Venetian. Read more here.
The Oakland A's are still messing with Las Vegas. Read more here.
We Bridge is a "two-day music festival event celebrating Asian entertainment and culture" coming to Mandalay Bay in April. Read more here.
If all goes well, the Las Vegas Grand Prix will take place for 10 years instead of three as originally planned. Read more here.
In case you missed it, the F1 race will have an economic impact in Las Vegas of $1.3 billion. For comparison, that's twice the impact the Super Bowl will have next year. Read more here.
Aria has a new high-limit room. Read and see more here.
Aruze Gaming is filing for chapter 11 restructuring. The bubble craps games you love should remain in casinos. Read more here.
Cirque Du Soliel is celebrating 30 years of shows in Las Vegas. Read more here.
Last week we mentioned Circus Circus is now part of Choice Hotels. The company now allows customers to exchange points with Radisson Rewards. Read more here.
Not sure why I remember this but the last Radisson I visited was in Austin, TX.
---
Also, be sure to join the ZorkCast Group on FaceBook.
This is the Facebook group to continue the conversation from the ZorkCast podcast and TravelZork website. Feel free to start a conversation related to anything TravelZork or ZorkCast.
---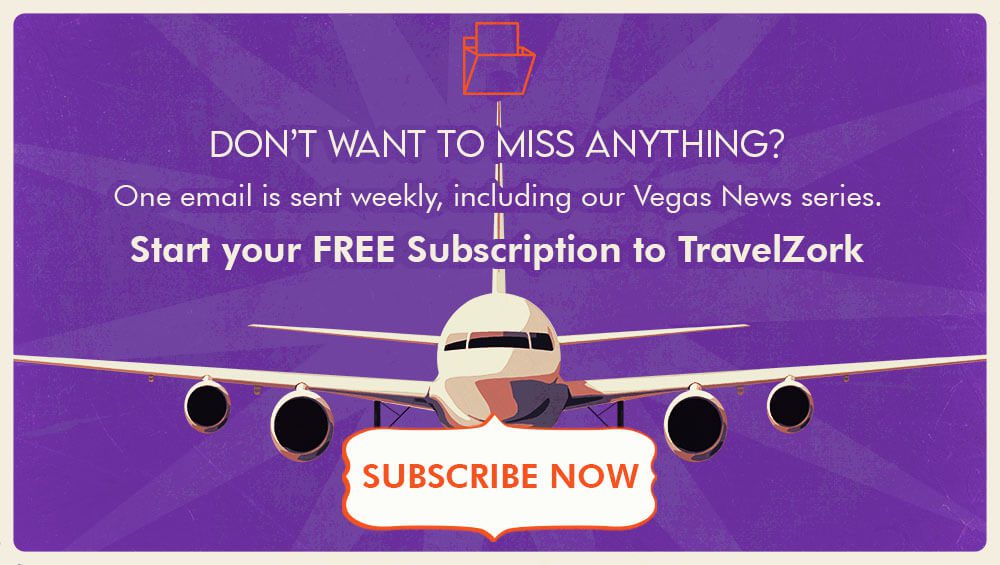 ---