Vegas News January 11, 2023
Enjoying Las Vegas
It's a new year, and I'm stoked to finally get back to enjoying Las Vegas. I usually shut down my visits to casinos after Thanksgiving because I hate crowds.
I broke this rule last year when I visited a few casinos early in the day. I stopped off a Cosmopolitan and Aria one morning to check out the Proper Eats Food Hall. I also stopped at the Mirage to pick up my rewards card. However, I barely gambled during these visits. GASP!
This year I held out on visiting a casino until my monthly stay at the Cosmopolitan. The Identity Rewards offers are still the same, so I'm going to enjoy them until they dry up.
If my estimate is on target, the Cosmopolitan will become an MGM Rewards property in June. I highly doubt the corporate machine will respect my modest bankroll the way the independent casino operator does.
Comp Nights At Cosmo
For the time being, I'll enjoy a couple of complimentary nights at the Cosmopolitan each month as well as weekly food and slot/video poker credits.
I have to say, it was nice to get back to playing Pai Gow Poker, random slot machines, and video poker for money. I like video poker, but practicing can get boring no matter how many 666 hands I have. I use the WinPoker app for video poker practice. It's paid for itself 1,000,000 times over the years.
Haven't played video poker since November. Sharpening the skills for 2023. #666 pic.twitter.com/qh5UqYnZwm

— Marc (@MeltzVegas) January 2, 2023
It was also great to have someone cook for me for a change. I've been eating way too much food at home and I'm not a good cook. The Cosmopolitan has delicious food and drink options.
My 2023 is finally underway! (And A Personal Request)
Personal request: I usually keep tabs on new products at CES that we may see in casinos someday. I didn't see all that many interesting products. Please drop a comment if you saw something awesome that we might see used in a casino someday.

Las Vegas Quick Hits
The land where Riviera once stood was going to be sold to a person who planned to build a new casino. They backed out of the deal so that's not going to happen. Read more here.
Station Casinos sold land across the street from land it purchased on Las Vegas Blvd. last year to a hospital company. Read more here.
There are no plans for the land today. How do we feel about a hospital with gambling?
We alerted you that Resorts World would begin charging non-rewards club members for parking. Well, that started last week. Read more here. You can sign up for Genting Rewards here.
Signing up for rewards programs has always been useful to an extent. This might become even more important as companies offer deals only for members. Delta will be offering free wifi if you're a Skymiles member. Read more here.
New Cosmo Promo
The Cosmopolitan has an interesting offer match available. It will match offers from other luxury properties. Bring your Wynn offers but not your Luxor or Circus Circus offers. Read the details here.
Freestyle Love Supreme at The Venetian is shutting down. Read more here.
The Vegas Vipers XFL team will play home games at Cashman Field in downtown Las Vegas. The season begins late Feb. Read more here.
Here's a fun bit about the Vegas Vipers. The team is in the North division of the XFL. Who knew?! See the divisions here.
I hadn't seen the Las Vegas Grand Prix schedule anywhere before last week. All race events will take place at night. See the tweet with the schedule here.
Ellis Island has new reward program tiers. Read more here.
Boyd Gaming will be the first casino corporation to report fourth-quarter and full-year earnings this year. Read more here.
MGM Resorts will report earnings on Feb. 8. Read more here.
Caesars Entertainment will report earnings on Feb. 21. Read more here.
It's so early in the year that I'm unsure what to expect from the calls but it's on my mind so let's take a guess at what we'll see. Boyd should be much of the same. Maybe MGM will offer insight into when Cosmopolitan will become a full MGM Rewards property. Maybe Caesars will talk up how great Horseshoe will be for gamblers.
The new slot machine version of Running Rich Reels was approved and will be placed at New York-New York and The Strat. Read more here.
The creators of Absinthe purchased a town in CA to create a "Circus Town". Read more here.
This is rare. Wynn Rewards has a slot promotion for locals. You can see the screengrab here and see the current promotions at the bottom of this page.
The I-15 Tropicana freeway construction is going to be a headache for drivers for a few years. You'll find updates and details throughout the project here.
MSG may sell Tao Group. The company operates a slew of nightclubs and restaurants in Las Vegas and around the world. Golden Nugget owner Tilman Fertitta may be the buyer, according to the newspaper. Read more here.
Speaking of the MSG Sphere, the company dropped a sweet hype reel. Check it out.
Our 2023 New Year's Resolution?

Unveil #msgsphere, an entirely new medium that will allow audiences to see and feel entertainment like never before.

Come take a look… pic.twitter.com/1EhUdkvQxx

— MSG Sphere (@msgsphere) January 3, 2023
---
Also, be sure to join the ZorkCast Group on FaceBook.
This is the Facebook group to continue the conversation from the ZorkCast podcast and TravelZork website. Feel free to start a conversation related to anything TravelZork or ZorkCast.
---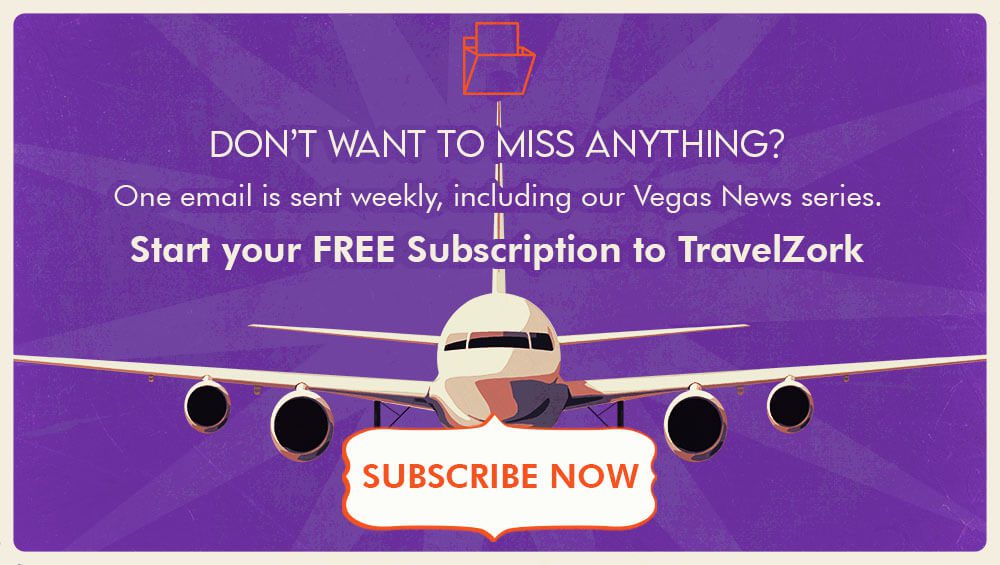 ---