Vegas News January 16, 2022
Thoughts From The Vegas Strip
I'm going to share some thoughts from the Vegas Strip this week since there's not too much news to share. This is traditionally one of the slowest weeks in Las Vegas. This week was even slower than usual.
I enjoyed my monthly visit to Cosmopolitan. This week marked my 12th consecutive month spending a few nights at the Cosmopolitan and it was a bit different. The week after CES and before Martin Luther King day is always slow in Las Vegas.
This year was even slower than usual. It was shocking…and I loved it! Here's a look at the lack of cars on the Vegas Strip from Wednesday evening. Sunset is usually the time of day were traffic and cars are starting to build up. The Vegas Strip was this busy day and night from Monday through Thursday.
There were so few cars on the Vegas Strip that it seemed possible to J-Walk without concern about being hit by a car. This probably wasn't the case but that's what it looked like.
Just A Hunch – Thoughts From The Vegas Strip
I'm going to take a slightly educated guess that some people decided to cancel midweek trips to Las Vegas because of the current Covid surge. That's just a hunch.
I was slightly concerned about being in a busy casino this week. Since there were so few people around I ended up spending way too much time gambling and drinking more than I expected. It was strange to see so many open seats at the Chandelier Bar. I decided to take advantage and enjoyed it despite the video poker bosses not dealing me enough good hands.
Restaurants were slower than usual. The line for Eggslut in the morning didn't start until about 10 minutes before opening. There are usually around 20 people waiting at this time. Holsteins was only opened for lunch on Tuesday and Thursday. Hattie B's usually has a line for lunch and dinner but there was rarely more than one or two people waiting.
M Life (MGM Rewards) Tier Match
Bellagio appeared similarly slow when I visited to check out the new conservatory and botanical garden (see below). I also did the M Life Rewards tier match while I was there. There was nobody in the M Life Rewards line and the upgrade took about two minutes.
Hot and Cold – Thoughts From The Vegas Strip
This part of the year runs hot and cold. This weekend will be a little busier because most people have off on Monday. The week after might be slower. The NHL All-Star game and NFL Pro Bowl should draw people in a couple of weeks. Super Bowl weekend should be busy as usual.
Restaurants are changing hours pretty often so check before making plans. Additionally, try to be patient as the people working may be a bit overworked and stressed. It looks as though the spring and summer may be closer to 2019 levels but who can say anything for certain at this time.
I'm just going to plan accordingly and enjoy the lack of people during weekdays. Las Vegas has many faces. Sometimes the high-energy days and nights are fun. Then there are week's like this with no vibe unless you're the one bringing it. The different types of experiences are part of the appeal of Las Vegas.
Goodbye Roll To Win Craps
The current version of Roll To Win Craps was introduced in 2018. It didn't see much traction in casinos until last year. The game only needed one dealer (stick person) and didn't use cash. It was a good option for casinos during peak Covid.
It didn't take long but it looks like Roll To Win craps is on its way out of casinos already. The Roll to Win craps game was turned off when I visited Cosmopolitan last month. After noticing the game turned off, multiple people let me know that there were ways to legally and illegally beat the game. Well, Roll To Win craps is no longer at the Cosmopolitan. It was replaced with a traditional craps game.
I've heard that Caesars turned off a couple of positions at Roll To Win craps tables at some of its Las Vegas casinos. I didn't make it to one of the properties to see if that's the case or if they've been removed completely.
If the games are still around, I wouldn't be surprised if all the games are removed before long. Casinos aren't in the business of leaving games that can be exploited – legally or not – on the casino floor. Roll To Win craps, we hardly knew ya.

Las Vegas Quick Hits
It was a pretty quiet week on the casino news front in Las Vegas. Casinos will begin reporting earnings in early Feb. so I expect we'll start to hear some news start leaking out over the next few weeks. In the meantime, there's always something happening in Las Vegas.
---
Also, be sure to join the ZorkCast Group on FaceBook.
This is the Facebook group to continue the conversation from the ZorkCast podcast and TravelZork website. Feel free to start a conversation related to anything TravelZork or ZorkCast.
---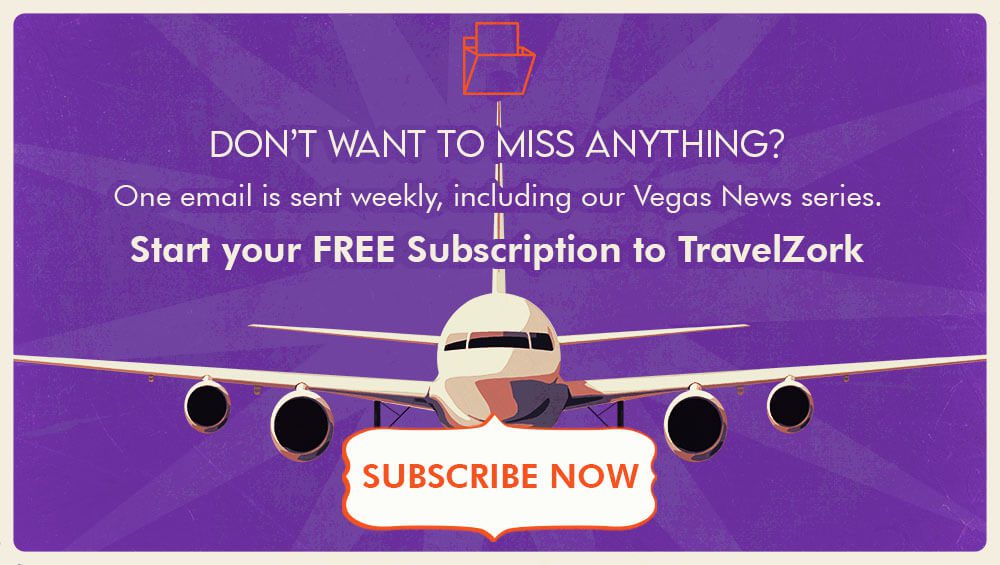 ---