Vegas News January 19, 2023
Cosmo Las Vegas Comp – Work and Play
Last week I enjoyed a couple of complimentary nights at the Cosmopolitan. This is my monthly work/play casino trip and my first for 2023.
I had a great time as always but the experience was different. I notice that MGM Resorts started inserting its corporate claws into this formerly independently operated casino.
The first thing I noticed was a bank of MGM Riches slot machines near my favorite Gold Standard game. When I went to cash my losing ticket, I noticed the only charity option available was the MGM Fund (not to be confused with the Human Fund) instead of four different local charities.
The machines print out vouchers for change if someone prefers. These have to be redeemed at the cashier and can't be used in a machine. I saw a few tickets placed at Buddha near the Boulevard tower elevators.
New Comp Drink Policy At Cosmo
Later that day, I saw MGM upgrading the bartop video poker/slot machines at the Chandelier and sportsbook bars. I like the new Peak bartop machines as they reduce glare.
The new machines also mark MGM's switch from a comp drink ticketing system to a red/yellow/green light system used at other properties. This wasn't much of a big deal for my night as I still received a few complimentary Angel's Envy poured from the bottle.
The red light means a player isn't playing enough money ($1) per game or is moving too slowly for a comp drink. A green light (above) means the bartender can serve the player a drink. Yellow is a limited number of drinks for not playing fast enough.
Cosmo – Comp Signature Cocktails? Comp Drink Upgrades?
It appears as though signature cocktails other than the Verbena are no longer offered as comps. Since there are no longer tickets, upgrades to a Macallan for two tickets or a bottle of wine for four tickets are no longer possible.
More Changes To Come?
Since I visited on the first days of the new machines, there could be more changes coming. I'm assuming MGM will reduce the comp drinks in some way. I wouldn't be surprised if only well drinks are complimentary in the future – but that's just a guess.
Cosmo Las Vegas – Table Minimums – Good News
On a good note, I noticed some table minimums at the Cosmopolitan were lower. There was almost always a $15 craps game during the three days I was at the property. It looked as though there were more $15 (6/5) blackjack games too. Pai Gow fluctuated between $25 and $50 all night as usual.
Lastly, it felt like there was a masseuse or cigarette person passing by the Pai Gow Poker table every minute I played for four hours. I'm sure this is an exaggeration but this is how it felt.
This was the most annoying part of the visit. I've never noticed this many people hustling items for sale this often at MGM properties before. It could happen at other MGM properties but I've just never noticed.
As I said, I had a great time overall. The gambling, dining, and drinking were all good. I just noticed more MGM this time.
Some things were annoying others weren't. This could mean that Cosmopolitan will become an MGM Rewards property sooner than later. I asked – nobody knew when the changeover will be completed.
Enough about me, let's get to the news in and around Las Vegas.

Las Vegas Quick Hits
Sportsbook @ParisVegas getting a refresh pic.twitter.com/XkxTuaFQiE

— Marc (@MeltzVegas) January 10, 2023
The #HeartofTheStrip just got 6 million times more fab 💖 Congrats to Las Vegas local Thomas Z. on hitting the biggest Pai Gow Progressive for a win of $6,443,401 🔥

+21 Gambling Problem? Call 800-522-4700 pic.twitter.com/seFexFiKCp

— Flamingo Las Vegas (@FlamingoVegas) January 8, 2023
Evidently, Adele is using seat fillers at her Caesars Palace Las Vegas shows. Read more here.
If you like shows and don't necessarily need to see the biggest new performances, House Seats might be a good way for you to fill some empty seats. There's a fee but it might be a good deal for those who plan to see multiple shows per visit to Las Vegas. See more here.
Boring is very excited about how the Vegas Loop performed during CES. See some stats here.
At its current pace of one station per year, all 55 Vegas Loop stations will be open by 2077. Maybe the company will pick up the pace this year and we can adjust that date to happen in our lifetime.
Circa is hosting a celebrity poker tournament in April. Read more here.
Look for more esports betting in Las Vegas as new regulations are set for approval later this month. Read more here.
The Nevada Gaming Control Board has a new chairman. Read more here.
There's a new "experience" coming to Resorts World. I have no idea what it is but it's interactive and immersive. Read more here.
---
Also, be sure to join the ZorkCast Group on FaceBook.
This is the Facebook group to continue the conversation from the ZorkCast podcast and TravelZork website. Feel free to start a conversation related to anything TravelZork or ZorkCast.
---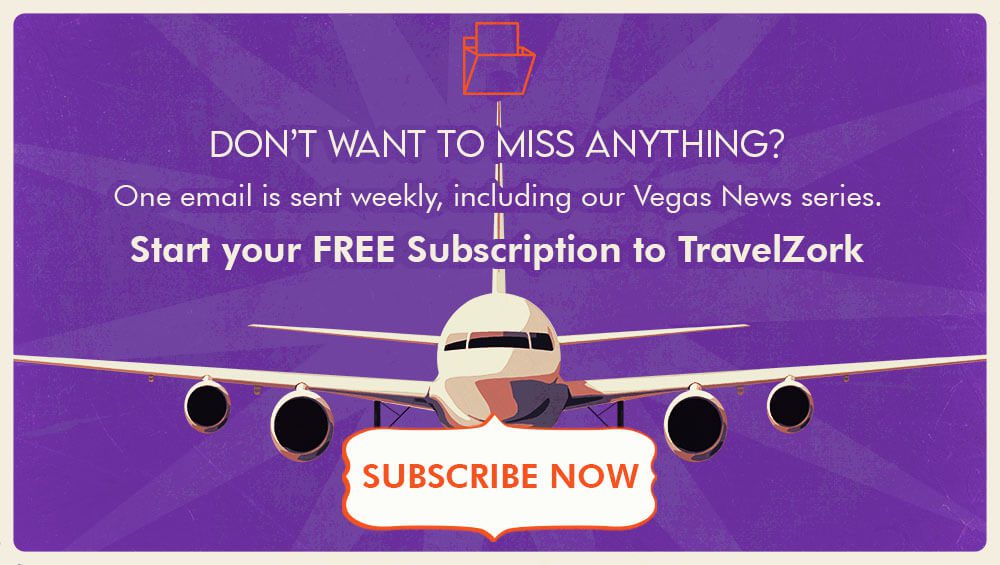 ---