Vegas News January 2, 2022
Happy New Year + Katy Perry Residency
Happy New Year! We hope you, your family, and your friends are all in good health. It looks like we're going to start off the new year with the same annoying news as last year. (You'll have to wait a bit until we get to some cool details about the Katy Perry Residency.)
A new round of Covid-19 is going around. You might have heard about this. All protocols remain the same in Nevada at this point. You still have to wear a mask indoors unless you're eating, drinking, or smoking.
The Nevada Gaming Control Board (NGCB) sent a memo to casino operators to inform them that there would be increased scrutiny about adhering to the mask mandate over New Year's Eve weekend.
CES Update
As we mentioned in the last Vegas News article of 2021, the increase in cases has companies pulling out of the convention that's typically the largest in Las Vegas. CES is still on at this time with one change. The electronics show will be a day shorter than usual.
I understand the conference wants to go on. There are many smaller tech companies already committed financially and pulling out would crush their finances. It would also be a statement if CES can pull off a major convention with the current situation. Again, there's probably plenty of money at stake here.
I wish CES the best. Even getting through a scaled-back in-person convention would be a step forward for CES and Las Vegas.
World of Concrete is the next major convention set to take place in Las Vegas from Jan. 17-20. The organizers say the conference will continue as planned.
Frankly, the biggest problem for either convention might be all of the canceled flights due to the rapid spread of Covid-19. The worker shortage is affecting more and more businesses around the country and in Las Vegas.
Lawry's Prime Rib is temporarily closed due to staffing issues. Others around Las Vegas are having similar issues. The closest Dunkin Donuts to me is only operating a drive-thru because they don't have people to keep an eye on the inside. GASP!
Enough Covid-related news. Let's get to the good stuff with a bunch of Quick Hits!

Las Vegas Quick Hits
Katy Perry Residency
Katy Perry opened her Play residency at Resorts World Las Vegas. If you like Katy Perry, you should love this show. If you're not a fan you probably won't like this much. The show reminds me of the huge Las Vegas production shows of the past on acid. I think I like it a bit too much.
I watched most of the show online and thought it was great for what it is. The production is fantastic.
Read about the Katy Perry residency show here. Read the press release here. Check out some pictures from the show here. The quick video below makes me lol.
M Life Rewards will become MGM Rewards. You can read about the updates to the program here. ​​
We've been writing about casino operators cutting back rewards for more than a year now. It looks as if MGM Rewards will join the others. Join the discussion about this on the TravelZork/ZorkCast Facebook group.
You can still smoke in the casino at Downtown Grand but you can't smoke inside the rooms. Read more here.
New York-New York has a cashless arcade! Read more here. This is only in the arcade for now.
The month-over-month visitation growth in Las Vegas had to stop eventually. Check out the monthly Executive Summary of visitation in November here.
Even with the dips across the board, the average daily hotel room rate in November was $155.93.
Meanwhile, gaming revenue in Nevada continued its torrid pace in November. Read more here. See the full report here. Once again, slot machines led the way in gaming revenue for casinos.
Sports bettors can find more on another big month for sports betting in Nevada here.
Circa has a new "secret bar" in its high-limits room. Read about it here.
There are a number of "secret bars" in Las Vegas casinos including Here Kitty Kitty Vice Den at Resorts World and Ghost Donkey at Cosmopolitan. The latter is one of my favorite small bars in Las Vegas. Ghost Donkey reminds me about a dive bar from downtown Manhattan. I spent a lot of time in this part of New York after college and before moving to Las Vegas. My enjoyment of this bar is not a coincidence. Unfortunately, the original location is closed.
Las Vegas is getting more expensive but there are still tourist destinations that had higher prices for New Year's Eve. Read more here.
We knew this already but Fontainebleau is going to target the high-end market if it ever opens. Read more here.
Usher may be leaving Caesars Palace Las Vegas for Park MGM. Read more here.
We share restaurant news as it's announced but looking at it in bulk is almost overwhelming. Here's a useful overview of restaurants opening in Las Vegas this year.
Nevada Senator Harry Reid passed away last week. Read about how he helped save CityCenter here.
Heads up: I've been noticing an increase in the number of people starting to make plans to visit Las Vegas for the first weekend of March Madness from March 17-20. Once again this falls during St. Patrick's Day and Spring Break. Plan accordingly.
Here's a video of the intro video and first song from the Katy Perry residency. Happy New Year!
---
Also, be sure to join the ZorkCast Group on FaceBook.
This is the Facebook group to continue the conversation from the ZorkCast podcast and TravelZork website. Feel free to start a conversation related to anything TravelZork or ZorkCast.
---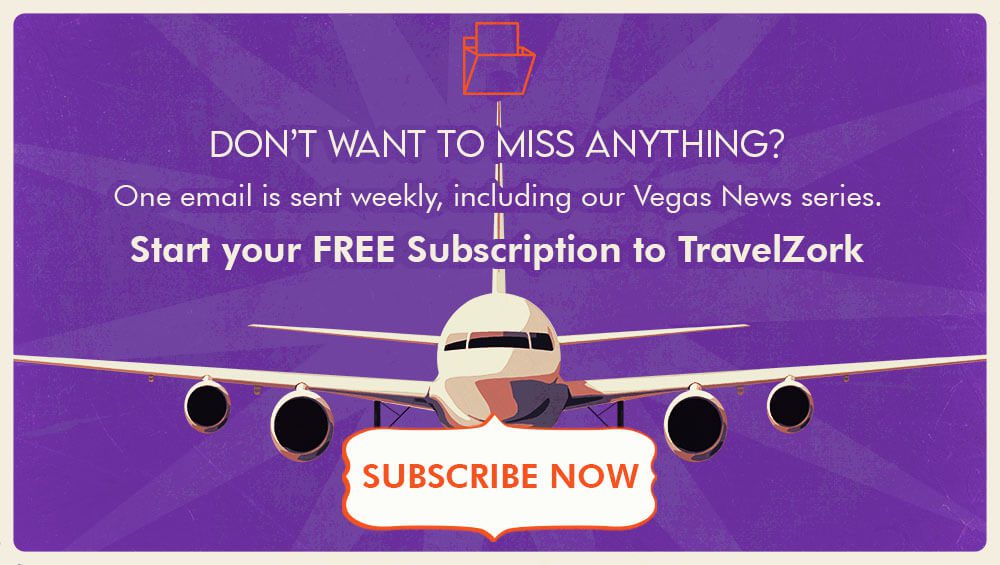 ---