Vegas News March 2, 2023
Caesars Earnings
Caesars didn't have much information beyond finances during its earnings call. Here's a quick overview of what the company discussed about Las Vegas. Oh, and a last-minute addition about a new promotion (announced on March 1st): MGM Rewards Daily Tier Status Accelerator, which somewhat mimics the current Caesars Rewards Loyalty Program Daily Tier Promotion.
The earnings report and accompanying call fall in line with the other casino corporations that reported earnings over the past few weeks.
Caesars Entertainment reported earnings last week. Last year was good financially. Read the financials here.
Caesars' CEO Tom Reeg said that it's "hard to express how strong Vegas is now." However, the company has zero plans to update, upgrade or renovate any of its Las Vegas casinos. Any changes to Caesars' properties will happen outside of Las Vegas.
Coincidentally, a friend staying at PLANET HOLLYWOOD Las Vegas Resort last week said the rooms are starting to look run down. These rooms were renovated before the Covid-19 pandemic.
Caesars had a busy fourth quarter and that's leading into a busy 2023. Similar to MGM Resorts, Caesars is looking forward to a busy March.
March is an incredibly busy month in Las Vegas with college basketball all month, NASCAR during the first weekend, the CONAGG expo, St. Patrick's Day, Spring Break, and the beginning of pool season. You can see more about the Madness here.
Group and convention business continues to improve for Caesars. It's growing so rapidly that these guests are replacing lower-profit OTA (Expedia) customers and lower-tier rewards members.
Look for lower-tier rewards members to get fewer complimentary rooms. The group customers pay higher rates, and even though they don't gamble, they spend much more on non-gaming amenities.
The busy year will carry into 2024 with F1 in Nov., NFR in Dec., CES in Jan, and the Super Bowl in Feb. These are just single busy periods for each month.
Speaking of the Super Bowl, I did a quick check of room rates. Not all casinos have rooms available yet. Caesars' hotel room rates start at $759 + resort fee at The Linq. See more here.
Not surprisingly, rates during the Las Vegas Grand Prix have dropped a little. Rooms at Caesars properties for F1 race weekend are around the same price as the Super Bowl. This isn't cheap but it's not as high as when the dates for the race were first released.
MGM Rewards Tier Promotion – MGM DAILY TIER STATUS ACCELERATOR
MGM Rewards has introduced a tier accelerator program for Las Vegas. This is similar to the Caesars Rewards Loyalty Program Daily Tier Point Bonuses. With the MGM Tier Status Accelerator, there are four milestones with bonuses between 1,250 and 60,000 Tier Credits.
The promotional day is between 6 AM Pacific Time and 5:59 AM Pacific time the following day. Unlike the Caesars Rewards program, which has been ongoing for years, this program is set to end on July 31, 2023.
Is this a good deal? Is this viable for most players? We expect to discuss a bit more, potentially on an upcoming episode of ZorkCast.
Let's get to the rest of the news in and around Las Vegas!

Las Vegas Quick Hits
Martin Yan's restaurant, M.Y. Asia, will open at Horseshoe Las Vegas on March 13. Read more here.
The Cosmopolitan released dates, movies, and prices for Dive In movies outside at the Boulevard Pool. Read more here.
You can now watch BattleBots in Las Vegas. Read more here.
Bellagio has a new art installation at its gallery of fine art. Read and see more here.
Boring could build a station at UNLV. The company is on pace to have 69 stations completed by 2090. This could change if more stations open but there are currently only two. Read more here.
I'm surprised this hasn't been done already. Resorts World has a partnership with custom suitmaker Indochino. Read more here.
Genting reported earnings and it looks like Resorts World is hitting a good note. Read more here.
You can now get dog food and accessories from a vending machine at LAS. It's somewhat surprising a pet-friendly casino doesn't have this yet. Read more here.
The new owners of Rio are slightly changing its name. "Rio All-Suite Hotel and Casino" will be known as "Rio Hotel & Casino Las Vegas" when the new owners take over. It doesn't appear as though the hotel rooms will be smaller when renovated. This might just be an easier name to use for marketing.
When We Were Young festival added a second show since the first sold out so quickly. Read more here.
I met a friend for drinks and video poker at Chandelier Bar inside The Cosmopolitan the other night. The bartender confirmed that the signature drink menu is no longer offered as comps as the prices are too high. The bar only comps drinks to $16. My Angel's Envy is still a comp and that's what I'm mostly concerned with.
Hard Rock is starting to send out offers for The Mirage. The new website and app look great. I'll look more into these offers soon.
The newspaper dropped its monthly train article. Kudos for reporting on this every month for 10 years. Read more here.
What would you do if you saw a cat when you checked into your room? Read more and see the video here.
Hot & Juicy slopfest opened at Downtown Grand. Read more here.
Las Vegas made a brief appearance in Netflix's "Drive To Survive." Sadly, I didn't make the cut when the cameras were recording the announcement last year at The Cosmopolitan. Anyway, enjoy!
Have you spotted Vegas yet in the new season of #DriveToSurvive 👀🎰 @netflix @F1 #LasVegasGP #F1 pic.twitter.com/zkWk7faenP

— F1 Las Vegas (@F1LasVegas) February 25, 2023
---
Also, be sure to join the ZorkCast Group on FaceBook.
This is the Facebook group to continue the conversation from the ZorkCast podcast and TravelZork website. Feel free to start a conversation related to anything TravelZork or ZorkCast.
---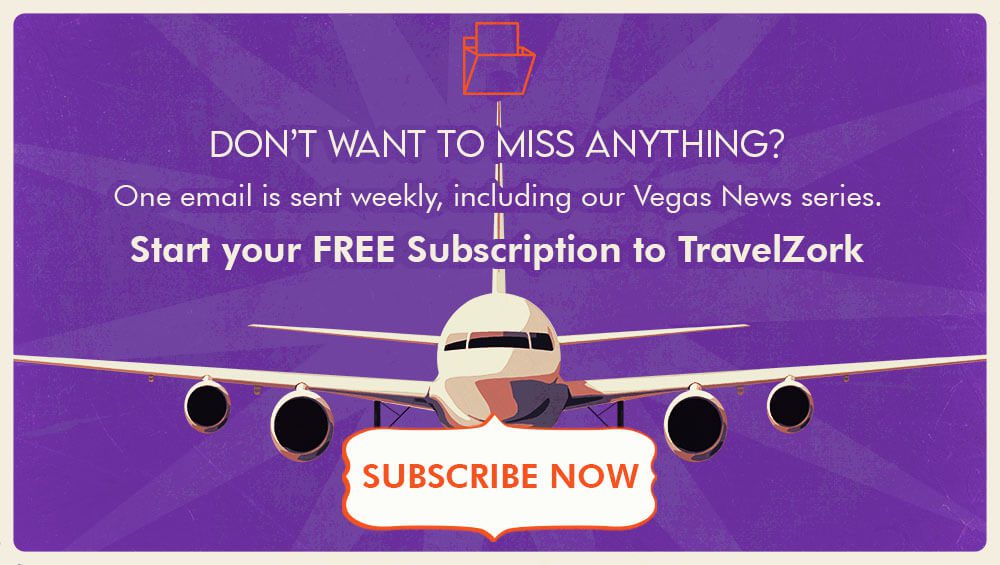 ---