Vegas News March 23, 2023
Vegas Visitor Data – The Average Visitor To Las Vegas
Let's kick off this week's edition of Vegas News with some information about the average visitor to Las Vegas in 2022 (Vegas Visitor Data). The Las Vegas Convention and Visitors Authority's (LVCVA) annual Visitor Profile is a small sample snapshot of visitors to Las Vegas.
The report isn't 100% accurate and it's not a representation of any particular individual. The LVCVA interviewed 6,267 individuals for this report. For reference, almost 39 million people visited Las Vegas last year, according to the LVCVA.
It takes a special person to stop and take a survey this large while visiting Las Vegas. While surveys like this are not totally accurate, they help paint a picture of who's visiting Las Vegas.
This is a good reminder that TravelZork readers are probably not the average visitors to Las Vegas. Again, the overview is a representation of how visitors spend their time and money in Las Vegas.
You can see the full report here.
Highlights – Vegas Visitor Data
Here are some highlights from the 2022 Visitor Profile:
75% of visitors to Las Vegas gambled during their visit. That's typical. Only 6% of visitors were in Las Vegas specifically to gamble. This is a little lower than usual but not entirely out of line with all of the concerts and non-gaming events in Las Vegas.
Visitors Gamble 2.6 Hours Per Day
Visitors only gambled 2.6 hours per day. That's like one video poker session at Chandelier bar for me. Lastly, on this topic – the average gambling budget per visit was $761. That's per visit – not per day. This was an increase from previous years.
10% Of Visitors Receive Comp Rooms
Only 10% of visitors received comp rooms last year. This is fairly typical. 50% of visitors paid regular advertised rates. 13% of visitors paid a discount casino rate. This increase might be due to discounts from booking directly from the casino operators.
The average age of visitors was 40.7 years. That's down from 43.2 years in 2021 and more from previous years. It's unclear if this includes kids. 16% of respondents had people under 18 in their travel group. That's down from last year but up from previous years.
Visitation Increased – Downtown Las Vegas
Visitation increased to downtown Las Vegas. Half of the visitors went downtown to hang out at the Fremont Street Experience. Only 8% went downtown specifically to gamble. 60% of survey respondents that didn't go downtown said they had no time or didn't care about the area.
The information may not be totally accurate but the picture it paints resembles what see in person, hear during earnings calls and read from analysts throughout the year.
The LVCVA put together some more highlights here.

Las Vegas Quick Hits
Las Vegas Grand Prix Quick Hits
The moment we've been dreading is almost upon us. Las Vegas will be repaving the roads for the F1 race between April 2 and Aug. 25. The Vegas Strip paving will take place between May 9th – 19th. Brace for delays getting around. You can see the rest of the dates here.
Construction on the F1 paddock on Koval and Harmon will be completed around late Sept. or early Oct. This hasn't been much of a deal for traffic but it will be a big part of the race. Read more here.
Hard Rock (The Mirage) is now a presenting partner for the F1 race. The casino will have its own 3,000-capacity grandstand adjacent to the Vegas Strip. Read more here.
Let's get to the rest of the news in and around Las Vegas
Quick Hits
The American Kennel Club dropped its list of the most popular dog in 2022. French Bulldogs are the most popular in Las Vegas. You can see all the details here and a slew of regional press releases here.
Last week we shared news about The Strat renovating some rooms. This week we share this nugget – "The Strat is sky-high, sold out through March at $400 ADRs on weekends." Read more at the bottom of this blog post.
Penn Entertainment officially filed plans for the new tower at M Resort. Read more here.
---
Also, be sure to join the ZorkCast Group on FaceBook.
This is the Facebook group to continue the conversation from the ZorkCast podcast and TravelZork website. Feel free to start a conversation related to anything TravelZork or ZorkCast.
---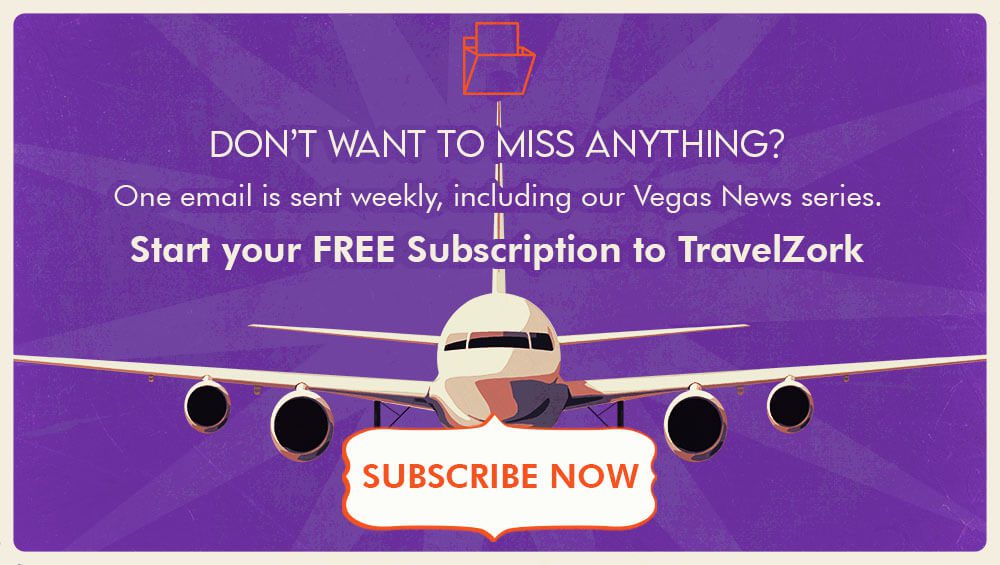 ---