Vegas News March 27, 2022
There's usually something particularly interesting happening in Las Vegas. Besides recovering from the first weekend of March Madness, things were relatively mellow. That will change so let's enjoy the first 90-degree weekend of the year with a relaxing look at the Vegas News.

Las Vegas Quick Hits
Evidently, some casinos on the Vegas Strip are telling guests that they will not receive housekeeping. I've only heard about some casinos offering opt-out discounts if customers choose not to use the service. Read more here.
Aerosmith will be back at the Dolby Live inside Park MGM for 24 more shows from June through December as part of their extended residency. Read more here.
I've been seeing more tweets that El Classico between Real Madrid and Barcelona could be played in Las Vegas next year. If you're not a soccer fan, this will be a big deal and will sell out Allegiant Stadium. In other words – this will mean another weekend of higher than usual hotel room prices. Nothing is confirmed but you can read more here.
Speaking about sports rumors heating up, it looks like the announcement of a Las Vegas Formula One (F1) race will take place next year the weekend after Thanksgiving. Again, nothing is confirmed but it feels like this should be announced soon. Read more here.
It feels as though we've been talking about Boyd streamlining expenses and offers for a few years. The bottom half of this blog post has an update on things if you're curious.
The next quarterly casino corporation earnings reports may start a little light (January) but seem as though the end of the quarter (March) and the next six months should be massive. There are more people returning to spend money while the casinos are reducing offers and have lower expenses. It sounds like hotel rooms on weekends will be close to 100% capacity for most of the summer.
If you're interested in how and why a casino corporation does certain things on social media read the article about MGM Resorts' social media here.
Allegiant Stadium was named the best NFL venue for "game-day satisfaction" at Raiders games this year. I had a great time. The stadium has anything one could want or need except a video poker bar that looks out to the field. Read more here.
The NFL Draft will be in Las Vegas next month. More info should become available in the next few weeks but I broke down the available details about the event here.
Walk On's is opening its newest sports bar at Harrah's at the end of the month in the space vacated by Toby Keith. Read more here.
The free Jazz In The Park series is back. This is a good excuse to spend time outside and enjoy the fresh air. The shows are free but you'll need tickets. See show and ticket info here.
The AVN (porn) awards and convention will take place at Resorts World next year. There's some wacky programming happening at Resorts World. Last week the Psycho music festival announced it would take place at Resorts World this year. Read more about the AVN's here.
The Hard Rock was the only casino to host both Psycho and AVN's. That casino is now Virgin, which would have been more fun for the AVN's.
Next year will be the first time the AVN's are taking place at the same time as CES in a decade. The combination of people in Las Vegas for both conventions made for fun people watching at The Venetian. Not sure Resorts World will be quite the same but ya never know.
Gordon Ramsay is opening another restaurant at a Caesars property. Ramsay's Kitchen By Gordon Ramsay is the name of the new GR joint. The restaurant will be opening at Harrah's this fall. Read more here.
Morrissey is returning to Caesars Palace Las Vegas for five shows in July. Read more here.
We already knew this but Mabel's BBQ will return to Palms when the property reopens this spring. Read the press release here.
Aces Of Comedy is continuing into the fall at The Mirage. Tom Segura was the latest performer announced for the series. Read more here.
The NIT (college basketball) could move its semi-finals and championship game to Las Vegas. Read more here.
Heads up that some second weekend of March Madness games will take place in Las Vegas next year. Hotel room prices are already more than the first weekend of March Madness which is more than a typical week in Las Vegas. You can read more about both NIT and NCAA's in Las Vegas here.
The MSG Sphere at The Venetian will have the world's highest resolution LED screen. There's so much advanced tech involved that I'm very curious about what the venue will really be like inside. Read more here.
AEW wrestling already broke a record for revenue from attendance for a non-pay-per-view fight taking place at Mandalay Bay. Read more here.
Tickets for the Canelo Alvarez vs. Dmitry Bivol boxing match at T-Mobile Arena in May are on sale now. Read more here.
A few weeks ago I mentioned that Caesars has been able to generate $1 billion in "synergies" instead of its original goal of $500 million. With that in mind, the company is rolling out rebrands of existing properties to Horseshoe Casino.
Having fewer brands will allow Caesars to save even more money by having to spend less on unique items for the different casino names. This week Isle Casino in Colorado announced it was changing names to Horseshoe. Read more here.
OH SNAP! The monorail is getting Boingo wifi! Read more here.
---
Also, be sure to join the ZorkCast Group on FaceBook.
This is the Facebook group to continue the conversation from the ZorkCast podcast and TravelZork website. Feel free to start a conversation related to anything TravelZork or ZorkCast.
---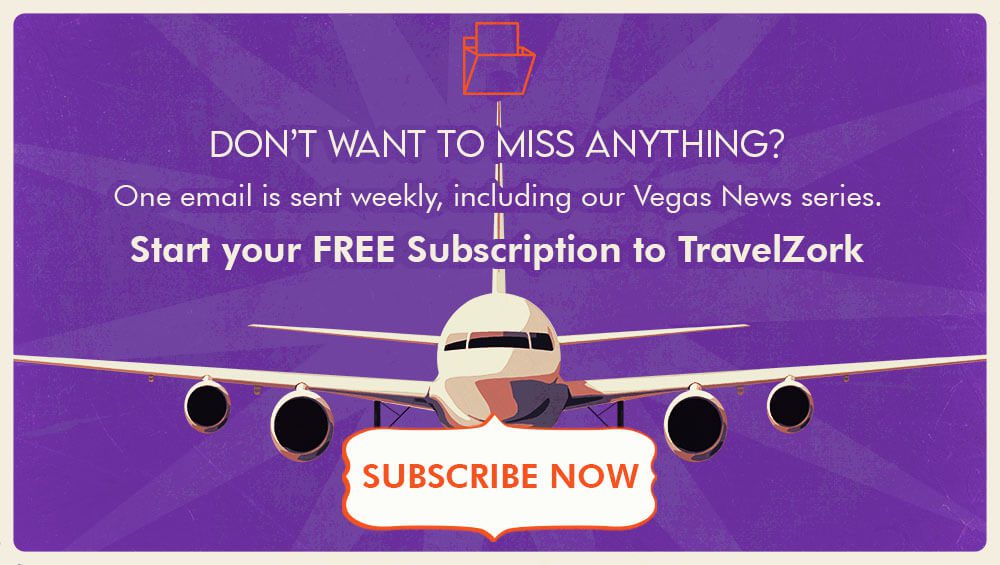 ---