Vegas News May 11, 2023
Casino Earnings
The casino earnings season is over. All of the corporations had a great first quarter financially. You can see the earnings report press releases below if you care about the numbers:
I'll go deeper into some of the financials and also share some news from the three casino corporations.
Casino Earnings News And Takeaways
Caesars Earnings News
Caesars confirmed the news about the Paris Las Vegas expansion prior to its earnings call. If you missed this last week, you can read and see more here.
Simply changing the name of the hotel tower from Horseshoe Las Vegas to Paris will increase room prices. Caesars says that room and non-gaming spending at Paris is significantly higher than at Horseshoe but didn't give specifics. I was hoping for more specifics.
During the call, Caesars said the balcony rooms at Paris Las Vegas will be the most expensive outside of villas. I assume the Villas are all at Caesars Palace Las Vegas.
It seems as though the Vegas Strip frontage at Flamingo will see a makeover with new food and beverage options. This was a passing comment and there are no specifics on this.
During the first quarter, groups and convention goers accounted for 21% of rooms at Caesars Las Vegas properties. This was higher than usual. These visitors are important for casino operators as they pay more for everything.
Caesars confirmed that, like every other casino operator, they're trying to push out low-margin guests by bringing in more high-profit customers. These are typically midweek conventioners and those visiting for big shows and sports.
The company says Nevada will get a new sports betting app by football season. They said the same thing last year. Read about that here.
Red Rock Earnings News
Like the Vegas Strip casinos, Red Rock is seeing higher Average Daily Room rates. The company is also seeing bigger checks at food and beverage locations. We know everything costs more than previous years but it's interesting to hear an off-strip casino operator confirm prices are affecting all properties.
The company has a non-disclosure agreement about the A's deal so it couldn't say much about the land deal.
However, Red Rock did say the sale should close in the fourth quarter.
It also sounds like Red Rock will sell the remaining land it owns after the A's deal is completed since that should raise the value of the land.
Durango is still on target to open during the fourth quarter. The company is considering Phase two for the property. Don't expect details on this for a while – if at all.
Red Rock is expanding the casino floor at Durango with an additional 360 slot machines.
MGM Resorts Earnings News
There's still no timetable on when Cosmopolitan will be integrated into MGM Rewards.
My hunch is this is taking longer than expected. I've heard a couple of rumors that this could remain an Identity property for longer than expected. Stay tuned but don't get too wound up either way. This is a fluid situation.
It sounds like MGM Grand and New York-New York are getting new restaurants this year. There were no specifics on what is coming or going.
Bellagio has a renovated baccarat room. I'm not sure if this is new but it's news to me.
MGM is expecting the fourth quarter this year to be better than 2019 with Raiders games and the Las Vegas Grand Prix.
That's enough earnings highlights. Let's get to the rest of the news in and around Las Vegas.

Las Vegas Quick Hits
The Plaza is teasing a new entrance. We should be a couple of weeks from seeing some of the additions to the property. I look forward to seeing more.
A new entrance coming soon to @PlazaLasVegas pic.twitter.com/rUFtNqaMuw

— Jonathan Jossel (@JonathanJossel) May 2, 2023
The Plaza is also getting an early start promoting its 2024 Super Bowl Party. Read more here.
Reminder that the Big Game is in Las Vegas next year. Prices for hotel rooms will likely be higher than usual for the Super Bowl. Additionally, reservations at restaurants will be booked quicker. I'm an early planner but it sounds like anyone planning to be in Las Vegas should prepare sooner than later.
Live Nation Concert Week has thousands of shows for $25 all-in (no fees). This takes place until May 16. Get tickets and more info here. You can see a tweet with the Las Vegas shows available here.
Fontainebleau dropped a press release about its new career website. Check it out here.
In that release, the company mentioned the property will open in December. Previously, the company was using the fourth quarter as a time frame. Read more here.
The pool complex at Fontainebleau is coming along nicely. You can see a drone video above. I took a few screenshots for those who just want the good stuff.
The might be a pop-up casino near Fontainebleau and the Las Vegas Convention Center. Read more here.
The Las Vegas Convention And Visitors Authority put a primer for those visiting on Memorial Day Weekend. Read it here.
The new owners of the Rio say they are considering building a bridge to Caesars Palace Las Vegas. Don't expect to see this happen but you can read more here.
Patrick Mahomes and Travis Kelce of the Kansas City Cheifs are playing Stephen Curry and Klay Thompson of the Golden State Warriors in The (Golf) Match at Wynn Las Vegas in June. Read more here.
TMZ says there are two new Vanderpump locations opening at Caesars Entertainment properties. There are no specific locations. Read more here.
Clark County approved Boring to build 18 stations. If the company continues opening one station a year this will be completed in the 2040s. See the announcement here.
As usual, there's no timeline with the Boring Stations so don't get too excited.
The STN Charms marketplace is now open if you want to buy or sell. Check it out here.
The new Voltagio Brothers restaurant opened at Mandalay Bay. See a bunch of pics here.
A Stranger Things pop-up short is coming to the Showcase Mall. Read more here.
---
Also, be sure to join the ZorkCast Group on FaceBook.
This is the Facebook group to continue the conversation from the ZorkCast podcast and TravelZork website. Feel free to start a conversation related to anything TravelZork or ZorkCast.
---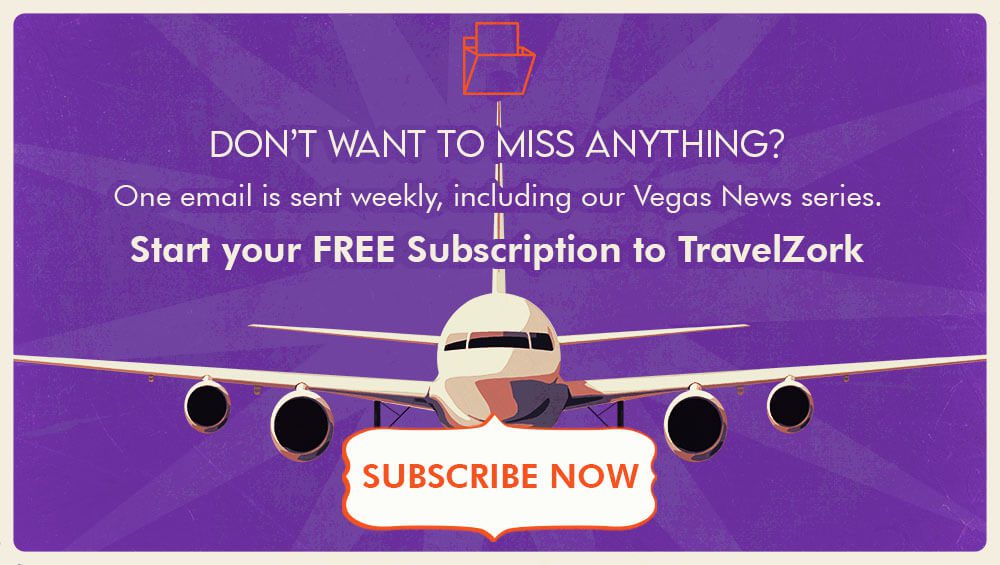 ---