Vegas News May 6, 2023
U2 Shows
I had a moment with U2 when I was in college. Those days are long gone, but I can appreciate that many people my age still passionately love the band. I still love plenty of bands from my college years. You'll see a few of those below.
Tickets for U2's shows at MSG Sphere At The Venetian sold out during the presale. The least expensive ticket was $140, and 40% of tickets were $300 or more.
Last week we told you about Vibee selling hotel/ticket packages/experiences. This week the company shared its U2 packages and there are still some available. The good news is that U2 packages are less than the Las Vegas Grand Prix. The bad news is that the prices would probably be similar if the packages had three days of U2 show tickets.
U2 Shows – Vibee U2 and VIP Packages
Regular Vibee U2 hotel room packages are $750+. See the remaining packages here.
Vibee's U2 VIP packages are more than $1,700 per person. See the remaining packages here.
Variety poses the possibility that these 17 shows might be the only performances. The Edge doesn't see this as a long-term residency, and the band probably doesn't need the money, so it's possible. Read more here.
If you want to check out the MSG Sphere but don't want to pay for U2 tickets, you can see "Postcard From Earth" for $50. The website has more info on showtimes and tickets here.
Similarly, if you ever want to check out Allegiant Stadium but don't want to pay for Raiders or concert tickets you can go to a UNLV football game or pay for a tour. You can find info on tours here.
Outside Of Las Vegas
Wynn released some information about its new property coming to the United Arab Emirates. I'm highlighting this because I love the rendering above.
You can see more renderings and read about the property here.
Let's get back to the news in and around Las Vegas.

Las Vegas Quick Hits
There was a small fire at Horseshoe Las Vegas last week. Read more here.
It looks like one of the hotel towers at Horseshoe will become part of Paris Las Vegas. Read more here.
Caesars Entertainment confirms the news about Paris here.
Boyd Gaming reported earnings last week. As usual, the company did well in Las Vegas. Read more here.
The one bit of interesting news from the Boyd earnings call was that the company plans to renovate Main Street Station hotel rooms later this year. There's no timeline for the refresh yet.
Golden Gate closed its Circa sportsbook counter last week. The space is now being used for slot machines. There's a kiosk for sports betting. This isn't much of a deal as this wasn't a place to sit and watch the games. A kiosk is probably sufficient with the great Circa sportsbook across the street.
Missed this last week, but Vital Vegas shared some opening dates for the new stuff at the Plaza. The outdoor carousel bar will open very soon. You can see the rest below.
Scott (Vital Vegas) also tweets that the bar won't offer complimentary drinks to video poker players.
I have mixed feelings about this. One on hand, I like complimentary drinks. On the other hand, the bar should be busy enough not to need comp drinks to draw a crowd, so why would they spend the money?
California To Las Vegas Train Story
The CA to Las Vegas train story from the past decade is making mainstream news! Read more here.
Lionel Richie's residency at Wynn Las Vegas has more shows in October. See the new dates here.
The Fremont Street Experience released the first batch of free concerts this summer. See the list here.
The bands I'd consider dealing with the huge crowds to see are all from my college years. If I head downtown for a show it will be to see the Toadies, Live, or the Gin Blossoms.
YO! Who's in for a four-foot (boozy) milkshake? Read more here.
Resorts World added a few more shows to the Carrie Underwood residency. Read more here.
A lot of people are still moving to Las Vegas. Read more here.
Clark County approved a tiger-free magic show. Read more here.
Frankie Moreno's residency is returning to Palms. Read more here.
Penn Rewards is replacing MyChoice at M Resort and other Penn Entertainment casinos. Read more here.
You can rent out the entire Todd English Hotel. It will cost you $1 million during the Las Vegas Grand Prix and you'll be miles away from the race that you won't have tickets to see. Read more here.
The street between Pizza Rock and Downtown Grand is closed to traffic. See pics here.
Follow Casey Pratt on Twitter if you'd like to keep up with the A's Oakland and Las Vegas mess. This tweet follows a lot of the news I shared last week with regard to the deal to move not being finished yet.
The maths about the potential tax to build an MLB stadium seem fun. Read about it here.
The Westgate has an immersive light festival too. Read and see more here.
---
Also, be sure to join the ZorkCast Group on FaceBook.
This is the Facebook group to continue the conversation from the ZorkCast podcast and TravelZork website. Feel free to start a conversation related to anything TravelZork or ZorkCast.
---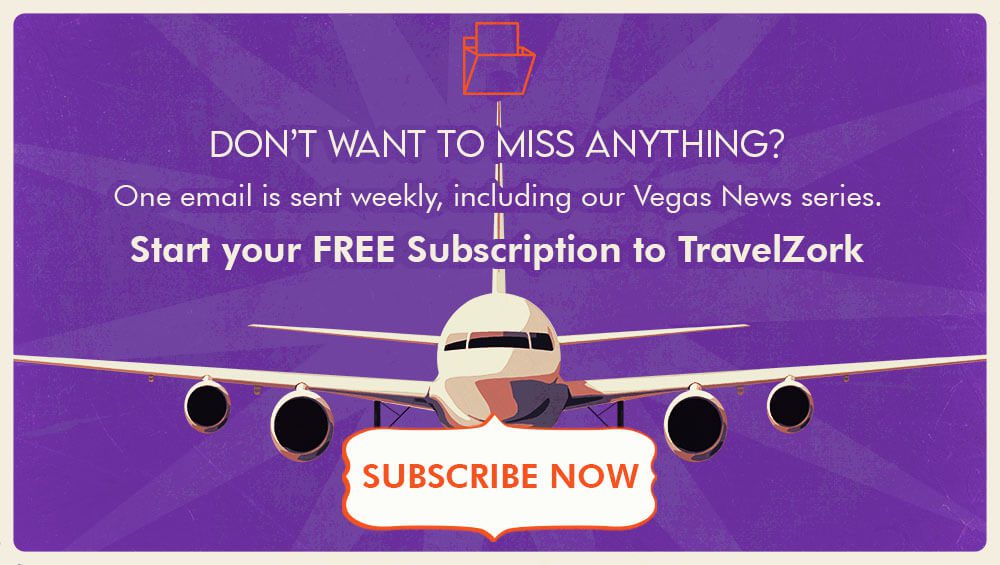 ---