Vegas News November 14, 2021
Fontainebleau Las Vegas Back On Track
Fontainebleau Las Vegas construction is resuming again for the third (?) time!
The big blue building on the north end of the Vegas Strip originally broke ground in 2007. The casino resort was nearly completed when the developers ran out of money.
The project was stalled for years before being purchased by a developer in 2018. The name was changed to The Drew but there was little actual development for the casino that was then supposed to open in 2020.
In 2021 the property was purchased again and renamed Fontainebleau Las Vegas. This week Fontainebleau Development, announced construction was resuming. The plan is for construction to be completed by late 2023 but no later than the Super Bowl in 2024.
The announcement didn't have too much information so we don't know what the new plans are. You can see the original plans, renderings, and promo videos here.
I'd love to see this project finally come to fruition but not getting too ahead of things. I'm hoping for the best but expecting the worst.
Very Wynnteristing Week For Wynn
There was a lot of Wynn news this week. The company reported third-quarter earnings this week. A few things stood out to me:
The Average Daily room Rate (ADR) for the quarter was $392. Just about every casino reported massive price increases for the quarter.
Delilah Supper Club is booked through February already.
Wynn Resorts CEO is leaving the company. Read about that here.
Wynn Interactive (WynnBet) is slowing down. Some sportsbook operators are spending so much to acquire new customers that Wynn doesn't see a path to profitability. Wynn also terminated its plan to take the interactive division public.
The buffet at Encore Boston Harbor lost $12 million per year it was open. The buffet was closed and is now a sports bar. It will become a sports bar and book when sports betting is legalized in MA.
The company touted growing market share in Las Vegas as a way it was able to increase profitability. Possibly related, the company was marketing to younger demographics than baby boomers is used to almost exclusively court.
Unrelated to earnings, here's a list of comedians coming to Wynn next year.
Lastly, Wynn extended its partnership with the Vegas Golden Knights. Read more here.

Las Vegas Quick Hits
Noticing A Trend
Since this was a relatively slow news week, I thought I'd share a trend I've been noticing before getting back to the Vegas News.
I've seen a handful of people recently ordering drinks and snacks to their hotel via instacart. This is similar to going to a drug store to load up on essentials without having to lug everything back to the hotel.
This week a friend was in town for a conference and order supplies for the week. He spent around $100 for a week of supplies. The savings from bottles of cold brew coffee and water alone probably saved $100.
This can be done before even leaving home. The process is simple enough that it can be done on the flight to Las Vegas. Orders can be placed in advance to arrive at any time the service is available.
Someone can also start by opening the app and putting an order together during a flight. They can place the order after landing. Delivery usually takes a couple of hours and everything can be delivered by the time they arrive at the hotel.
This is specifically useful for anyone staying in the same hotel for four days or more. The cost savings might not be great enough for a weekend.
Back to the news! – Quick Hits
The NHL is planning some outdoor skills competitions on the Vegas Strip during All Star Game weekend. I'm all about watching people or mascots skating around on a frozen Lake Bellagio. Read more here.
The World Series of Poker (WSOP) Main Event drew 6,650. That's not too bad when compared to the 8,569 entrants in 2019. Read more here.
The WSOP is leaving Rio All-Suite Hotel. Read more here.
Billboard put together a list of 2022 Las Vegas residencies. This should be useful for planning a visit. Check it out here.
Blake Shelton's Ole Red is coming to the Grand Bazaar Shops outside of Bally's. It's scheduled to open in 2023. Read more here.
This is probably unrelated but there have been rumors that Bally's will rebrand as a Horseshoe Casino for the past year or so.
For some reason, the Las Vegas marathon concert is moving from Mandalay Bay to downtown Las Vegas. The marathon ends by The Mirage. Read more here.
Eight Cigar Lounge at Resorts World is now open. Read more here and expect some details about the venue from Mr. TravelZork. Early reports have been positive but I won't be visiting until December and it would be nice to hear from someone I know.
The Venetian has some holiday specials. Read more here.
The NFR is requiring guests to wear masks. Good luck with that. Read more here.
---
Also, be sure to join the ZorkCast Group on FaceBook.
This is the Facebook group to continue the conversation from the ZorkCast podcast and TravelZork website. Feel free to start a conversation related to anything TravelZork or ZorkCast.
---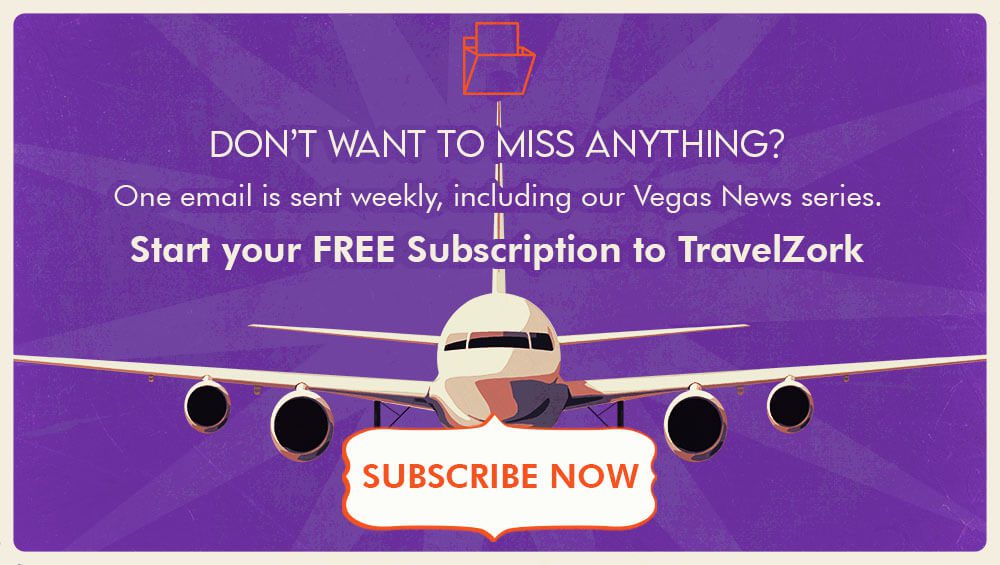 ---