Vegas News November 29, 2022
Vegas Holiday Season
Thanksgiving week is usually a slow time for news in Las Vegas, as many companies aren't working on Thursday or Friday. Since Wednesday is a partial day for some, there are really only a couple of days for casinos to get the news out.
Hopefully, you had a great Thanksgiving with friends and family. It's now time to look ahead to the holiday season in Las Vegas.
For most of my legal gambling life, I've loved visiting casinos after Thanksgiving. The days in the casinos are different than all other times of the year.
While my religious holiday is barely seen in casinos, there's still plenty of joy to go around thanks to the more popular December holiday.
The first couple of weeks after Thanksgiving are relatively mellow without too much over-the-top holiday hype. I've received some of my best comps during this time since fewer people are visiting casinos. In fact, some venues inside smaller casinos might be closed for a few days.
NFR (National Finals Rodeo)
In Las Vegas, the NFR (National Finals Rodeo) seems like the beginning of the Christmas season. Sure, there are already holiday displays up but the vibe grows throughout the casinos as we get closer to the big day.
After NFR, there's more holiday music played in casinos and many visitors are feeling a positive spirit. While it feels like the holiday season, many people are still working and casinos aren't always very busy. The holiday atmosphere is still whatever you want it to be.
As Christmas approaches there's overwhelming joy in the casinos. I love and embrace the positivity of other gamblers. Of course, this could just be how I see it.
First Snowman Of The Season
It feels as though most businesses are getting the holiday hype started earlier than usual. I saw my first snowman of the season at a hardware store on Nov. 14.
Christmas At Bellagio Las Vegas
Bellagio is usually the first major holiday display in Las Vegas casinos. That's the case once again.
My favorite Botanical Garden and Conservatory display went up this week and it's as beautiful as ever. You can read about it and see more pics here.
The Gingerbread cottage is 25 feet tall. It was made by the Bellagio pastry team with real gingerbread & treats.
There are five polar bears and four 14-foot-tall Nutcracker Soldiers. The centerpiece is the 42-foot-tall Christmas Tree above.
I always marvel that this is a holiday display inside of a casino. It's unmatched by any casino anywhere.
Scuba Santa
Most casinos will have some kind of Christmas decoration before the holiday. There's just nothing that comes close to Bellagio. Scuba Santa is always a treat regardless of the casino he visits.
MGM Resorts has holiday displays and experiences at properties throughout Las Vegas. Read more here.
Let's get to the non-holiday news in and around Las Vegas.

Las Vegas Quick Hits
Station Casinos shared some information about the new Wildfire Casino (no hotel) coming to downtown Las Vegas. Read about it here.
The new Wildfire is set to open in February. While it's on Fremont Street, it's not near the Fremont Street Experience.
You'll probably want a taxi or rideshare to and from the casino if you're at one of the downtown Las Vegas properties. The Station Casinos blog has a map so you can see the specific location.
The new Wildfire casino will have an IHOP, taco joint, sportsbook, and 200 slot machines. Like other Wildfire casinos, it will be part of Station Casinos' Board Pass players club.
I'm normally not a fan of casino-only properties but I'll visit this at some point because I like seeing new casino designs.
It should come as no surprise that the Secret Garden and Dolphin Habitat at Mirage won't reopen when Hard Rock takes over operations. Read more here.
Las Vegas will host the NCAA Basketball Final 4 at Allegiant Stadium in 2028. Read more here.
There's plenty of time to speculate about prices and what Las Vegas will look like in 2028.
Las Vegas will be hosting a March Madness regional at T-Mobile Arena next year. In fact, Nevada will be hosting about a dozen NCAA Championship events over the next few years. Read more here.
Punk Rock Bowling is returning to downtown Las Vegas with a solid lineup. Find more information on the different shows here.
Wynn Las Vegas is hosting a screening of the Paramount+ series "1923" on Saturday, Dec. 3. The property is creating various experience packages around the event. Read more here.
There is a "Musical About Star Wars" at The V Theater inside PLANET HOLLYWOOD Las Vegas Resort. I'm not a show person but I can't imagine this will last long. If that's the case you might want to see it sooner than later. Find more info about the show here.
The Flight Club darts bar at The Venetian is now open. Read more here.
Macau renewed the six existing casino operator's licenses for 10 years. This means there won't be any new casino operators in the market. MGM Resorts and Wynn Resorts are the two Las Vegas casino operators with properties in Macau. Read more here.
Last and certainly least, European airlines could soon allow 5G calls during flights. If that happens it may come to the US too. It may not be the time to research the best noise-canceling headphones yet but it can't hurt. Read more here.
---
Also, be sure to join the ZorkCast Group on FaceBook.
This is the Facebook group to continue the conversation from the ZorkCast podcast and TravelZork website. Feel free to start a conversation related to anything TravelZork or ZorkCast.
---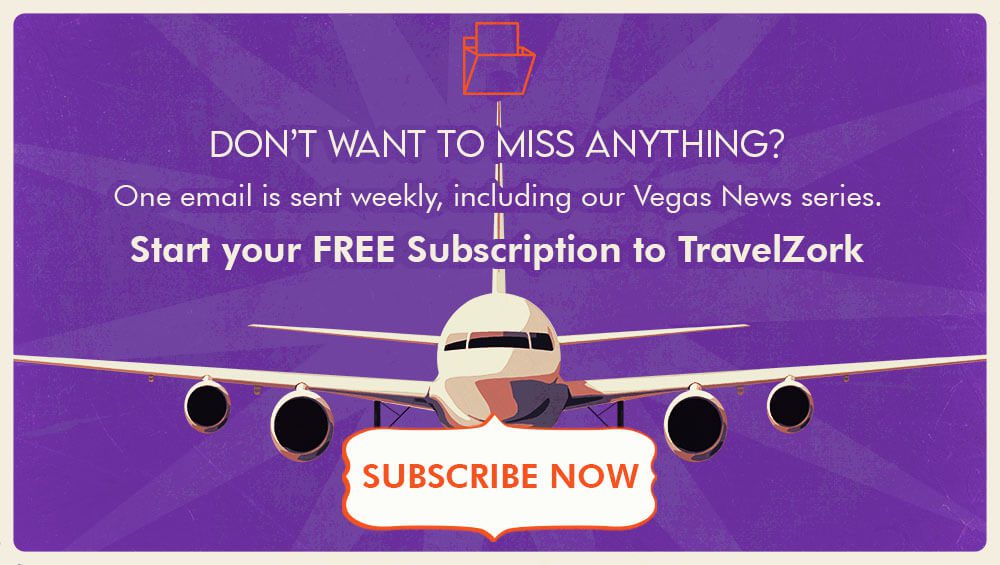 ---