Vegas News November 7, 2021
MGM Resorts Selling The Mirage
Before we get to LOTS of casino earnings scoop —- The day is finally here! MGM Resorts is finally selling The Mirage. Earlier this week I retweeted a blog post that no longer exists wondering if the company might sell The Mirage in 2010. While that was a speculative article, I've been hearing rumors about The Mirage being on the market since I moved to Las Vegas 10 years ago.
Truth be told, MGM is only selling what it still owns at The Mirage. The company is only selling operations of The Mirage. There's no deal yet so Mlife Rewards guests can still enjoy the property for a while.
MGM Growth Properties owns the land. The real estate arm from MGM was sold to VICI earlier this year. The deal will close next year and VICI will own the real estate.
Why? Why is MGM Selling Mirage?
I was surprised that the question I was asked most often this week is why MGM is selling The Mirage not one of its other casinos? There are more than a few reasons.
The Mirage is considered an above-average property and MGM will get top dollar for selling it. Excalibur or Luxor wouldn't have the same return. The Cosmopolitan will slide right into the luxury category for MGM and will essentially upgrade their top-tier properties. Franky, the Cosmopolitan will enhance MGM's luxury offerings.
Lastly, the other properties are important to MGM for a couple of reasons. They offer less expensive price points. This allows the company to market to all budgets. Additionally, these properties are near T-Mobile Arena and Allegiant Stadium. These venues bring people to Las Vegas and MGM has the closest casinos to these venues and is often the first place visitors look to stay when going to a game or show.
MGM says the company is in the early stages of selling The Mirage and didn't mention any potential buyers during its third-quarter earnings call. Of course, there's a lot of speculation on who will buy the property.
Between Hard Rock, Boyd Gaming, Penn National Gaming (PNG), Phil Ruffin (TI and Circus Circus), and Tilman Fertitta (Golden Nugget) there are plenty of possible buyers. These are just some names of casino operators that might consider buying The Mirage. I wrote about why some of these names could buy the operations here.
Casino Earnings
MGM Resorts Earnings
We'll come back to selling The Mirage in a bit. MGM shared this information during its third-quarter earnings call. My favorite note from the call is this:
"Focus on efficiencies helps…greater margins…blah blah"
We've been discussing this topic for casinos for more than a year. Every casino operator has streamlined expenses to increase profits. MGM is no different. The Average Daily Room Rate (ADR) for the third quarter was higher than in 2019.
Weekday reservations are picking up and weekends are doing great with the return of big entertainment. MGM CEO Bill Hornbuckle says October will be an all-time record month for the company.
The great Vegas comeback continues!
Caesars Earnings
Caesars also reported third-quarter casino earnings this week. Stop if you've heard this before but the company had a great third quarter. This was Caesars' best all-time quarterly record for EBITDA.
One interesting financial note is that Caesars had to limit capacity at some hotels during weekdays due to staffing issues. Despite the limits, Caesars still had 89% occupancy in the third quarter.
The renovations to the entrance area of Caesars Palace won't be completed until next year. Work was supposed to be done before the end of the year.
Caesars will finally begin the sales process of a Vegas Strip casino early next year. The company didn't say which property would be sold but the day is finally on the horizon for Caesars to sell a casino.
During the call, CEO Tom Reeg said that Caesars has about 50% share of the sports betting market handle (amount of money wagered) in Nevada. That includes all Caesars' casinos and more than 100 William Hill sportsbooks throughout the state.
Nevada will also see a new Caesars sportsbook app next year. This will be the same Caesars Liberty app platform that the rest of the country uses.
Station Casinos Earnings
Station Casinos also reported third-quarter earnings this week. This was another record-breaking quarter for Station Casinos. My favorite note from this call: "Streamlined expenses, yadda yadda." You've heard it all before.
Station Casinos had a record high ADR which is the same as other Las Vegas casino operators. However, the company also had record high occupancy. Station Casinos is noticing customers staying at Red Rock and Green Valley Ranch that used to stay on the Vegas Strip. This doesn't happen often.
There will be a new sports betting platform at Station Casinos. This is in response to possible disciplinary action by the Nevada Gaming Control Board. Expect to see a new app next year after regulatory approval. Station will also be rolling out more cashless options at its properties. I just realized that I forgot to follow up on specifics. Doh!
The company updated some of the Durango Resort info. It's scheduled to break ground early next year. Construction will cost $750 million (this is new info) and take 18-24 months. In its earnings presentation, Durango is listed as a luxury property alongside Red Rock and Green Valley Ranch.
Station sold 23 acres of its Durango land for residential housing. The company previously said there would be a retail component on this land. It wouldn't be a surprise to see a combination of both. Station has five plots of land covering 300 acres in Las Vegas. The company will look to opportunities to " build out the portfolio, double the footprint here in Las Vegas."
You've heard this before but it's worth mentioning. The three Station Casinos properties that remain closed represented less than 10% of cash flow. These casinos won't reopen until they can guarantee profitability. More likely, they'll reopen with new names and ownership. That's just a hunch.
Last but not least, the Palms should close before the year is over.
Penn National Gaming Earnings
This will be a quickie since Penn National Gaming (PNG) has sold Tropicana and Las Vegas isn't currently a priority. However, the company could come back to Las Vegas sooner than later.
PNG was in the running to buy the Cosmopolitan. While "it's not imperative" to return to Las Vegas the company is considering returning to the Vegas Strip. Any property PNG considers will have to be the right property in a good location and it has to be "the right price."
CEO Jay Snowden said "It would be great if we have an asset but we won't chase or overpay. We'll kick the tires if there's something out there."
That sounds like how everyone approaches the buying process.
PNG is a company set up similar to MGM in that it doesn't own all of the land underneath its casinos. PNG is very familiar with just operating a casino on land it doesn't own. The Mirage sounds like a match. This would also give PNG a reason to bring its Barstool Sportsbook to Las Vegas. They could rebrand the California Pizza Kitchen as a Barstool Sports Bar that overlooks one of the best sportsbooks on the Vegas Strip.
Of course, the price has to be right. Since they would only be buying operations of The Mirage the price could be very right. Stay tuned.
---
---

Las Vegas Quick Hits
Super Quick Quick Hits
This was one of the longer Vegas News articles of the year so the quick hits will be especially quick this week.
---
Also, be sure to join the ZorkCast Group on FaceBook.
This is the Facebook group to continue the conversation from the ZorkCast podcast and TravelZork website. Feel free to start a conversation related to anything TravelZork or ZorkCast.
---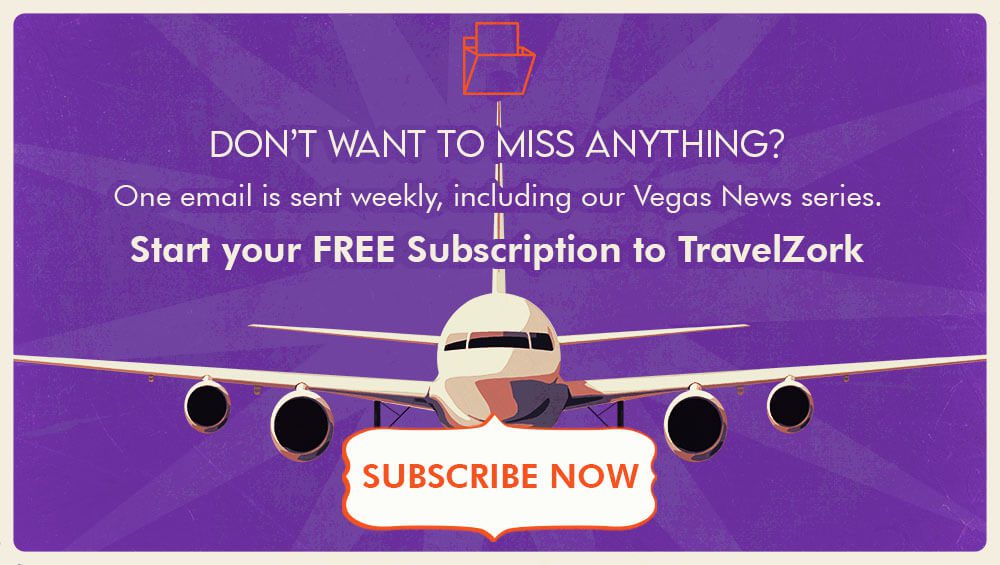 ---