Vegas News November 8, 2022
Vegas F1 Room Rates
This was a fun news week in Las Vegas. Between the Las Vegas Grand Prix (Vegas F1 Room Rates) and casino earnings, there was a lot happening. Add that to the mix of a normal week of Vegas News, and you have a busy week.
Having said that, there's no time for a long intro this week. Let's just get into the news starting with Caesars and MGM Resorts earnings. In addition to earnings news, both companies released hotel rooms for the Las Vegas Grand Prix next year. That's all a good segue into Formula 1 ticket news.
Caesars Earnings
Caesars reported third-quarter earnings on Tuesday. As you may remember, I listen for information that may have an impact on the casino experience. You can read the press release and financials here.
Big News – Caesars Not Selling A Strip Property
The big non-financial news from the call was that the company is no longer planning to sell a Vegas Strip asset as previously planned. CEO Tom Reeg actually apologized for giving people the run around about this since he took over at Caesars.
While recent speculation was that Flamingo was on the market, the company never publicly said that was the case. CEO Tom Reeg did say that cash flow for the asset (Flamingo) has been increasing and that buyers were having a tough time raising finances to make the purchase.
Bottom Line – No Change In Comp Room Inventory
The bottom line here is that Caesars Rewards Loyalty Program will keep rooms from whichever casino it was planning on selling. This should mean there won't be a change in the number of complimentary rooms available.
Caesars no longer plans to sell any Vegas Strip assets. Plans can change so let's just move forward.
Caesars Occupancy – Las Vegas Hotels
Caesars Las Vegas hotels had a 94% occupancy rate in the third quarter. Reeg also noted that October is the strongest month of the fourth quarter.
Caesars – F1 Demand Greater Than Expected
Not coincidentally, November is usually the slowest month of the quarter. That should change next year with the Las Vegas Grand Prix. Reeg mentioned that hotel demand for the weekend is greater than expected.
Caesars Vegas and F1 Rooms Rates
Caesars opened hotel rooms for November last week. It should be no surprise that rates are high. As it relates to this company, Caesars Palace Las Vegas is the highest, and The Cromwell is already sold out.
The cheapest room at Flamingo Las Vegas for the weekend starts at $949 (plus tax and resort fees) per night. The cheapest room with a view of the Vegas Strip starts at $1304 per night. Prices will change as rooms are booked (or not booked).
Caesars has ticket/room packages available for F1 Vegas Caesars. Package prices start at $2600 per night.
Allegiant Stadium Events
Both Caesars and MGM mentioned how events at Allegiant Stadium have been great for business, even though there are only 50 events or so for the year.
Caesars Entertainment mentioned that Raiders games are particularly great because the event extends visits for an extra night. The cost for most nights surrounding Raiders games rates higher than usual so it makes sense they'd be happy about that.
MGM noted that they can sell two extra room nights for every event. That's 100 extra nights at higher-than-normal rates.
The third quarter also marks the return of 55+ visitors to Las Vegas. Multiple companies, including Caesars, reported these guests are back to 2019 levels.
MGM Resorts Earnings
You can find the MGM Resorts earnings press release with financials here and the easier-to-read earnings presentation here.
Third-quarter earnings were a record for MGM Resorts in Las Vegas. The company says 2022 will be a record year for some properties. While they didn't mention names, luxury properties (Bellagio and Aria) were mentioned throughout the call.
Similar to Caesars, the company said that October is already looking like it will be the month with the highest hotel revenue in Las Vegas – ever. We should see confirmation of that in January.
MGM Vegas – Record High ADR
MGM set a record-high ADR (Average Daily room Rate) for the quarter. The addition of The Cosmopolitan helped set that record. The Cosmo typically ranks in the top three for room rates in Las Vegas.
The repeated mention of luxury properties doing well and weekday business travel increasing is likely bad news for leisure travelers – even those going to middle and lower-tier properties.
Midweek rates have been fairly inexpensive over the past couple of years with the lack of visitors. That will change starting with the business travelers paying for rooms at high-end properties. This will push prices up and some people to lower-tier properties they can afford. This should push all room prices higher as demand increases everywhere.
If you think prices are bad now, wait until next year.
MGM Vegas and F1 2023
Speaking of high prices, MGM rooms for F1 weekend are also as high as expected. Room prices at Bellagio start at $1773. A Strip View room will cost more than $6,000 for the three-day weekend.
Luxor is the least expensive hotel room for MGM properties. Those rooms start at $653 plus the resort fee. Off-strip and downtown hotels aren't much cheaper if they are at all.
MGM CEO Bill Hornbuckle noted that Las Vegas Grand Prix weekend is typically one of the least expensive of the year. Thanks to F1, another cheap weekend to visit Las Vegas is down the tubes.
The Mirage
MGM Resorts didn't mention The Mirage much during the earnings call. However, that didn't stop the property from making the news.
MGM Resorts shared dropped an FAQ for visitors that have booked rooms at The Mirage. You can read that here.
Don't look at this as a roadmap for The Mirage. Once the sale to Hard Rock goes through, the new operator will likely announce more plans.
For example, the FAQ from MGM says "There are no current plans to change the volcano show." MGM says that because the company has no control over the future of the volcano.
In an email to MGM Rewards members, the company reminded people that "Hard Rock expects to continue to operate as The Mirage following the closing."
Remember, Hard Rock has free use of the name for up to three years. The company will likely keep the name until construction and renovations are completed in a few years.
The FAQ should answer questions for anyone who booked a hotel room at the property. Don't look at this as anything meaningful otherwise.
Las Vegas Grand Prix
This was a big week for the Las Vegas Grand Prix. As mentioned above, hotel room rates are available for most hotels on the Vegas Strip. The Cosmopolitan seems like the only major holdout.
Tickets went on sale on Nov. 1, 3, and 5. Ticket prices started at $500 for the weekend. These are Standing Room Only tickets near The Venetian Sphere. The presales both sold out quickly. You can see more ticketing information here.
MGM Zone for F1
MGM Resorts is doing something strange for the race. The company will create the MGM Zone, which is a fan area that will be "constructed over the Fountains of Bellagio." I guess that's valuable real estate for guests buying room/race packages.
I assumed F1 wanted that for the money shot of cars driving by the fountains exploding high into the air. I supposed the MGM could cover part of the lake in front of the fountains. Time will tell.
"Box Box, Box Box"
The creators of Absinthe are opening a new 55-seat venue next year. It will host a 1 am show during LVGP weekend called "Box Box, Box Box." Anyone that's watched "Drive To Survive" should be as amused as I am by that name.
Last and certainly least, the LVGP has a title sponsor. It will be officially known as the "FORMULA 1 HEINEKEN® SILVER LAS VEGAS GRAND PRIX 2023." Yes, all caps! Read more here.
Let's get to the rest of the news in and around Las Vegas.

Las Vegas Quick Hits
The big news is for everyone. The quick hits are for the real ones that want even more news and info on what's happening in and around Las Vegas. Let's get to it!
---
Also, be sure to join the ZorkCast Group on FaceBook.
This is the Facebook group to continue the conversation from the ZorkCast podcast and TravelZork website. Feel free to start a conversation related to anything TravelZork or ZorkCast.
---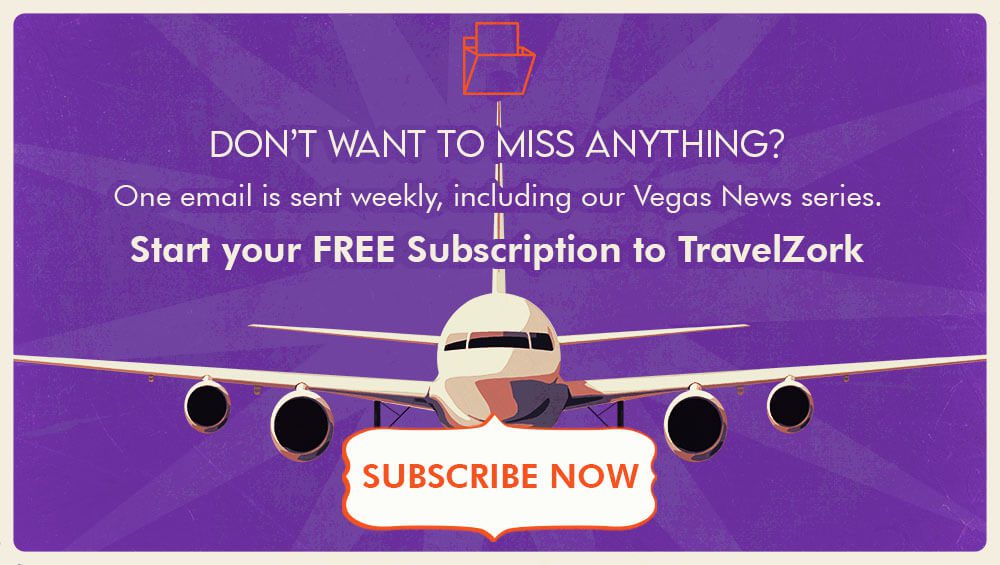 ---