Vegas News October 11, 2022
First things first. If you haven't heard, someone stabbed eight people in front of Wynn. Read more here.
I'm moving on as I'd rather spend my time dealing with casinos and things to do in Las Vegas. What better way to start Vegas news than with plans for a new hotel-casino on the Vegas Strip?! Let's go!
Plans For New Vegas Strip Casino
Tilman Fertitta, the owner of the Golden Nugget, finally shared some plans for the six acres of land he purchased on the Vegas Strip near Harmon Ave. diagonally across from The Cosmopolitan.
All signs point to this property being something that isn't part of the Golden Nugget family. The plans call for a 43-story hotel-casino. For comparison, this will be a little shorter (51 floors) and on a slightly smaller plot of land (8.5 acres) than The Cosmopolitan.
The plans for the property include 2,420 rooms, suites, and villas along with an unknown number of restaurants, convention space, a spa, a wedding chapel, an auto showroom, and a 2,500-seat theater.
Fertitta says he wants this to be a luxury property so there will be high-limit rooms and gaming salons. Plans also include an auto showroom.
More Fertitta Details – Plans For New Vegas Strip Casino
He owns Post Oak Motor Cars and Post Oak Hotel in Houston so it makes sense he'd bring those luxury brands to Las Vegas. His Landry's roster of businesses has increased a lot over the past few years. You can tool around the website to learn more here. I was stunned by the number of holdings the company has now.
It's also likely he brings dining options that are part of his empire. Landry's has plenty of fine dining and upscale casual restaurant brands. Chain restaurants aren't very exciting but there are quite a few that would work for a Vegas Strip property.
Tilman Fertitta Files Plans
Clark County will decide on whether or not the plans for a new Vegas Strip Casino are approved on Oct. 19. You can read more about the plans here.
We should hear more after the project receives approval. Until then, let's get to the rest of the Vegas News.

Las Vegas Quick Hits
Wynn Las Vegas finally announced a new full-production show named "Awakening." The show opens next month. Read more here.
I'm not a show person, but I think those who enjoy the "Big Vegas Show" vibe might enjoy "Awakening." Here's the teaser.
The Disney Immersive Experience is coming to the Vegas Strip. Read more here and see what the experience will look like here.
The Aces of Comedy series at The Mirage will continue next year. The initial batch of shows includes familiar names that have performed in the series before – Daniel Tosh, Nick Swardson, Tim Allen, Ray Romano, and Brian Regan. See dates and more info here.
There will be luxury cars on display at Wynn Las Vegas this month. Read more here.
New Year's Eve shows continue to roll out. The original Misfits will play at Mandalay Bay. Read more here.
If you enjoy listening to earnings calls from casino corporations, we have some news. Boyd will have its call on 10/25, Red Rock/Station Casinos is on 10/27 and Caesars is on 11/1.
Station Casinos now offers cashless gaming for machine games like slots, video poker, keno, video blackjack and more. Read about it here.
G2E is next week and companies are still rolling out previews of games we'll see. Forgive me if I forget to take pictures or videos of the new Rocky and Bullwinkle slot machines. Read more here.
Rod Stewart's residency will continue at Caesars Palace next year. Read more here.
Station Casinos topped off Durango Resort. The company says it plans to open the property in late 2023. Read and see more here.
During its last earnings call, Station Casinos said it plans to build one new property at a time. Scratch that – the company now plans to build three properties when Durango is completed. Read more here.
YO! There was a camel at an In N Out Burger drive-thru. The video is fun. Watch it here.
It looks like construction on the arcade replacing the sportsbook at Bally's/Horseshoe is finished. See pics here.
Chris Tucker has a limited engagement at Wynn Las Vegas next January. Read more here.
Mike Epps is returning to The Venetian for a couple of nights next February. Read more here.
Light Nightclub at Mandalay Bay is closed. Read more here.
Sahara turned 70 this week. Read more about what's happening at the property today here.
Boring update: Evidently, there will be a station at the Fashion Show Mall someday. Read more here.
Prime Rib ice cream sounds dumb but I'm told the normal flavors are delicious. Read more about Salt and Straw opening in Las Vegas here.
A longtime cheat in Las Vegas casinos could be the 37th person in the Nevada Black Book. Read more here.
I know more than a few people that would love this horror-themed cafe that just opened downtown. Read more here.
Bill Foley, the owner of the Vegas Golden Knights, just purchased an English soccer team. Read more here.
Last but not least, the Ethel M chocolate factory announced its plans for the holiday cactus garden in Henderson. Read more here.
---
Also, be sure to join the ZorkCast Group on FaceBook.
This is the Facebook group to continue the conversation from the ZorkCast podcast and TravelZork website. Feel free to start a conversation related to anything TravelZork or ZorkCast.
---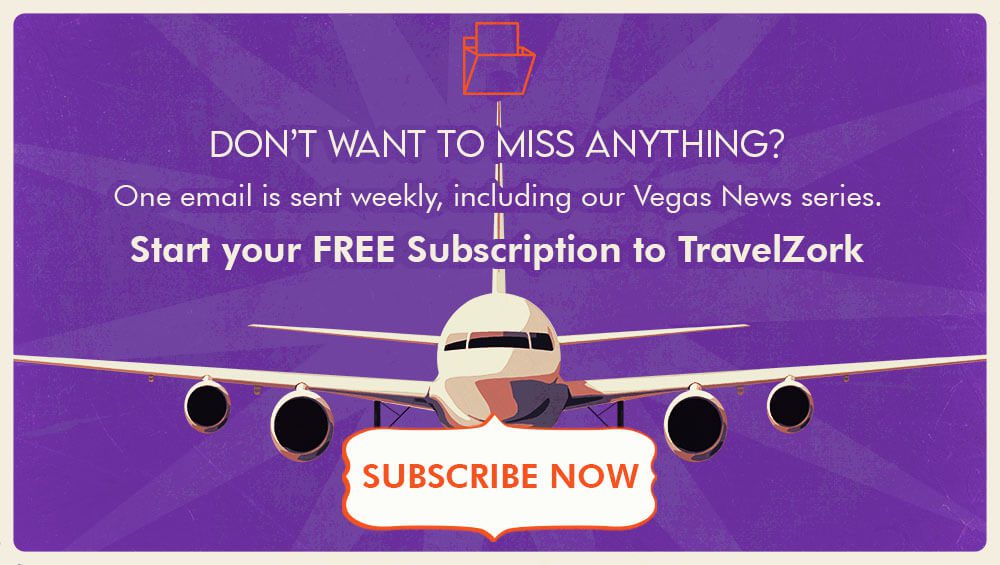 ---