Vegas News October 21, 2023
ZorkFest
I couldn't make it to ZorkFest 2023 this year, but by all accounts, it sounds like the conference was a success. If you're a super early planner, you can plan for ZorkFest 2024 to take place from Nov. 1- Nov. 3.
Since we skipped Vegas News last week, there's a ton of information to get to from the past few weeks. Let's get right to it.
Casino Openings
Durango Casino opens on Nov. 20 and the hotel rooms look nice.
Escape to our friendly oasis in the Resort King room.

Book: https://t.co/ktyVPbt7ac pic.twitter.com/Kg3Zd0WwFz

— Durango Casino & Resort (@durangoresortlv) October 9, 2023
Just a reminder that Durango has fewer than 250 rooms. For comparison, Fontainebleau will open with almost 4,000 rooms available. I live a handful of miles down the street from Durango and can't wait to check the place out.
Caesars Rumors and Such!
Rumor Alert: Flamingo Las Vegas will add another Gordon Ramsay Burger and another Vanderpump. Caesars using popular brands from other properties sounds typical. I expect we'll hear confirmation sooner than later. Read more from Mr. 'Scoop Vital Vegas here.
Adele added more shows to her residency at Caesars Palace Las Vegas next year. Read more here.
MGM and Marriott Partnership Delays
The MGM partnership with Marriott was supposed to start in Oct. It looks like that won't begin until next year. This isn't much of a surprise since it took the company a while to recover from the cyberattack. Read more here.
LAS Jackpots!
Is it me, or are people hitting slot jackpots at LAS more often this year than ever?
Blast from the past, Aviation Queen wrote a TravelZork article on Nevada Airport Slots in 2016.
✈️ Now this was a trip to remember! A player at Harry Reid International Airport (@LASairport) placed a $1.25 bet and won a $643,434.31 jackpot playing Wheel of Fortune Triple Double Emeralds Slots! Congratulations! 🎉 pic.twitter.com/unM7YHehUp

— IGT Jackpots (@IGTJackpots) September 27, 2023

Las Vegas Quick Hits
It's all fun and games until the slot machine chases you down. pic.twitter.com/pmMQKlcidO

— Marc (@MeltzVegas) October 11, 2023
Hack!
By now you're probably caught up with the news about the MGM hack so I'm not going to share any updates. Besides, MGM deleted all of their Twitter statements. The company is not totally back to normal as they repeatedly claim. It seems as if the MGM Rewards section of your app will be the last thing to get fixed. The company will likely be back to normal when that works again.
One interesting thing I found about the MGM hack is that an Expedia company is powering its online reservation system. See the tweet here.
The Caesars cyberattack might be more interesting to TravelZork readers as Caesars Rewards account information was stolen. Read more here.
More! Quick Hits
Wynn! Wynn Wynn!
Speaking of Wynn Golf Club. This is fun.
Perfect ⛳️🏌️ pic.twitter.com/2D9tyCdxq0

— Marc (@MeltzVegas) October 10, 2023
F1 Facts and Figures
Free F1 Attractions
The Las Vegas Grand Prix might be a money grab but MGM has some free F1 things to see in person at different properties. Read more here.
You may have read that Caesars room rates during the Las Vegas Grand Prix are dropping. I'd share thoughts on this, but the people who frequent those dumps might be offended. Luxury hotel room prices are still high. See my X Twitter thread here.
The library in my part of Las Vegas has an art gallery with three rooms. One room was full of showgirl art and costumes. Another has hip hop artist paintings. I'm not sure if this is normal, but I didn't have things like this growing up in the Bronx, so I think it's all pretty sweet. You can see some pics of the showgirl display below and more on x Twitter and Instagram.
The Final Round Of Quick Hits
---
Also, be sure to join the ZorkCast Group on FaceBook.
This is the Facebook group to continue the conversation from the ZorkCast podcast and TravelZork website. Feel free to start a conversation related to anything TravelZork or ZorkCast.
---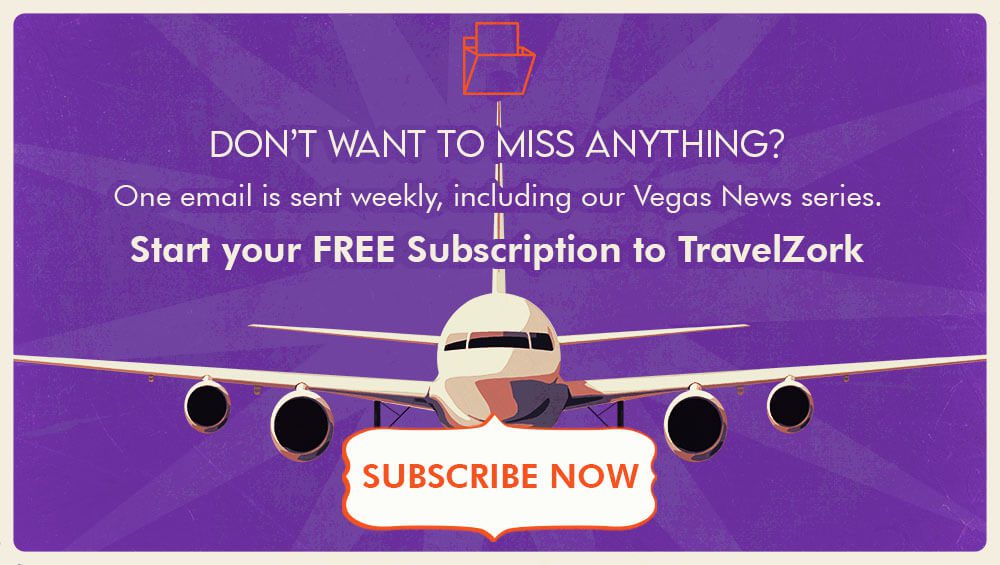 ---