Vegas News October 24, 2021
The Amazing Destination People Remember
Las Vegas has been the amazing destination people remember this weekend. In addition to the normal weekend entertainment, the Electric Daisy Carnival took over the Las Vegas Motor Speedway and Eagles fans roamed Las Vegas for a few days before the team plays the Raiders. Can't blame the deluge of Eagles fans for leaving Pennsylvania and New Jersey for Las Vegas but that's another story.
Las Vegas has that electric feeling that has noticeably been missing for about a year and a half. I really noticed this a couple of weeks ago with the Tyson Fury fight. There's something special about Las Vegas when there's a big boxing match. That first weekend was the first time in a while I noticed that vibe in a long time.
While I typically enjoy a more calm Vegas experience, this kind of energy is still amazing. This will probably continue once foreigners are allowed to visit the US next month and into the holiday season.
Meltz Annual Winter Vacay
On a personal note, plans for my annual winter vacation are starting to look amazing and I can't wait. Last winter was the first time I didn't take a few days off in Las Vegas in December to hang with my friends since my mid-20's.
The crew is stoked to return to Las Vegas. This will be a different kind of holiday but there will be some similarities to years past. The anchor for this trip is set. Our annual visit to Ping Pang Pong for an amazing hangover lunch at the Gold Coast was the first thing on the calendar!
This was a slow news week but let's get to the action in and around Las Vegas.
---
---

Las Vegas Quick Hits
Las Vegas Sands reported earnings this week. I normally don't pay much attention to the call since the majority of its business is overseas. This will probably be the last time I even read the information. Las Vegas is now officially out of the picture financially. The report did reveal one bit of Vegas news. The Venetian sale is expected to close in the first quarter of 2022. Read more here.
I get a lot of press releases about things happening in Las Vegas. I share a lot of them unless the pictures are sad like the sandwiches at the new shop at Ellis Island.
On the other side, I share news more often when includes fun pictures like a dude feeding Mike Tyson a slice of pizza. You can read about the new Mike Tyson statue at Resorts World here.
On a related note, I was underwhelmed by Mulberry Pizza. It wasn't as bad as the old food court at Flamingo Las Vegas but it's not close to the best slices in Las Vegas. I wouldn't say no if someone wanted to go but I wouldn't recommend it either.
Speaking of Resorts World, Celine Dion canceled her upcoming shows. Read more here.
Bally's, soon-to-be owners of the Tropicana, signed a deal to only serve Pepsi in its casinos. Read more here.
A bunch of the restaurants at The Venetian have special menus for Thanksgiving if you're in town. Read more here.
Lizzo is performing at Virgin on New Year's Eve. Read more here.
There's magic and comedy in the air at Bally's! Read more about the new show here.
Elon Musk's Boring Company received approval to move forward building the Vegas Loop car tunnel system throughout Las Vegas. You can read more here.
Eventually, the Vegas Loop should have more than 50 stops throughout Las Vegas. I'll believe this is happening after the Resorts World station is complete. ​​That's step one of many.
Since we're discussing transportation, here's your monthly dose of California to Vegas train news.
It looks like the Oakland A's will announce potential sites for a Las Vegas baseball stadium after the World Series. See the tweet here.
Tickets and guests were just announced for the Game of Thrones convention at the Rio All-Suite Hotel next year. See specifics here.
Rod Stewart's residency at Caesars Palace Las Vegas has been extended. Read more here.
Bobby's Burgers from Bobby Flay is expanding to Harrah's and Paris Las Vegas. Read more here.
Garth Brooks is dropping hints that he may do a Las Vegas and NashVegas residency. Read more here.
Le Cirque at Bellagio is reopening soon. See details here.
Station Casinos will have a new sports betting platform. Read more here.
Circus Circus will soon have a teacup ride! Read more here.
Circus Circus is also adding a new food court. Meanwhile, Slots a Fun is going to add a daiquiri bar. Read about both here.
The Plaza is going to have some pre-NFR rodeo fun. Read more here.
Allegiant Stadium now has a special wine program available to some suite-holders at Raiders games. Read more here.
---
Also, be sure to join the ZorkCast Group on FaceBook.
This is the Facebook group to continue the conversation from the ZorkCast podcast and TravelZork website. Feel free to start a conversation related to anything TravelZork or ZorkCast.
---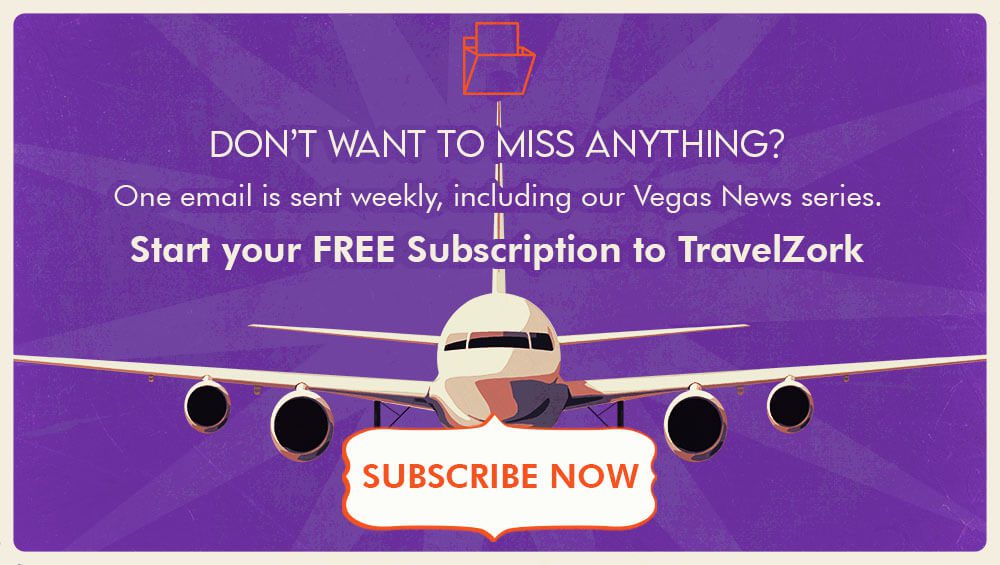 ---