Vegas News October 3, 2021
Let's start the news with a quick Covid-19 update in Las Vegas before we get to the big news: "Cosmopolitan Sold!" It appears as though the Clark County Covid-19 cases, hospitalizations, and deaths are getting lower. If this trend continues there could be a change in public mask-wearing policy sooner than later.
In the meantime, you still have to wear a mask inside of casinos unless you're eating, drinking, or smoking. After spending almost an entire week at the Cosmopolitan, it seemed like the vast majority of people were wearing their masks as required. As usual, there were plenty of people smoking and drinking on the casino floor so depending on where you are it can look as though fewer people were wearing a mask.
Checking Out Superfrico at Cosmopolitan
Who's having fun?! pic.twitter.com/glJ4szDsM0

— Marc (@MeltzVegas) September 30, 2021
A couple of friends and I had dinner at Superfrico at Cosmopolitan this week. Upon entering we were asked to keep our masks on and only remove them when food or drink were going in our mouths. This was to help protect performers that sporadically pop up throughout the restaurant. This was to ensure
The food at the Rose.Rabbit.Lie replacement was very good. However, you have to be in the mood for loud music and random performers strolling through the restaurant to enjoy the experience. It's been a while since I was at Rose.Rabbit.Lie but I think the performances are more frequent and a bit more bombastic at Superfrico.
The food at Superfrico is a bit more traditional than Rose.Rabbit.Lie. We shared a few pizzas, chicken parm, and fried mozzarella. We left stuffed which wasn't always the case for this picky eater at the previous restaurant.
This little intro segues nicely to the big news of the week.
Cosmopolitan Sold – The Deal
After years of rumors, Blackstone sold Cosmopolitan for a total of $5.65 billion. This is a nice profit having purchased the entire property (land and casino) in 2014 for $1.7 billion. Blackstone spent more than half a billion dollars upgrading the property over the past seven years. All together Blackstone turned a $2.2 billion+ investment into $5.65 billion. Not too shabby.
Like most Las Vegas casino sales recently the operations and real estate were sold separately. Cherng Family Trust, Stonepeak Partners, and Blackstone Real Estate Income Trust, Inc. teamed up to buy the real estate of this deal.
Looking Towards 2022
MGM Resorts purchased operations. The deal is expected to close in the first half of 2022.
MGM Will Operate Cosmopolitan
MGM Resorts paid $1.625 billion for the rights to operate Cosmpolitan. The company has a 30-year lease and will pay an annual rent of $200 million with escalations.
MGM Resorts CEO & President Bill Hornbuckle said "The Cosmopolitan brand is recognized around the world for its unique customer base and high-quality product and experiences." I think it's important to understand that MGM realizes that this property has a "unique customer base."
While I have concerns about some parts of the property, I think the casino corporation will try to keep a good amount of what makes the Cosmopolitan special to many of us.
Changes at Cosmopolitan
Some changes will happen shortly after MGM Resorts takes over Cosmopolitan operations. For example, I think MGM will be able to synergize some of the hotel room amenities into their system. Say goodbye to the unique toiletries and hello to whatever Aria and Bellagio offer.
I expect the comp drink policy will also be one of the first changes. This is a big deal for me as I love playing and drinking at Chandelier Bar because of the middle and top-shelf comps. It will be easy for MGM to switch to cheaper well-drinks for comps.
There will be other things that take some time. No matter who a new casino operator is, it always takes a minute for a changeover to a new loyalty program.
Loyalty Program Integration Takes A Long Time
It took more than a year for Borgata in Atlantic City to become an Mlife Rewards casino. Even on a smaller scale, it took months for Tropicana to become part of Penn National Gaming's rewards program. Similarly, it took a while for Eldorado Resorts casinos to become Caesars Rewards Loyalty Program properties.
I've been using my rewards like they won't be around forever. I probably have some time before the comp rooms, free play, and dining credits go away. On the plus side, there should be some kind of temporary system so M Life Rewards customers can book comp and discount rooms.
We have a while to freak out about changes at Cosmopolitan in 2022 and 2023. We can just enjoy the Cosmo while it still operates independently.

Las Vegas Quick Hits
There wasn't much, but let's get to the Vegas News you may have missed wondering if the Verbena will be available when MGM takes over Cosmopolitan. This is the kind of unique item that MGM has to keep.
Nevada has a bunch of new laws. One of these laws ensures cannabis lounges will be opening in Las Vegas. Read more here.
G2E will be here next week and it doesn't seem like there will be too many groundbreaking new casino games. However, this bonus feature linking sports scores and slot machines seems fun.
Speaking of things at G2E, this slot installation at Palazzo debuted at the expo a couple of years ago.
The new Dune slots at the Palazzo, via @VGKaytlin pic.twitter.com/HQDr59ERIb

— Las Vegas Locally 🌴 (@LasVegasLocally) October 2, 2021
Mulberry Street Pizza is open at Resorts World. Look forward to checking this out. Read more here.
David Lee Roth is doing a handful of shows at House of Blues inside Mandalay Bay starting New Year's Eve. Read more here.
Barry's Downtown Prime at Circa was shortlisted for two restaurant design awards. The restaurant is gorgeous. You can see pics and more information here.
The MGM Resorts deal to buy 50% of CityCenter was approved. The casino operator then sold it to Blackstone Real Estate and is leasing back operations. Read the press release here.
Walk On's Sports Bar is opening at Harrah's next year. Read more here.
Eight Cigar Lounge at Resorts World Las Vegas will open on Nov. 4. Read more here.
Last weekend was busy at McCarran Airport!
BIG WEEKEND RECAP: We told you it was going to be busy and the proof is in the pick-ups! This past Friday, nearly 25,000 Uber, Lyft and taxi rides served travelers arriving at LAS! This was our highest single-day total since early 2020.
As @Vegas says: #TheGreatestArenaOnEarth pic.twitter.com/JHlewMaAoe

— McCarran Airport (@LASairport) September 27, 2021
---
Also, be sure to join the ZorkCast Group on FaceBook.
This is the Facebook group to continue the conversation from the ZorkCast podcast and TravelZork website. Feel free to start a conversation related to anything TravelZork or ZorkCast.
---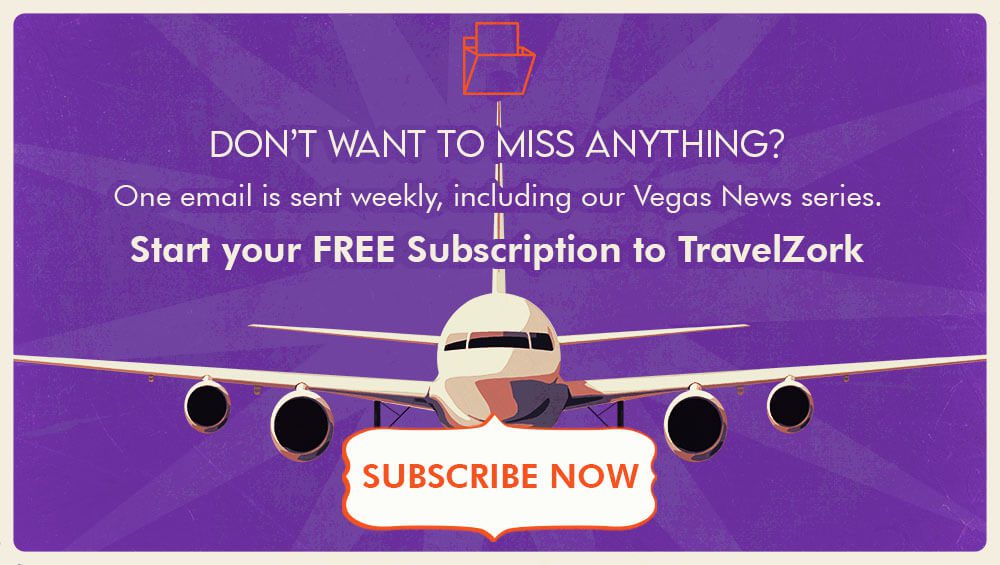 ---