Vegas News October 31, 2021
Spun Out Of Control
Somewhat related to the concept of Vegas Hotel Rates on the rise, my week was spun out of control with a simple Twitter question about Carbone at Aria being closed. It isn't, I have a reservation in December. I decided to call in case there might be a closure before the holidays. Nope.
Carbone is just busy. Carbone and most of the popular restaurants at Aria are being completely booked a few weeks in advance. I ran into this issue at Cosmopolitan last month. Others have seen the same issue at some restaurants at Wynn and The Venetian.
The issue is likely a combination of things. Here are just a couple of reasons.
First, Las Vegas is always busy during the holiday season and reservations are always tight around Thanksgiving. Second, I imagine that many of the foreign visitors are reserving tables at the nicest restaurants for when they can return to Las Vegas for the first time in a year and a half beginning Nov. 8. Additionally, like the rest of the country, Las Vegas is still short-staffed in many venues.
Las Vegas Visitation in September 2021
Visitation to Las Vegas in September was actually a little lower than in August. However, hotel room prices soared. The average daily hotel room rate (ADR) was 155.80 in Sept. That's 11% higher than Aug. this year and 13.6% higher than Sept. 2019.
Vegas Hotel Rates On The Rise
Expect hotel room prices to continue to rise until CES takes place in January. There should be a dip for at least a few weeks. You can see the full Executive Summary of visitation in September here.
Don't be surprised to see visitation numbers increase when the October numbers are released. Last weekend was insane with EDC and the Raiders playing the Philadelphia Eagles.
I planned on taking Uber to dinner but it was somewhere between 2x and 4x normal rates. I dealt with the traffic instead. The airport saw massive traffic and more people taking Uber/Lyft/Taxis since 2020.
Airport News – LAS
The airport is already preparing people to prepare for a busy holiday season. This information is especially useful to anyone visiting can prepare accordingly.

Las Vegas Quick Hits
Casino earnings season for Las Vegas property owners got underway this week with Boyd Gaming. The company did very well again thanks to streamlined expenses and the focus on profitable customers. You've heard that all before so I won't repeat myself.
Read more about Boyd Gaming's third-quarter earnings here.
One thing stood out during the call. Boyd Gaming CEO Keith Smith said the following about the mask requirement in Las Vegas casinos – "hopefully by mid-November it will have run its course." This has been a rumored timeframe for the mask requirement for a couple of weeks. If we hear this during MGM and Caesars' earnings calls this week, this will very likely be the case.
Look for more cashless rollouts at Boyd's Las Vegas casinos later this year and next year.
It looks like KISS canceled its residency at PLANET HOLLYWOOD Las Vegas Resort. Read more here.
Resorts World just launched a bunch of locals discounts. See the deals here.
Resorts World purchased a large airplane to fly guests to Las Vegas from their properties all over the world. Read more here.
It's difficult to believe but the casino at Circa has been open for a year! On one hand, it feels like Circa just opened. On the other hand, it feels as though Circa has always been here. You can see all of our coverage of the property here.
Cirque at Bellagio is now open. Read more here.
MGM auctioned off a bunch of paintings. Read more here.
Rumor is The Mirage is about to be sold. The company reports earnings this week. If the six-year-old rumor is true we should hear something this week.
February will have a magical weekend of old men playing different types of rock n roll at Allegiant Stadium. Read about Metallica and Billy Joel playing at the football stadium here.
Metallica already has ticket/show packages available here.
Speaking of old news, Formula One is considering Las Vegas for a race. I first wrote about this 10 years ago for a website that no longer exists. I'll believe it when I see it. Read more here.
The Whitney Houston hologram concert is now open at Harrah's. See more here.
Piff The Magic Dragon signed a three-year extension to perform at Flamingo Las Vegas. Read the press release here. ​​
Presenting the New Year's Eve bash at the Fremont Street Experience without comment. Read about it here.
Do you agree with the Las Vegas selections from USA Today readers on their 10 best list?
Casino real estate news is usually a yawn. However, VICI, owners of lots of Las Vegas casino real estate just signed a deal with BigShots Golf during its recent earnings report. It wouldn't be a surprise if they decide to build one somewhere in Las Vegas next year. If a casino doesn't have its own version of TopGolf, are they even trying to be relevant?
The Oakland A's will be presenting locations for a baseball stadium in Las Vegas after the World Series ends. Oakland is still trying to keep the team. Read more here.
Tickets for EDC 2022 are on sale now. Read more here. Here's the Drone show from EDC last week.
---
Also, be sure to join the ZorkCast Group on FaceBook.
This is the Facebook group to continue the conversation from the ZorkCast podcast and TravelZork website. Feel free to start a conversation related to anything TravelZork or ZorkCast.
---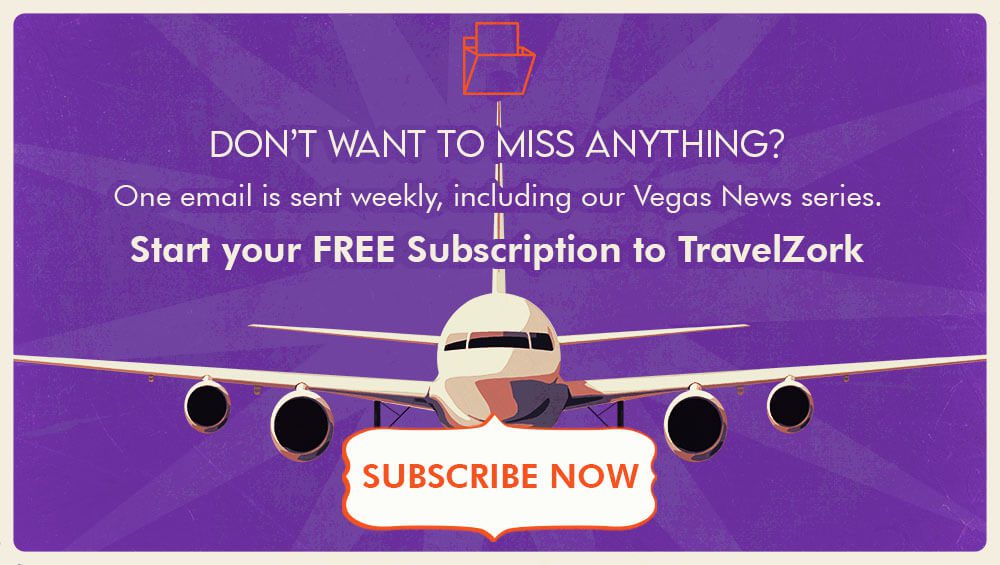 ---