Vegas News September 12, 2022
Football Season Vegas
It's football season and Las Vegas sportsbooks will be packed every Saturday and Sunday for the next few months. This is a great atmosphere for someone that's a football fan and/or bettor.
My preference has changed from enjoying a mellow day or night of baseball to the intensity of watching football games in the sportsbook. There aren't many experiences in the casino that can match watching football games.
Las Vegas is different than any other city with legal sports betting. For starters, the Nevada sports betting apps are not connected with those from other states.
Apps From Other States Do Not Work In Las Vegas
The BetMGM, Caesars, William Hill, and WynnBet apps from other states do not work in Las Vegas. You must sign up for a Nevada account at a sportsbook inside a casino to bet on a mobile device – even if you already have an account with one of those operators elsewhere. The app technology and betting menus are entirely different.
Since there's so much more in-person betting in Las Vegas that the sportsbooks are full of people. Having such high demand for seating in the sportsbook during football season allows casinos and bars the ability to either charge a reservation fee or require a minimum spend.
This isn't a new topic but not everyone remembers how busy Las Vegas casinos are during football games. Consider this your reminder. You can read more specifics here.
Casinos usually target football season to debut new sportsbook updates. Caesars spent the summer upgrading many of its sportsbooks. Harrah's and Paris have new furniture and screens. Caesars has some new seating and carpet.
Bally's Sportsbook – That Isn't Really A Sportsbook
The Linq just has a sports bar. You may remember that Bally's closed its sportsbook to make an arcade. This week Bally's revealed its new sportsbook…that isn't really a sportsbook.
.@Ballysvegas, the future @HorseshoeVegas, opened its new Caesars Sportsbook space in time for #Kickoff2022

It features betting windows, self-service betting kiosks, and 12, 55-inch odds boards.

Located next to Burger Brasserie in between #BallysVegas & @ParisVegas. pic.twitter.com/xL1bHMDmOT

— Caesars Sportsbook (@CaesarsSports) September 8, 2022
Bally's Sports Betting Desk And Kiosks
The Bally's sports betting desk and kiosks are located near Burger Brasserie. The bar and restaurant is located a few steps into Paris Las Vegas just beyond the Bally's casino floor. The burger joint will eventually become another Guy Fieri sports bar/restaurant.
Las Vegas Sportsbook Changes You May Have Missed
Here are a few other sportsbook changes you may have missed over the past couple of years:
BetMGM now operates the sportsbook inside The Cosmopolitan. This used to be William Hill sportsbook.
The Tuscany sportsbook is basically a Circa Sports satellite location similar to Golden Gate. You can watch games at Pub 365.
Lagasse's Stadium at The Palazzo is closed. There's a sports betting counter on the main casino floor.
Happy football season!
Tropicana Quick Hits
We'll share some information about Tropicana developments in quick hit form since this was a relatively slow news week in Las Vegas.
Bally's Corp. was recommended for a license to operate the Tropicana. Read more here.
Nevada Gaming Commission should approve the license on Sept. 22. Bally's expects the sale to close by the end of the month.
As a reminder, Bally's Corp. is a national casino operator that has nothing to do with the casino in Las Vegas. Learn more about Bally's here.
When Bally's takes over The Tropicana it will keep the name for a while.
Don't expect to see any major changes to the property from the casino floor to restaurants. Employees that want to stay at the property will continue to work for the new operator.
William Hill will continue to operate the sportsbook for now. That will likely change next year as Bally's will submit an application to operate the sportsbook within 60-120 days of the sale closing.
Bally's will have a redevelopment plan for the property somewhere between 12 and 24 months. The company can build whatever it wants on the land since Bally's owns the physical structures.
The Tropicana is one potential stadium site if the Oakland A's move to Las Vegas. There have also been rumors about the Tropicana building out retail space for years.
Players will be moved from Tropicana/Penn Entertainment MyChoice Rewards to Bally Rewards.
Double Tree should remain Tropicana's hotel partner for at least a year.
Bally's is keeping plans close to the vest for now. The company might share some more after the sale closes but don't expect to hear too much about developing the property for a while.

Las Vegas Quick Hits
There wasn't too much casino and gambling news about Las Vegas this week but you know we have all the good stuff for ya.
Wally's at Resort World is adding a tequila bar. Read more here.
Vetri Cucina is reopening at Palms on Nov. 1. Read more here.
USA Today must still be important because I received multiple press releases from companies on its Top 10 lists. I haven't seen a USA Today newspaper in years and don't know anyone that reads the website so take this info for whatever you think it's worth.
USA Today named Caesars Rewards Loyalty Program the Best Players Club for the fifth year in a row. Read more here.
Only one Caesars property, Caesars Palace Las Vegas, made the best Las Vegas casino's top 10 list. Read more here.
The D, Downtown Grand, and Plaza were the top three casinos on that top 10 list.
In other useless lists, Las Vegas is the #3 city in the US for chocolate lovers. Read more here.
The Caviar Bar at Resorts World is having a champagne and wine event on 9/16. This sounds like fun. Evidently this combination is a thing. It's a thing I'm curious about now. See the invite here.
The 13th annual Las Vegas Food & Wine Festival will take place at Tivoli Village on Oct. 7 and 8. If you're not familiar with the location it's directly across the street from Suncoast Casino. Read more here.
The Las Vegas Pizza Festival will take place on Nov. 12. See ticketing information and the large list of pizza places that will be serving up slices here.
Kevin Hart is performing at Resorts World on Nov. 18 and 19. The shows will be recorded for an upcoming special. Read more here
Silverton will be building an apartment complex next to the casino. Seems like it would be nice to live within walking distance of Cracker Barrel, Big Bass Pro Shop, and a casino. Read more here.
---
Also, be sure to join the ZorkCast Group on FaceBook.
This is the Facebook group to continue the conversation from the ZorkCast podcast and TravelZork website. Feel free to start a conversation related to anything TravelZork or ZorkCast.
---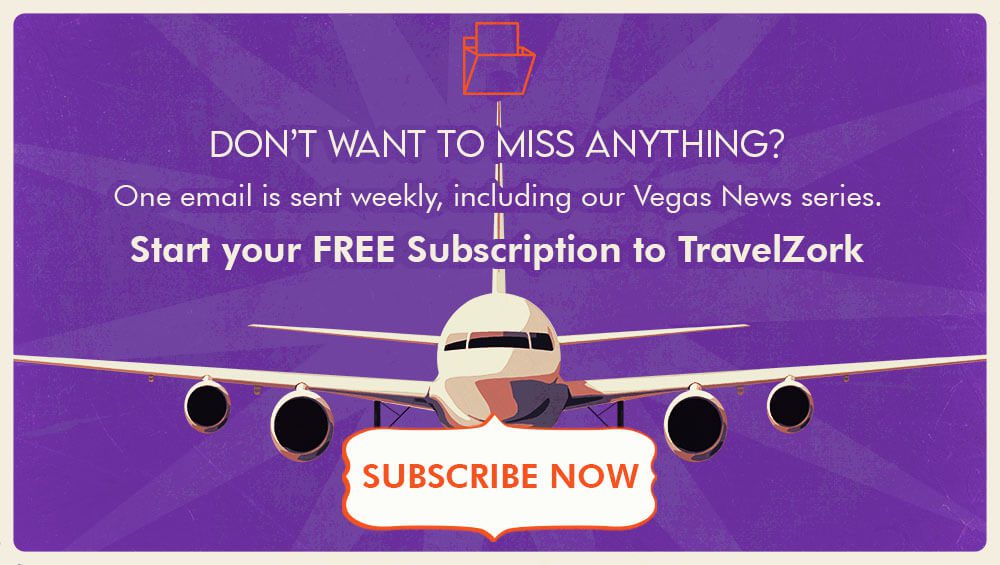 ---