Vegas News September 15, 2023
HACKED! – MGM Hacked and Caesars Hacked
You may have heard that Caesars and MGM Resorts were both hacked. Caesars has divulged a lot of information in its 8-K filing to the Security and Exchange Committee.
MGM Resorts is still embroiled in the chaos of the hacking and is keeping quiet publicly about the situation. This week we'll share the news via quick hits and look deeper at both cases next week.
The Caesars cyberattack includes copying of the Caesars Rewards database. Read the 8-K here.
Read more about how much the attack cost Caesars here.
The MGM Resorts attack started on Sunday, Sept. 10. The company put out numerous statements with very little information. When they file their 8-K it will have more info. In the meantime…
Manual Check-In Process at MGM Resorts
Since computers were down, check-in at hotels was like a normal day at a Caesars property.
Looks like the typical day at a Caesars property https://t.co/aNJwaWyqT5

— Marc (@MeltzVegas) September 13, 2023
All Cashouts Handpays – MGM Resorts
Some slot machines worked, but all cashouts were handpays.
It took as much as an hour for people to get paid.
Signage at MGM Resorts
The company put up signs like this to help guests.
Nice signs are up at Aria though. pic.twitter.com/iApJZfOF65

— Dayna Roselli (@DaynaRoselli) September 14, 2023
People were obviously frustrated. Read more here.
MGM waived cancelation fees for those who planned on visiting last week. Read more here.
MGM is giving people who complain a voucher. See them here.
The Cybercriminals Dropped A Message To MGM Resorts
The cybercriminals dropped a message about the MGM hack. Read it here.
Enough hack talk for now! We'll get back to it next week.
I decided to give quarter triple play double double bonus poker a try and I was rewarded with Four Aces and a Kicker. HOLLA!
Here's your first look Inside The Sphere.
The dome above Marquee Dayclub at The Cosmopolitan is back and so are the winter pool parties. Read more here.
Carrie Underwood extended her residency at Resorts World into next year. Read more here.
David Blaine is taking his talent across the street to Wynn. Read more here.
MGM Resorts chopped down the trees in front of the Bellagio fountains. Read more here.
This might be an unpopular opinion but I like having a clear view of the fountains from the east side of the Vegas Strip. See the video below.
Christina Aguilera will have a residency at the 1,000-capacity venue at The Venetian. Read more here.
I'm old enough to remember when Aguilera had a residency at Planet Hollywood's venue that has a capacity of 7,000 people. Read more here.
Jersey Boys is back! This time the shows will be at The Orleans. Read more here.
As expected, Wynn is charging for self-parking. Read more here.
There's no charge for parking the first four hours at Wynn. You can grab dinner, a show, and gamble in that time. Not bad.
Oak View Group (OVG) has a deal with The Sphere. This won't impact the construction of the OVG Arena planned for south of Mandalay Bay. Read more here.
G2E is around the corner and gaming manufacturers are starting to hype some new products.
Gaming Arts will have a new Deal or No Deal Slot Machine. Read more here.
I plan on checking out this 5-card Pai Gow Poker game at G2E. There's not much info available but I played the demo and have some small sample size thoughts. I'll wait for more info before getting into that. See the layout here.
Acres, a gaming loyalty and technology developer, released a study to help sell their products to casinos. The info is somewhat interesting but this is a sales tool so keep that in mind. Read more here.
Look for more new casino games in Las Vegas. Read more here.
The nightclub nobody went to inside Paris has a new name. Read more here.
Fontainebleau is still hiring. Read more here.
This is the second press release for Fontainebleau hiring. Station Casinos also has a campaign to hire people to work at Durango in November. Both are aggressively marketing that they have jobs available. They might be having difficulty finding quality employees.
Red Rock will have another pop-up preview for a restaurant coming to Durango Resort in November. Grab some Prince Street Pizza on Sept. 29 and 30. Read more here.
There could be more college basketball madness in March next year. Read more here.
Adam Sandler's next show in Las Vegas will take place at Mandalay Bay. His recent shows were at The Cosmopolitan but this is part of a national tour so it makes sense to be in a larger venue. Read more here.
There's a Mob Museum podcast for those of you into true crime pods. Read more here.
Esports betting is back on the docket for the Nevada Gaming Commission. Read more here.
Low-cost airline, Avello, has more routes to Las Vegas. Read more here.
An LGBTQ-owned hotel is opening in downtown Las Vegas. Read more here.
Last and least, Four Queens has 6/9 Jacks or Better. NICE!
---
Also, be sure to join the ZorkCast Group on FaceBook.
This is the Facebook group to continue the conversation from the ZorkCast podcast and TravelZork website. Feel free to start a conversation related to anything TravelZork or ZorkCast.
---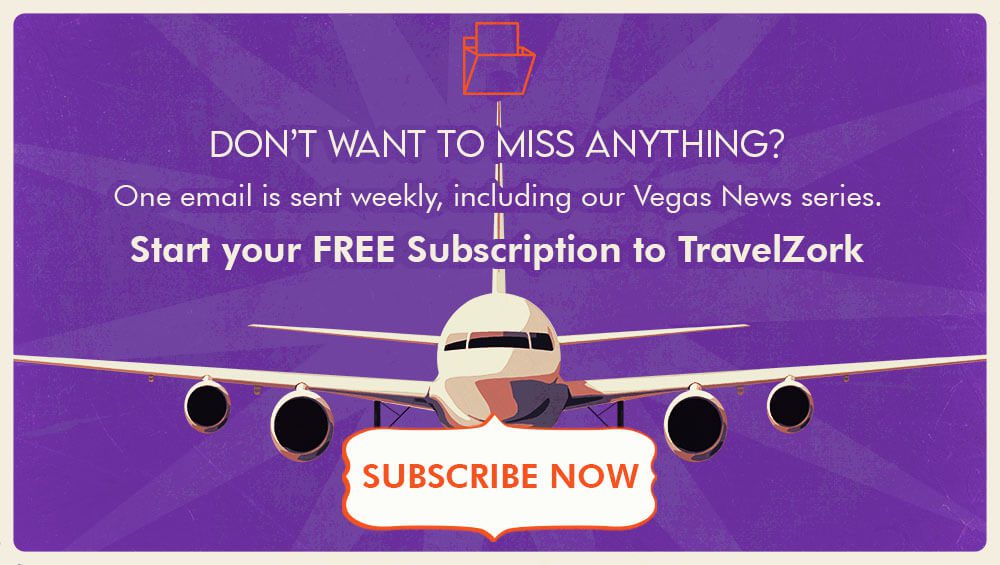 ---