Vegas News September 19, 2022
Renovations and New Construction Update
This week we will get to a new construction update as well as some current renovations. We mentioned that MGM Resorts planned on renovating a portion of the rooms at MGM Grand after the company's recent earnings call. Some of the rooms in the newly named Studio Tower (former West Wing) will be available in late October. The rest should be completed before the end of the year. Read more here.
Once again, MGM Resorts made a virtual tour available for the new rooms. Check out a virtual view of the new MGM Grand room here.
I don't love or hate the renderings, but Twitter responses seemed to have a strong negative feeling about the design. The opinions of the people who follow me on Instagram are a little more evenly split. The good news is that there are more towers with different rooms if you don't like this.
BUFFALOOOOOOOOOOOO!!!!!
G2E is closing in and companies are starting to reveal some of the products they'll have on display. In a stunning development, Aristocrat will reveal a new version of Buffalo slot machine at the show!
This reminds me of this Buffalo demo game from G2E that hasn't hit the casino floor from a few years ago.
A new Frank Sinatra slot machine is already available in some California casinos. Seems like this should have debuted in NJ or near the Sinatra restaurant at Encore. Read more here.
Light & Wonder will have a similar Johnny Cash slot machine on display at G2E.
I'll be in attendance at G2E in Oct. and will share new slot machines, table games, and anything I find fun or interesting on Twitter and Instagram.

Las Vegas Quick Hits
Las Vegas Construction Update
The Las Vegas Convention and Visitors Authority (LVCVA) released an update of its construction bulletin this week.
The report has an overview of construction that has been announced for Las Vegas over the next few years. Not everything listed will be built or finished on time.
Right now the LVCVA is projecting nearly 9,000 new or renovated hotel rooms and more than 830,000 square feet of convention space will be coming to Las Vegas in the next few years.
The list does give a solid overview of what might be coming to Las Vegas this year and beyond. Since the list starts with 2022, some of the projects are completed or underway.
Here are a few highlights to look forward to in 2023 and 2024. You're probably aware of many of these since they were already announced.
Fremont Casino expansion
Circus Circus renovations
Construction @MiracleMileLV pic.twitter.com/sxeHGwcnmw

— Marc (@MeltzVegas) September 14, 2022
Miracle Mile Shops renovations
Silverton and New York-New York room renovations
Durango Resort
Dream Las Vegas
Hard Rock Las Vegas
MSG Sphere at The Venetian
Rio renovations
Vegas Loop (estimated completion date still 2045)
Last but not least – Fontainebleau and All Net Arena are both celebrating 10 years on this list!
There's one interesting item that doesn't have a completion date yet. At some point, the city will build a new pedestrian bridge near Bellagio.
This will likely be good for safety, but it will take away one of the few options to cross the street without riding an escalator or walking stairs.
---
Also, be sure to join the ZorkCast Group on FaceBook.
This is the Facebook group to continue the conversation from the ZorkCast podcast and TravelZork website. Feel free to start a conversation related to anything TravelZork or ZorkCast.
---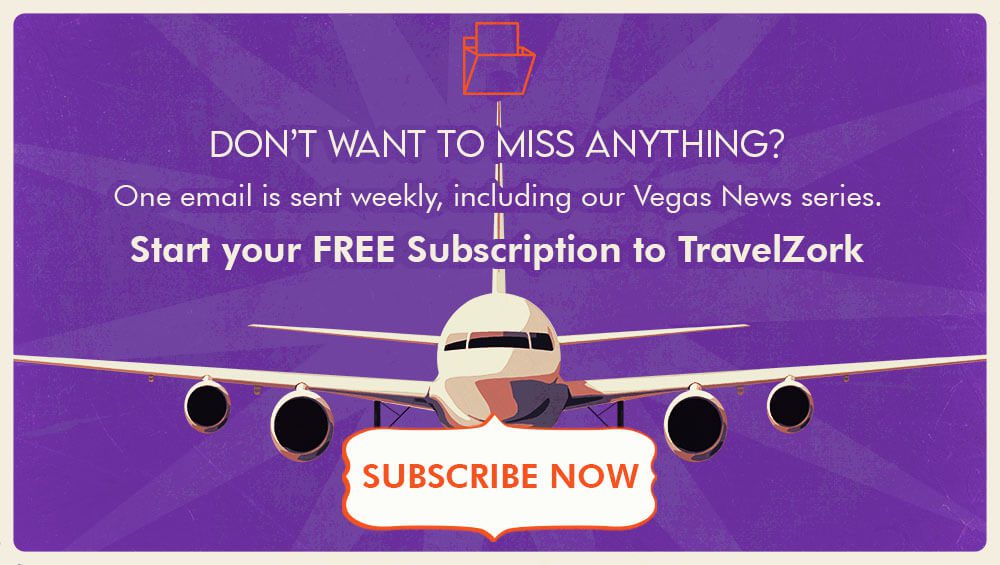 ---