Vegas News September 3, 2023
This is an extended Labor Day Weekend edition of Vegas News. Getting ready for lots of info from the past couple of weeks. It's a good thing many of you have a long weekend.
A few renderings of the Peter Luger Steak House coming to Caesars Palace pic.twitter.com/VmOQL0LJrY

— Marc (@MeltzVegas) August 18, 2023
Peter Luger Opening – Vegas
As a born and raised New Yorker, I have to start with a little too much information on one of the best steakhouses in New York City, opening its first Las Vegas location.
Peter Luger Steakhouse at Caesars Palace Las Vegas is taking reservations at OpenTable beginning Nov. 1. Read more here.
The steakhouse is famous for its perfectly cooked, shareable steaks. This is one of the most legit steak experiences you'll find in Las Vegas.
The Place To Eat Steak – Peter Luger Opening – Vegas
This is a place to eat steak, unlike other recent steakhouse openings on the Vegas Strip where it's difficult to even find a review of the food – let alone the steak.
You can find the menu with prices here. The steakhouse is expensive but prices are in line with other high-end steakhouses on the Vegas Strip.
Peter Luger is one of the most famous steakhouse brands in the country. It first opened in Brooklyn, NY during the 1800s. You can read the history here.
I can't wait to visit and see if the food is anywhere near New York City. The experience might be good but it won't be the same. It's just difficult for a Las Vegas casino to reproduce the feeling one gets from traveling to Brooklyn and eating in an old building with men of a certain age delivering food.
Venetian SportsBook – Renovated and Rebranded
Press pics of the new sportsbook at The Venetian. pic.twitter.com/0qbZ7ZJYcn

— Marc (@MeltzVegas) August 24, 2023
The Venetian sportsbook (above) has been renovated and rebranded. The press pics don't show it but the old red desks were removed and replaced with couches and chairs for 105 people. Read more here.
Unrelated to the news above but there's a new Wiliam Hill sports betting app in NV. It's similar to Caesars (they own Will Hill) but it doesn't offer Caesars Rewards points.
Here's a reminder that anyone signing up for a new sports betting app in Nevada must do so in person at a full-service sportsbook inside of a casino.
Venetian – Paid Self Parking
After months of rumors paid self-parking is coming to The Venetian. Fees begin for casino visitors on Aug. 9. Hotel guests will have to pay for parking beginning Sept. 5. Read more here.
(More) Cosmo Thoughts and Cosmo Paid Parking
Last week, we asked how people were feeling about The Cosmopolitan becoming an MGM Rewards property. I shared my feelings. Since then I had to cancel my monthly visit. Coincidentally, I'm no longer receiving a food credit and my free play is down to $10. I'm surprised they still offered me a complimentary room in September. I don't expect that to last much longer.
Since you love paid parking, similar to The Venetian, The Cosmopolitan will begin charging hotel guests for parking. You can find more Cosmo parking info here.
Your monthly snapshot of Las Vegas visitation and hotel room prices is out. Enjoy the easy-to-digest report here.
The ESPN studios at The Linq are closing. Read more here.
Resorts World is replacing a vegan ice cream shop with a cake and crepe store. Read more here.
Major announcement. South Point has a new permanent hot dog stand!
The NFL announced a slew of events taking place during Super Bowl week in Las Vegas next year. Read more here.
More than 3 million people have attended events at Allegiant Stadium since it opened. Read more here.
The most surprising number in the article is that more than 37,000 people saw the Red Hot Chili Peppers when they played at Allegiant Stadium.
The new MGM Grand Studio Tower rooms are available.
New MGM Grand Studio Tower room takeaways:

1) Pretty room.
2) Sweet view. pic.twitter.com/uHapyLlue1

— Marc (@MeltzVegas) August 29, 2023
Proper Food Hall at Aria has an all-you-can-eat deal during Sunday football games. It's $55 for three hours of food. I know plenty of people who can easily reach the $55 mark in food. Drinks are extra. You can see the snippet from the press release here.
Wayne Newton extended his residency at Flamingo Las Vegas. Read more here.
Do you like reading about real estate deals? You can find a press release about a Bellagio real estate transaction here.
Rumor has it that Post Malone will be playing Fontainebleau on New Year's Eve. Read more here.
Here's a preview of the Fontainebleau rooms.
The article also says Justin Timberlake will play an invite-only show at Fontainebleau in December. Neither has been officially announced.
Fontainebleau dropped a word salad press release that I think is about the design of the casino. If you're into mambo jumbo read it here.
Shania Twain is returning to PLANET HOLLYWOOD Las Vegas Resort for another run of shows next year. Read more here.
Harrah's can't handle the rain. Read more here.
Paris can't handle the rain either. See the video below.
A family found a live bat in their room in New York-New York. Read more here.
Some people tested positive for legionnaires disease after staying at Caesars Palace Las Vegas and The Orleans. Read more here.
The "Zoo Station: A U2:UV Experience" is coming to The Venetian to promote the residency at The Sphere. Read more here.
The George sports bar and restaurant is opening at Durango Casino later this year. Read more here.
I feel like the news about Circus Circus adding a Spongebob ride is old but it was in the news this week so I'm sharing it. Read about it here.
Here's a look at the room renovations at Rio.
One of the newly remodeled Ipanema Tower guest rooms at the Rio, designed to look like apartments near Ipanema Beach in Rio de Janeiro. A total of 1,427 rooms and suites are being renovated. pic.twitter.com/sBEjNr6jX7

— Las Vegas Locally 🌴 (@LasVegasLocally) August 26, 2023
The Oakland A's are in the news again. The only new thing I've noticed lately is that the potential first pitch in Las Vegas has moved from 2027 to 2028. Read more here.
F1 released the race schedule along with the timeline for the last round of paving for the Las Vegas Grand Prix. Read more here.
You may have noticed things are more expensive on the Vegas Strip than off the Vegas Strip. It's the same for how much F1 is charging businesses. Read more about "slashing prices" here.
Speaking of off-strip F1. Ellis Island is in the game now. Read more here.
Palms is also in the F1 game now. Funny how that works. Read more here.
Last F1 item for the week. Enjoy a seven-minute promo video in Las Vegas below.
The Sphere reported earnings. Read about it here.
A hotel near The Sphere is charging a bunch of money for Happy Hour with a view of the giant ball. Read more here.
Via Vital Vegas, a restaurant you forgot is at Horseshoe Las Vegas closed after less than a year in business. Read more here.
Boulder Station has a new sports bar. Read more here.
A new Golden Nugget is opening in about a month in Reno. Read more here.
A magic museum is open at the shopping plaza next to Crystals Mall. Read more here.
Adele has sciatica. Don't we all? Read more here.
The new Vanderpump spot at Flamingo Las Vegas will replace the bar in the former Margaritaville Casino. Read the tweet here.
I miss the scent of suntan lotion from Margaritaville Casino. I always had fun gambling there. It was a much more fun vibe than the main space inside Flamingo.
---
Also, be sure to join the ZorkCast Group on FaceBook.
This is the Facebook group to continue the conversation from the ZorkCast podcast and TravelZork website. Feel free to start a conversation related to anything TravelZork or ZorkCast.
---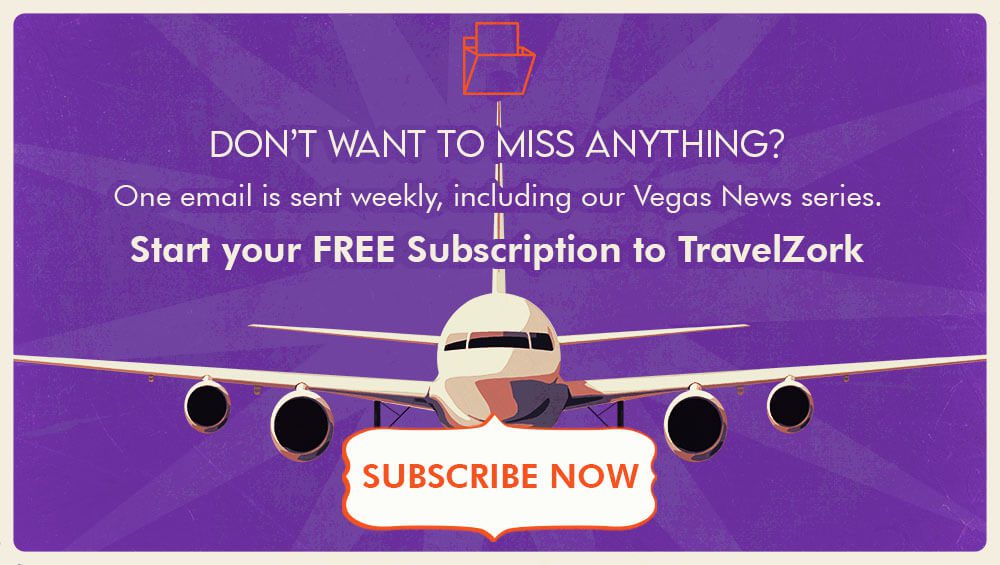 ---