I recently wrote about some of my favorite non-casino restaurants in Atlantic City. This time I hit on some of the inexpensive casual spots to grab a fast meal in Atlantic City.
Photo Credit: Tony Baloneys Atlantic City
Tony Boloney's
300 Oriental Avenue
+1 (609) 344-8669
Located in the shadow of the former Revel (now Ocean Resort Casino), in what may appear to be a ramshackle building, Tony Boloney's provides some of the most innovative pizza combinations that you will ever find. My personal favorite is, "S#it Faced" which is beer battered chicken with honey stout barbecue sauce, mozzarella and cheddar cheese. The "Ay Dios Mio-Mac" is a macaroni and cheese pie with chipotle sauce and cilantro. "The Jewish Cowboy" features Jewish Passover brisket, smoked mozzarella, beet horseradish and parsley. "King" is a vegan pizza with Moroccan roasted cauliflower, red quinoa, lemon tahini hummus, golden raisins and harissa chimichurri.
Tony Boloney's proprietor, Mike Hauke recently made news across the country with his Taco Pizza, featuring a variety of tacos, such as mescal-marinated sirloin steak, smoked bacon, and buffalo chicken all surrounding a mozzarella and guacamole combination, sitting on a cheese pizza. You have to see this, or try it, to believe it. The Cheesesteak Ole is the winner of Guy Fieri's Cheesesteak Battle and the Michael Strahan and Kelly Ripa food truck competition.. There is plenty of on-street parking; just watch the signs to make sure you are not in violations of time or day restrictions.
Photo Credit: The Irish Pub Atlantic City
The Irish Pub
164 St. James Place
+1 (609) 344-9064
Stepping into the Irish Pub is stepping back in time. The Irish Pub is a former speakeasy, operating as a hotel and bar/restaurant. Decorated with antiques and vintage furniture, this throwback to the old days bar is loved by people throughout the state. When it comes to eating, you will not find a bargain like this anyplace else. Lunch specials start at just $5 with dinner platters at around $10. A note for those considering staying at an inexpensive room at The Inn at The Irish Pub, be aware, there is no air conditioning.
Photo Credit: White House Subs
White House Subs
2301 Arctic Avenue
+1 (609) 345-1564
Opened in 1946, The White House Sub Shop draws crowds daily. Expect to wait in a line out front before entering the small service counter area that is bordered by a handful of tables. Photos of the many celebrities that have visited, grace the wall. The Italian Sub is one of the most popular. It features, provolone, salami, coteghino (a type of cooked salami) and capicola. The Cheesesteak is also a big seller. Locally baked bread is brought in several times a day, so everything is fresh.
White House Subs – Takeout Tip
Here is a tip: If you are ordering for takeout you can bypass the line and order at the back counter. You should also call ahead so your order will be waiting. Cash Only, No Credit Cards.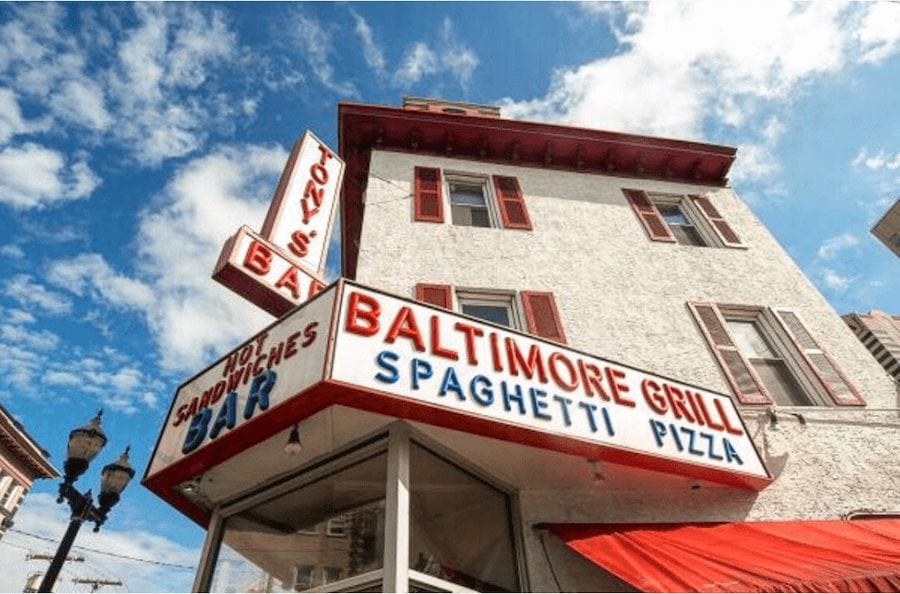 Tony's Baltimore Grill
2800 Atlantic Avenue
+1 (609) 345-5766
Tony's Baltimore Grill has been around since 1927. This "Atlantic City institution," has the feeling of a dive bar. The business is just emerging from bankruptcy and now under new ownership. The sausage pizza as well as the spaghetti and meatballs are the star of the show here. Counter or table service is available. This is a great place for a quick inexpensive bite and a cold beer.