Photo Credit:
Hyatt
| Ocean Resort Casino Atlantic City
Can Ocean Resort Casino Atlantic City be Fixed?
Readers of this column know TheInveterateGambler has been bouncing around the casinos of Atlantic City for decades. He also has fond memories of the old Sands Casino and the now-defunct multi-floored Playboy Casino Atlantic City, TheInveterateGambler has seen properties come and go. It was with this in mind that recent news of another "ownership" change spurred a fantasy of what he would do to "tweak" the Ocean Resort Casino Atlantic City.
Ocean Resort Casino Atlantic City on the boardwalk of historic Atlantic City is one the most beautiful casino resort properties in the United States. Sadly as the result of horrendous decisions by the original Revel team the property closed.
Revel was rescued from oblivion by a courageous businessman by the name of Bruce Deifik, Mr. Deifik and his family worked hard to get the property reopened. He deserves praise for his vision, hard work, and dedication. Unfortunately, there were some financial constraints and some internal disagreements. As a result, Mr. Deifik is transferring a majority of his interest to a financial partner.
Related: World of Hyatt at Ocean Resort Casino Atlantic City
Related: [EXCITING! Soft Opening] Ocean Resort Casino Atlantic City
Photograph ©2018
Eric Rosenthal
| Ocean Resort Casino – Escalator View
In the opinion of many, Ocean Resort Casino has never gotten close to its potential. Here are a few ideas to improve Ocean Resort Casino , presented in no particular order:
Becoming the Destination of Choice
There are currently several unfinished floors in the Ocean Tower. This means during peak times players seeking accommodations are turned away. Since many gamblers go by the mantra, "play where you stay" Ocean Resort Casino's loss is a gain for the other Atlantic City properties. Finishing this space should be a priority. The design should include some of the best multi-bedroom suites in the city.
The new floors should target specific lucrative markets:
The High Roller: One or two floors should be lavish suite suites for high rollers. A dedicated concierge should be at stations at the elevator lobby. This "grandeur" make the high roller feel like a VIP.
Family: The Jersey shore is part of a contiguous stretch of "shore towns" that attract families for week-long vacations. There is no reason that a family cannot consider Ocean their "beach house" for an annual trip. One to two floors of the unfinished space can be family friendly. The halls can be decorated with a whimsical seascape motif. The room inventory should not only be a single bedroom; there can be multi-room suites and mini-suites. A small efficiency kitchen with a refrigerator, a sink and a microwave would be a nice touch for a family on vacation. Also, include a diaper changing surface in the restroom.
Themes: I could suggest a myriad of themes, but for this article, I will focus on just one. Walk around any Atlantic City casino on a weekend night, and you are sure to see groups of young women, pulling on the hem of a short tight black dress, with one in a bridal headpiece. They are celebrating a bachelorette party. Rooms geared towards and themed to the bachelorettes can include several makeup areas, perhaps two separate shower areas and extra closet space. The motif should be vibrant and "sexy.' Bringing in young woman to the property is a sure fire way to lure free-spending young men. Co-branding with a reality television show and/or a bridal magazines is a distinct possibility.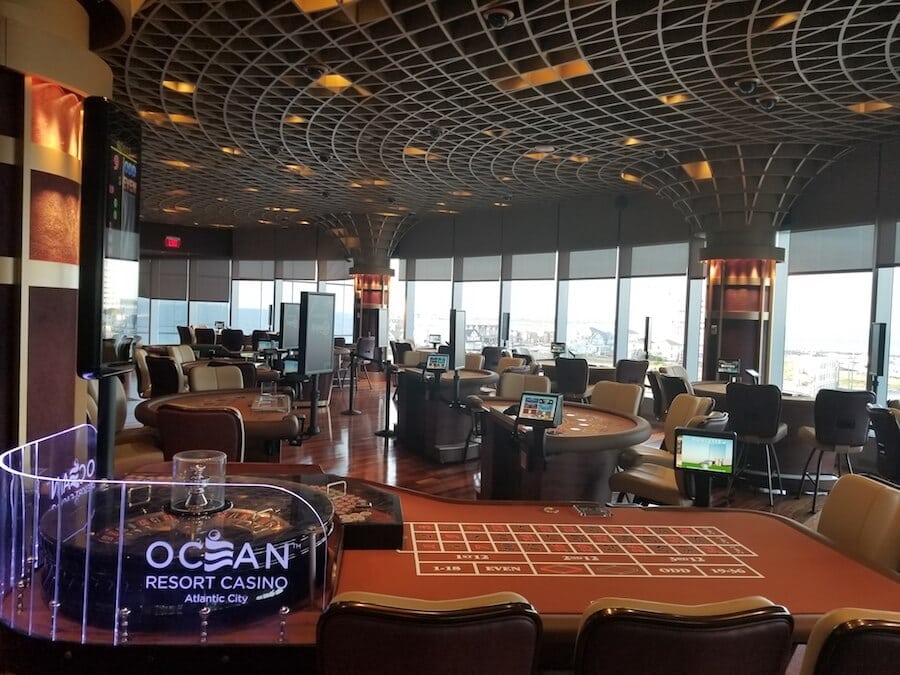 Photograph ©2018
Eric Rosenthal
| Ocean Resort Casino – Ultra Lounge VIP Gaming
Experiences – Attracting the Next Generation of Gamblers
A new generation consisting of the 20 and 30 somethings are waiting in the wings. They did not grow up playing cards at the kitchen table or with the required military service that included barracks poker games and blanket craps rolls. To bring them in, the casino must adapt to their culture. Sponsor eGaming contests on property. Advertise on targeted podcasts; this is what those earbuds are feeding into their head. This generation is not watching network television. They are on the latest mobile platform for delivering entertainment.
Dedicated casino social media representatives must continuously be interacting with the target audience. Discontinue the outdated practice of mailing postcards to potential players offering rice cookers and shirts with the name of the casino.
The so-called "millennials" don't want junk. Minimalism is their mantra. What they want are experiences, utilize social media to cobrand events. These events could include whale watching/booze cruises, co-ed volleyball tournaments on the beach, or perhaps parties on that beautiful outdoor rooftop space.
Communication must be electronic and via mobile. That is what millennials pay attention to. They are not running to the mailbox looking for a postcard.
Change Antiquated Thinking – Make it Instagrammable
Change antiquated thinking. Las Vegas man about town Scott Roeben, the host of the Vital Vegas podcast has bemoaned the casino prohibition on casino photographs. He is 100% correct. It is a ridiculous prohibition. Nothing wakes a dealer from a dead game more than the sight of someone holding a phone to snap a photo of grandma sitting at a nearby slot machine.
Taking a picture in all but a few casinos is tantamount to urinating on the craps table. Why in 2019, is this? Ask the casino personnel and they will tell you it is a "privacy issue." What is in a casino that requires such privacy?
Being in a casino is not the same as being in a bordello or an opium den. A casino is a place of entertainment and recreation. Nothing salacious, immoral or illegal is going on. The new generation of players grew up snapping photos. There is nothing they like more than to put out into the electronic universe showing friends what they are doing. These customers crave the instagrammable moment. The casino should not only welcome photos they should encourage it. It is free advertising. All those photos are invitations to the visitor's friend to come and join them.
Technology
Invest in technology. Ocean Resort Casino Atlantic City should have an incredible website. It must be a single location in which the user can access all that Ocean Resort Casino has to offer. Website visitors should be able to explore upcoming shows and special events. Perhaps it can include clips of the entertainer or event.
It should display offers for the next few months, not just for the immediate future. This information gives visitors sufficient lead time to plan a trip. Comp balances should be displayed and recent transactions regarding comps earned and used should be displayed like a bank statement.
If a person wished to make a restaurant reservation, it should only take a few clicks of a mouse.
Finally, for or those that enjoy sports betting there should be seamless incorporation of William Hill data with the ability to make wagers right from the site. Needless to say, an Ocean Mobile app should have the same capabilities. The overriding message is that it is user-friendly.
Dining
Ocean has some hits and misses and some potentially impressive places for dining.
Dining – The Hits
American Cut – Best steakhouse experience in the city.
Dolce Mare – No one ever says anything negative about the restaurant.
Armada – Love the "small plates" and sampling lots of different things.
Districto – Great casual spot.
Zeng Bang Noodle & Sushi – Much better than similar space in nearby Hard Rock Atlantic City.
The Dining Misses
Cereal Town – Sounded like a good idea in theory but in reality, not too many families will pay that price for a bowl of cereal and milk in a generic space.
Café 500 – Even months after opening there are constant customer complaints of poor, and dreadfully, slow service.
Pit Boss BBQ – The name is fantastic, the food not so much. The InveterateGambler only visited once, but that was enough not to have a desire to go back. That is too bad the casino floor location is great.
Dining Potential
Rocco's Italian kitchen – Great concept. Unless there is a drastic uptick in traffic, this is destined to fail. Many of the offerings on display are highly perishable. Discarding food upon expiration is a profit killer.
Wahlburgers – The initial buzz is very good. They have had incredible success in other locations.
Dining – The Future?
The long-awaited buffet has to open as the best in Atlantic City. Ocean should emulate upscale buffets such as Wynn and Bellagio in Las Vegas. Offer a global cuisine with an emphasis on fresh seafood, after all the resort is located on the shoreline. One caveat, forgo the crab legs that the gluttons will pile on plate after plate as if it was their last meal before the electric chair. Perhaps have a separate area to provide diners with a premium option for table side chef carvings or special presentations, as they do at Bellagio.
Do you have ideas to improve Ocean Resort Casino Atlantic City?
Let us know, visit the TravelZork Facebook Group, tweet your thoughts to TravelZork, or comment below.