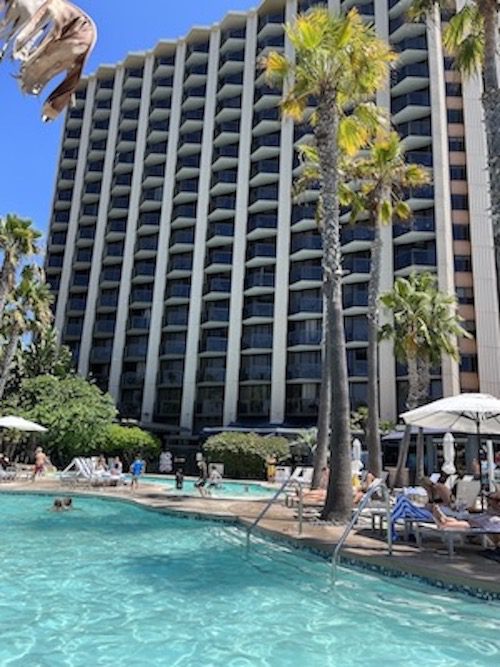 Resort properties can be a crapshoot. They typically have every amenity under the sun but, given the volumes that they run, it is next to impossible to provide the service levels to keep every guest happy. Which is why we were pleasantly surprised with a stay at the Hyatt Regency Mission Bay Spa Resort in San Diego. It was a well-staffed property that never ran out of pool chairs, had knowledgeable front desk associates and plenty of activities to keep our kids busy.
Ours was a multi-generational trip with grandparents, parents and four grandkids, ranging from 5 to 13. The property fit everything that we were looking for: close to downtown, pool and waterslides and reasonably-priced. It was more a process of elimination than anything else.
Booking the Hotel with Hyatt Privé
I assist Michael Trager at TravelZork Travel and took advantage of the additional benefits that the agency offers through the Hyatt Privé program, which offers extra perks when you book through a participating travel agent. Prices are typically the same as the standard rate that you'd find at Hyatt's website (although there may be a lower promotional rate, such as a AAA rate, which would come without additional benefits), but come with the following amenities (which are pretty standard for the program):
Complimentary daily full breakfast for two
A $100 resort credit per room (once per stay)
Free WiFi
Upgrades in advance, early check-in and/or late check-out. These are all based upon projected occupancy, but you can request any of them within 24 hours of booking, meaning that the hotel may be able to guarantee you an upgrade if it projects lower demand.
We booked five rooms and, while I have Globalist status and would have received the breakfast anyway, I was the only one. The resort credit was a bonus for everyone. Our rate was $379 per room, with a $35 resort fee plus taxes.
The hotel is a bit off the beaten path, on Mission Bay. It's a few miles from Sea World and 5-7 miles from most of the major San Diego tourist sites. A safe bet is that a one-way Uber trip into San Diego is going to run $15-20.
Check-In Was Flawless
I hate the feeling of having to fight for the benefits that I'm entitled to, so it was a major bonus when the Hyatt Regency Mission Bay representative checking me in was able to explain to me in detail what we were entitled to, going so far as to note that the tip was included in the breakfast and that we didn't have to add a gratuity on top of it.
A few of the rooms had been upgraded to suites in advance and everything had been noted. There was one small issue with rooms that were supposed to have a connecting door that didn't, which initially caused some angst, but the agent was later able to find us appropriate rooms and gave us a small resort credit for service recovery. Dear every other hotel in the world: That's how you should do it!
At check-in, all guests receive a coupon for one free hour of kayaking or paddle boarding. They're only good for the singles, though, so if you are doing a larger boat with two people, you'll still have to pay. Rentals start at $35 per hour.
The Rooms Are Attractive
I had previously read online that the rooms were older, but they looked new to me. The "wood-like" walls were a bit dark for my tastes, but the rooms were large, the furniture was in great shape and the bed was one of the most comfortable that I have ever slept in. We all had balconies with a small table and chairs, and the view from any side of the hotel was particularly good.
I'd describe the bathrooms as "adequate." The standard rooms had a combined bathtub and shower, while the suites had showers, which had notably good water pressure.
Three Small Pools and Waterslides
The pool was one of the major draws for us. While there was no designated "child pool," it quickly became apparent that the small one with the mini-waterslide was for the littlest children, while the largest of the three was for everyone. The pools were a bit smaller than they looked on the website and there weren't a ton of adults in them, outside of those that were swimming with their children. The two "bigger" slides weren't enough to keep my teenagers entertained for long, but their younger cousins had a blast. I'd say that kids under 11 or 12 would get the most enjoyment out of the slides and pools.
There was not much in the way of staff by the pool. That's not an issue in the bigger pool, but could be, elsewhere. Those of us who had lounge chairs by the small pool could count on getting splashed by a child doing a cannonball every five or ten minutes. Likewise, the hot tub usually had as many children as adults in it, and by "children," I mean kids who looked as young as 4 or 5. For the most part, the kids behaved, but I was surprised to see so many youngsters there.
Despite these minor inconveniences (This is a family resort, after all.), we spent almost all of our free time in the pool area. They never ran out of lounge chairs while we were there and had a good mix of those in the sun and the shade, along with plenty of umbrellas for those of us who like it cooler.
One nice touch for the kids: There was a "kids bar" next to the pool which served complimentary drinks for children (or adults acting like children). Okay, it wasn't the best Shirley Temple that I've ever had, but it was free, and that really says it all.
Restaurants Are Good, But Sparse
Because of the hotel's location, if you don't have a car, you are mostly going to be limited to the restaurants at the hotel, Red Marlin and Pelican's on the Bay. Red Marlin is a full restaurant serving breakfast, lunch and dinner, while Pelican's is the poolside cafe which served lunch and dinner.
Red Marlin was fantastic. There's no other word. 10 people ate there for breakfast every day for a week and nobody ever had a single complaint. The menu had a great variety and the food was excellent. Healthy? Try the avocado toast or granola and Greek yogurt. Not so much? The chocolate chip and banana pancakes are the way to go. Even though the tip was included, service was great (and the servers always circled the gratuity on the bill to make sure that we knew it was included). The one dinner that we had there was also very good.
We never did find out exactly how much of a breakfast credit we received per room (We got different answers from three people as to the dollar amount.) but there was nothing on our bill at the end and nobody felt a need to economize.
Pelican's Bay was decent, not great. We didn't think that the menu had as much variety as Red Marlin and the prices were slightly higher, although they were certainly reasonable for a resort property. One plus: The fruit bowl on the menu was so big that we had leftovers and the salads were good.
Other options: There's a small fish shack behind the hotel, which has excellent clam chowder, as well as a general market with a licensed Starbucks and sandwiches. It's nice if you are in a pinch. And, of course, we live in a world where there are really no restrictions on what you can eat because of delivery. There is a grassy area with tables and chairs, so you can take your dinner outside.
Stuff to See and Eat in San Diego
We spent an entire day at the San Diego Zoo and still didn't get to see everything that we wanted to. It's a bit of a labyrinth and you will do a lot of walking, so be sure to wear comfortable shoes, but the kids had a great time and the entire staff, particularly the volunteers, really made the trip special.
The zoo is located at Balboa Park, an urban park featuring museums (Comic-Con museum, anyone?), gardens and walking trails. It's a great activity for those who have a large group to please, want a full day out in nature or just like to wander.
Snooze A.M. Eatery is an all-day (or sometimes half-day) breakfast restaurant with highly caloric, decadent treats (Yum, bacon and eggs pancakes!). There is almost always a wait, but you can get on the virtual waiting list through their website. There are several locations in San Diego, as well as in other Southern cities, ranging from Charlotte to Scottsdale.
Overall Verdict? A Big Win.
Booking a hotel for a week is always a dicey venture. Choose wrong and you will spend a week telling amusing stories on Facebook about the time that the hotel tried to deliver towels to your room at 2 a.m. Fortunately, we faced no such problems. With a great staff and a decent room product, the Hyatt Regency Mission Bay Spa Resort in San Diego proved to be a winner.
---
Let TravelZork Travel Book Your Next Travel Adventure
*Please visit us at TravelZork Travel to book your next trip, including extra amenities such as complimentary breakfast, a hotel credit, and potential upgrades at luxury properties.
We specialize in Las Vegas, including the newest posh boutique Las Vegas Luxury Property Crockfords Las Vegas. Visit our TravelZork Travel Exclusive Las Vegas Site to see the benefits, as well as the terms and conditions. TravelZork Travel is an exclusive member of the Caesars Travel Agent Program with direct contacts for leisure sales for all Caesars Properties in Las Vegas. You can also easily book Caesars Palace Las Vegas directly via the Caesars Palace Las Vegas website.