After a year of patrons asking for a lounge for high-level players, MGM Springfield finally added one. The space once partially occupied by Starbucks, was turned into the new MGM Springfield Casino VIP Lounge for Mlife Rewards players. It is also intended to increase that attraction of high-rollers, which has been disappointing during the first year. MGM Springfield has listened to its guests, making changes along the way.
RELATED POST – MGM Springfield Continues Improvements – But More is Needed
More MGM Springfield at TravelZork
MGM Springfield | Everything You Need to Know – "Industrial Chic"
[Details and Pics] MGM Springfield Casino Review and Trip Report
Rewards (Loyalty Program) Club Lounges
"Thank you for your level of play." That's what casino rewards clubs (loyalty programs) say – or are supposed to say. The rules for entrance into the VIP Lounges differ as much as the lounges themselves. The amenities inside include some or many of the following: free drinks including top shelf brands, signature cocktails, food – from snacks to upscale entrees and everything in between. Television(s), media connection, bar and/or beverage service. Some even include reserved table games, such as the Aspire Lounge at Mohegan Sun.
MGM Springfield Casino VIP Lounge
Nice Start
MGM has a great knack at keeping true to the Springfield, Massachusetts "industrial chic" theme. Examples include an antique propeller behind the food area, a chandelier of books open facing down (very creative) and food stations are on the perimeter.
This is completely accessible with a ramp, no stairs. The inside of the lounge is very comfortable and one of the nicest looking lounges I've seen. It includes free water and beverages to accompany meat and cheese platters, tiny desserts, and even some mixes of nuts, M&M's and gummy bears. One Kiosk is dedicated for those inside, assorted tables and chairs, comfy couches and two large TV's make this a relaxing place away from the sounds of the casino. Of course, like all casinos in Massachusetts, this area is non-smoking.
MGM Springfield Casino VIP Lounge
Misguided Intentions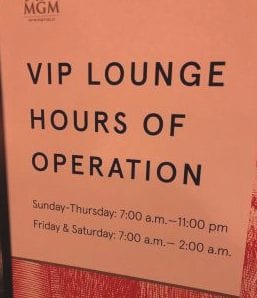 "We are continuously looking for ways to improve the guest experience at MGM Springfield. This exclusive new enhancement for our most loyal and discerning guests will further our growth strategy as the market leader in luxury leisure travel."

Michael Mathis, President of MGM Springfield.


My question is, has Mr. Mathis visited other casino VIP lounges? There are many concerns that Mlife members at MGM Springfield will have.
First and seemingly most discussed is the decision of only allowing Platinum and Noir levels of Mlife available for entry. In a comparison that will be repeated again in this post, Amphora Lounge at Borgata allows Mlife Gold members into this premier lounge on the East Coast. However, we all know that Borgata marches to it's own beat. Springfield's lounge is roughly 1/10th the size. Clearly a lounge as small as that, if open to Mlife Gold members, would always be too crowded to be entertain, feed, quench and provide relaxation and quiet.
MGM Springfield's New VIP Lounge – Amenities
The food provided does not match the MGM expected quality. I would hope they change offerings to add a warm item to the miniature buffet. The desserts are small – I mean tiny! A square of tiramisu was a 3/4″ square, and a taste of chocolate mousse equalled one lick of lollipop. My prosciutto still had the string on, buried inside, which was surprising – and very chewy before I knew what it was. No sit-down bar inside suggests beverage service only. Hopefully that will include orders of high quality liquor not found anywhere on the floor, since the hotel lobby bar opens late afternoon.
Come join the New England Casinos Facebook Group and chat about experiences at our New England Casinos. Feel free to enhance our community with your gambling experiences, casino loyalty program questions, resort experiences and thoughts concerning New England's casino expansion.
Breakfast in the MGM Springfield VIP Lounge?
An interesting question is "will this lounge offer breakfast?" At a property that is so remiss of breakfast options, big players would enjoy and expect that. The lounge opens at 7:00AM every day, and to be honest, a continental breakfast is not going to cut it for whales who are used to visiting other VIP Lounges in New England.
MGM Springfield's New VIP Lounge – Comparisons
As mentioned, these VIP Lounges differ many ways across the board. But, they are one of criteria used to determine the difference between good and great casinos. MGM's VIP Lounge at Springfield does come up short and seems inconsistent as a competitive option. Let's compare some lounges at other properties.
Comparison to another MGM VIP Lounge – East Coast
Amphora Lounge – Borgata. We start here because Borgata is also an MGM property. I would call Amphora glamorous. The food options rival some casino buffets, and drinks include fabulous signature cocktails. Access to Amphora Lounge for player and guest is $12.50 Express Comps per person per visit. The one drawback is that Brunch, Lunch and Dinner are the only offerings – no Breakfast. Amphora is available for Mlife Gold level and up. This lounge is the size of a large restaurant and can easily entertain many members.
Matter of fact it seems Amphora is one of the few MGM VIP Lounges to offer entrance at Mlife Gold, with most at Platinum or even just for Noir. For more info about MGM VIP lounges in Las Vegas, read Mlife VIP Lounge.
New England Casino VIP Lounges
Mohegan – Foxwoods – Twin River
Mohegan Sun and Foxwoods offer the best and most lounges in New England's casinos. Mohegan Sun allows lounge entry starting with the second level (Ignite and Leap Status Levels, midweek access) out of five Momentum tier levels.
Foxwoods offers entry at Platinum, the third of four tiers. All offer cold and hot entrees, top shelf drinks and bars. They are comfortably large and some allow smoking. One VIP Lounge at Mohegan Sun is Asian themed and offers a variety of Asian cuisine. Mohegan Sun lounges use Choice Credits for Ignite, Leap and Ascend levels. Momentum Soar has unlimited access to all the lounges.
Twin River has a VIP Lounge, but the times it is open makes it a non-competitive option to any of the other surrounding casinos.
---
Visiting New England's Casinos?
Curious about casino expansion in our region? Then there's only one place to go – visit us at NETimeGambling! For specific casino details, visit the websites of all seven casinos: Connecticut – Foxwoods Resort/Casino and Mohegan Sun Resort/Casino; Rhode Island – Tiverton Casino Hotel and Twin River Hotel/Casino; Massachusetts – Plainridge Park Casino & Raceway, MGM Springfield and Encore Boston Harbor ; Maine – Oxford Casino and Hollywood Bangor Hotel, Casino & Raceway.
---
"NETimeGambling" is a non-monetized blog created with my own personal interest and passion concerning the gambling industry. I love its history and its ongoing evolution and expansion. Add my love for New England, and you have this blog. Come share my passion and visit us.
The goal of NETimeGambling is to provide a service and resource for any recreational gambler visiting New England's expanding casino market and interested in gambling tips, news, advice and the latest in events, gambling promotions and entertainment.
Follow us on twitter at @NETimeGambling, and on Facebook at NEtimegambling. Come join the New England Casinos facebook group and chat about experiences at our 9 New England Casinos. Feel free to enhance our community with your gambling experiences, casino loyalty programs, resort experiences and thoughts concerning New England's expansion.