Most people think a getaway to Europe has to be expensive and troublesome. If you are willing to make a few simple sacrifices and travel light you can have a great adventure to London for very little expense and logistics thanks to Norwegian Air Shuttle. Norwegian has been expanding their service to London (LGW – London Gatwick) aggressively, and currently serves 89 destinations to London. US cities include Boston, New York, Fort Lauderdale, Las Vegas (yes, VEGAS!), Oakland and numerous others.
While Norwegian is always aggressively priced, they often run specials that are even lower than their usual low one way fares. One example is the recent $99 (well, as low as $95) sale from Boston. Since the focus of this article is executing an inexpensive getaway to Europe we will only focus on traveling using the lowest promotional fare with no extras.
Consistent with most unbundled airline fares, in order to pay the lowest price you need to adhere to specific rules involving carry on bags, seat selection and meals/drinks.
It is also important to note that Norwegian also offers a value oriented premium economy called Premium. We hope to look into this option at a later date.
As I mentioned in Miles, Points and Travel "Habiliments" | Weekly Round Up a few weeks ago : "One of our TravelZork Experts "Guinea Pigs" will be testing and sharing practical advice" on the service from Boston to London. We figured this was perfect "payback" for the "IT-guy." Since, even if totally illogical, it is fun to blame all of our WordPress problems on him. (Yes, I am joking. No I don't "abuse" IT-guys… please, no hate mail from IT folks.)
99 bucks | Really $95.90 LowFare

Norwegian was running a winter promotion. Fares were as low as $95.90 from Boston to London. For reference, the current fare for the February sale is approximately $146 one way. Current winter/spring pricing trends from $325 to $400 for a roundtrip ticket with all taxes and fees. Be aware, this is for LowFare which is the lowest fare class offered by Norwegian. This fare does not include checked bags, seat assignment or meals/drinks.
The key with regard to low fare carriers such as Norwegian is to "chase" the sales and promotions. In addition, you have to understand the requirements of LowFare. For example, a $146 fare can jump to $230'ish if you purchase LowFare+ which includes a ticket with seat reservation, Nice&Tasty menu and checked baggage allowance.
So, the "plan" : find the $150'ish fares on sale for $99'ish and figure out how to not spend on extras. Unlike some low fare carriers, Norwegian offers extensive nonstop service to London; making it the perfect choice for short trips.
a backpack
With LowFare you can have one carry on bag and one small personal item. Not only do these bags have to adhere to specific sizes, but they cannot exceed 10kg (22lbs). This is a maximum combined weight, and they do weigh your bags at check-in. You can still bring most of what you need for a relatively short trip, but you will want to pack only the necessities. In many ways, traveling this compact can be very liberating and allow for easy transport connections upon arrival. In addition, you won't have to wait for checked luggage, so you will be on your way faster. Norwegian uses London-Gatwick (LGW) which is a short train ride (30 minutes+) to London Victoria Station in the heart of Central London via the Gatwick Express. Without a doubt, this is a perfect scenario for a long-weekend trip to London.
Photograph ©2017 David Luke | a Backpack
Norwegian 787-9 Dreamliner | Carry On Bag Rules
a Dreamliner | #FlyTheDream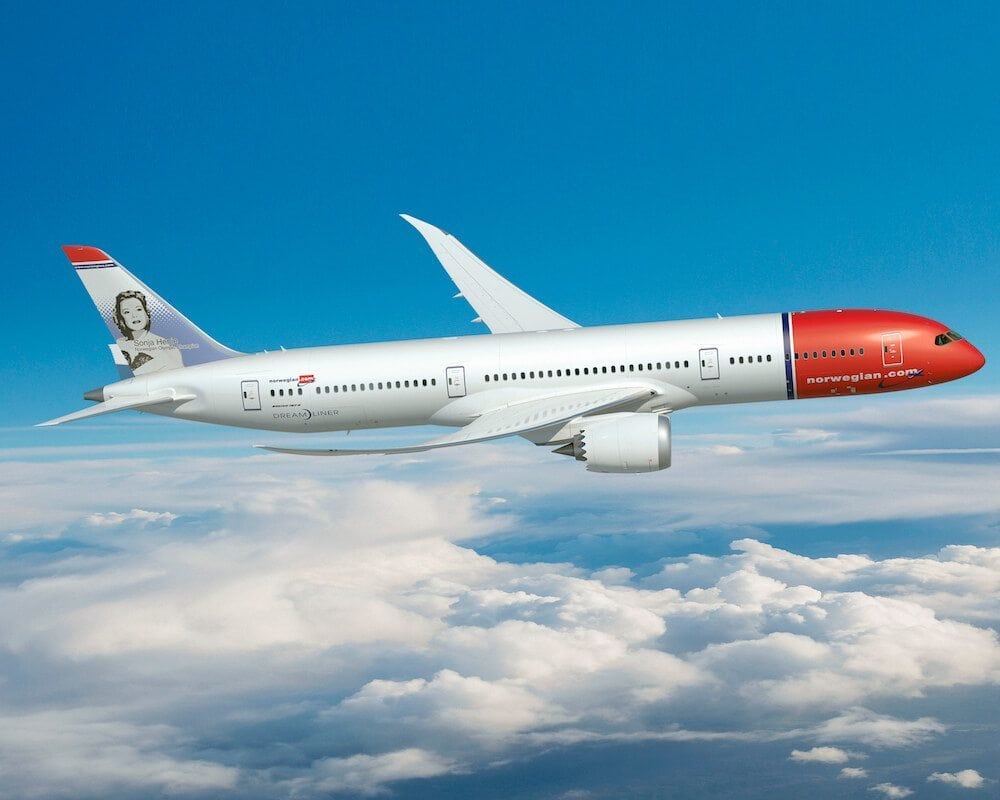 Image Source : Boeing | Norwegian 787-9 Dreamliner
Photograph ©2017 David Luke | Norwegian 787-9 Dreamliner | Check-In at Boston Logan
Arrival at the airport (Boston-Logan Terminal E) for checking in is quite nice as there is a line for Premium, Economy-Checked Bags, and Carry-On Bag Only. The Carry-On line is like the Premium check-in line in terms of speed of the line and process.
The late departure time allows one to keep costs down by eating at home before departing and just grabbing a water and perhaps a snack prior to boarding. In addition, with the short time blocks for USA East Coast to Europe, you can try to get a bit more rest by avoiding inflight meal service.
Photograph ©2017 David Luke | Norwegian 787-9 Dreamliner | LowFare Seats
Photograph ©2017 David Luke | Norwegian 787-9 Dreamliner | LowFare Seats
Photograph ©2017 David Luke | Norwegian 787-9 Dreamliner | LowFare Seat Pitch/Legroom
With LowFare you do not get a seat assignment until check-in, and Dave was fortunate to receive a favorable window seat assignment 31A. Window seats for "short" transatlantic red-eye flights tend to be best, and on the 3-3-3 configured 787 the best option if not selecting an extra leg room seat. Be aware, all seats are a flat price : "We don't charge higher rates to enjoy our seats with extra leg room – so it's best to get in quick and reserve your seat when making your booking. Most of our seats with extra leg room are in an exit row." If you are going to purchase a seat do it as early as possible to ensure the best selection of seats.
Photograph ©2017 David Luke | Norwegian 787-9 Dreamliner | Window
Photograph ©2017 David Luke | Norwegian 787-9 Dreamliner | Seatback Video
Norwegian operates one the of the largest fleets of Boeing 787 Dreamliners. The 787 Dreamliner features include :
fresh air and optimal cabin pressure resulting in less jet lag

65% larger windows than in comparable planes

smart mood lighting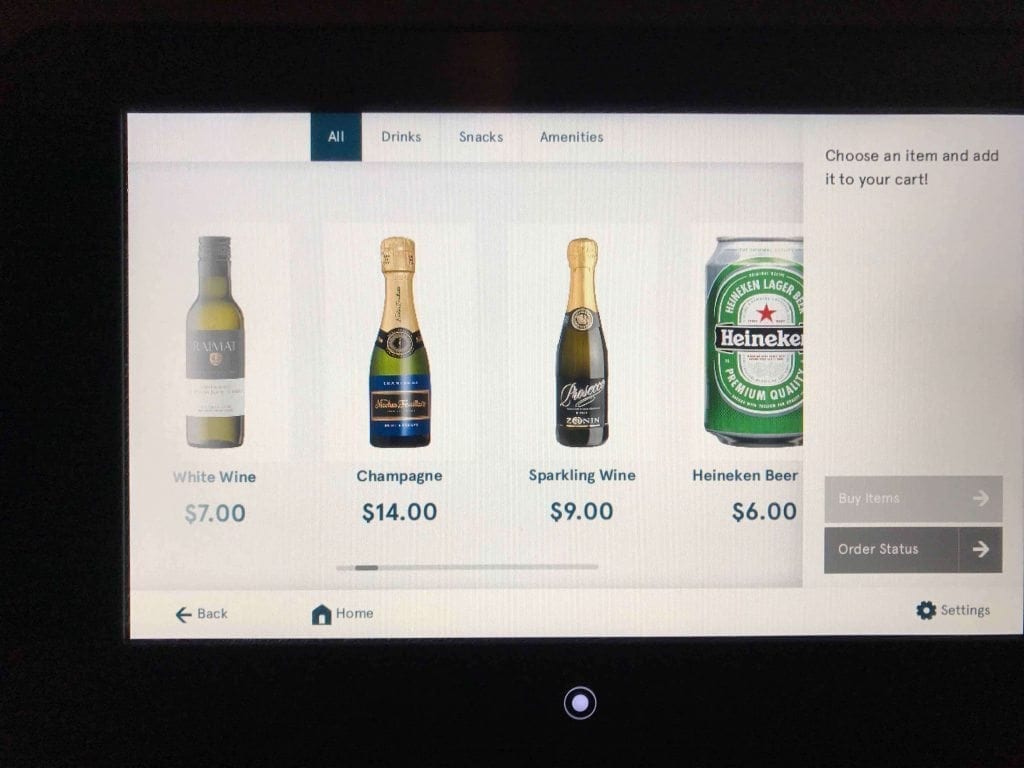 Photograph ©2017 David Luke | Norwegian 787-9 Dreamliner | Beverage Seatback Video Menu
Photograph ©2017 David Luke | Norwegian 787-9 Dreamliner | Menu Payment Processing
Photograph ©2017 David Luke | Norwegian 787-9 Dreamliner | Inflight Prosecco and Fruit
In addition, all seats include a touchscreen entertainment system with movies and TV shows, a power outlet and USB charger right at your seat. You can also purchase and order snacks and drinks directly from your seat. In an effort to share the inflight experience, our associate ordered some fruit and Prosecco for consumption inflight. These systems are nice, since they allow seamless delivery and minimal disturbance by flight attendants. Perfect for a short overnight flight.
One Way
It is important to note that Norwegian prices their flights to/from Europe as a one-way without the requirement of a roundtrip purchase. This can be very convenient in a lot of instances. Perhaps, you are flying to a cruise departing from Europe and sailing back to the United States. Another good use is to position for frequent flyer awards or other fare sales. One might find award availability on a flight in a premium cabin from Europe to Los Angeles, yet they need to get from the USA to Europe and can't find an "inexpensive" award ticket. It is also useful for students or others that have an arrival date but are unsure about their exact return date. Just always be aware of visa requirements and return flight requirements. It is not unusual to be queried for your return flight details when traveling from the USA to Europe as a tourist.
It is easy to see how with a bit of careful planning and packing, one can easily have an inexpensive long weekend or short break in the United Kingdom. Even with add-ons (most notably checked bags), Norwegian still offers competitive nonstop fares and the flexibility of one-way bookings to and from the USA to Europe.