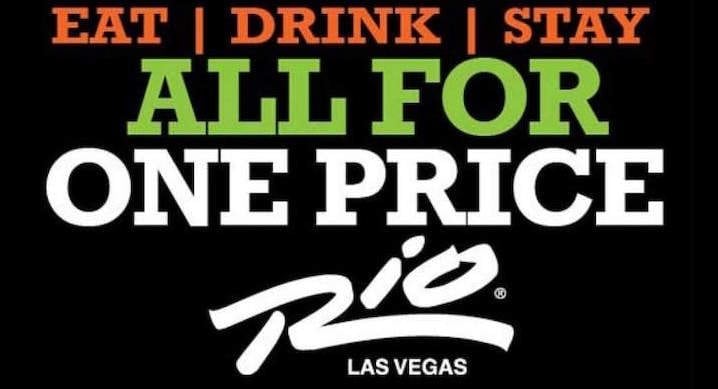 Is TOTAL DEAL RIO Las Vegas A Good Deal ?
In the world of travel hacking, it's all about optimization. All-Inclusive package deals like RIO ALL-SUITE TOTAL DEAL often leave one contemplating, is this actually a deal? While reading the Vegas Bright article by sammasseur Rio Las Vegas Rolls Out All-Inclusive Concept I was intrigued. Could this be "poor man's" casino-RFB? The package includes your room, meals, drinks and access to VooDoo Rooftop Nightclub for two people.
The package requires that you book for two nights at Rio All-Suite Hotel. The dining has a $250 cap (per day) and is valid at the following Rio restaurants:
Carnival World and Seafood Buffet
All-American Bar & Grille
Hash House a Go Go
Sports Deli
Even though the daily food cap is decent, you will note that there are no fine dining options on the restaurant list and room service is not listed as an option. You are instructed to charge your food to the room folio, and the amount (up to $250 per day) will be deducted.
You also get 12 drinks per person at all the property's bars and lounges, per day that are tallied on a punch card presented to your server. The only restrictions for the drinks are that they are not valid at Purple Zebra or Showroom Bars and that well and domestic products are included, but does not include super premium products. My hunch, is that most brands will be available because of the specification of "super-premium."
It's important to keep in mind that the offer is non-refundable and is non-transferable, unlike most room rates that can be cancelled within 72 hours of arrival.
Related: Hotel Review: A Couple Nights In A Rio Classic Studio Suite
The Math behind TOTAL DEAL RIO Las Vegas
Hotel Room Value (2 nights) : $82.00 (Based on current semi-annual sale rates)
Food Value (2 nights) : $500.00 ($250 per day)
Drink Value (2 nights) : $240.00 (48 drinks (24 x 2 days) at $5 per drink)
VooDoo Value (1 visit) : $40.00 (Based on weekday non-locals rate of $20 per person)
Total Value (if maximized) $862.00
I made a number of assumptions, such as using $5 as an average drink price (I believe this is on the low side) and that you would only visit VooDoo Rooftop Nightclub one time. It should be noted, that with the free admittance to VooDoo Nightclub and also the ability to use your free drinks this would be a rather inexpensive Vegas club experience. Even with limitations on available drinks (using this program) I believe that drinks would easily exceed $5 per drink at VooDoo. Another great use would be drinks at the pool. These are also often far in excess of $5 per drink, and would make for a rather economical pool experience.
But I am Diamond (or Diamond-Lite)
An interesting additional value proposition is if you can get the resort fees waived. This is only the case for Total Rewards members who have achieved at least Diamond Status. In most cases, these folks get their rooms for free (COMP), especially midweek. But, what if you qualified for Diamond via FoundersCard? In that case you (Diamond-Lite in desire of "poor man's" casino-RFB) might not have access to comp rooms since you haven't met the play requirements or just received the status. Is it worth considering joining a membership program like FoundersCard if you plan to stay at Caesars properties such as RIO? It might be, since you would also receive a $100 additional dining credit and waived resort fees. This one stay would allow you to recoup at least $160.00 in value for joining. Another angle, would be that you have access to the Diamond Lounges which have free drinks in Vegas but limited hours. You could save your package drinks for the pool, nightclub (VooDoo) and after hours (while not gaming, when drinks are free) and get additional beverages and snacks at the lounge.
Good Deal? Maybe
Considering the two day deal will set you back $454 (with resort fees), if you deduct the hotel value ($82) you basically need to extract about $375 in food and beverage benefit over two nights to break even. For those that plan on a two day jaunt to RIO (perhaps for some pool and relaxation time) this is rather low-risk if you drink alcohol. If you are a non-drinker, there is a lot less value proposition and you would most definitely have to maximize the $500 food credit. Most interesting to ponder is if Caesars will expand this deal to their other properties. This does seem to be a test-case (deal is only good in April and May 2017), and RIO is not the optimal property for a Las Vegas visit if you desire to be on the strip. (Also see : RIO LAS VEGAS – SHUTTLE TO THE STRIP ) I could definitely see more interest if the deal was available at a strip property, even more so if the benefits could be used between several Caesars properties. Would be pretty cool to wander Caesars properties on the Vegas strip with your "free drink" punch-card.