My First Joël Robuchon Experience
A few years ago I took our family to Vegas. As a surprise for my wife and daughter, I bought them VIP tickets to see Donnie and Marie. They were completely over the moon as my wife has loved Donnie Osmond since she was 8 years old. They both watched Dancing With The Stars, rooting for both Donnie and Marie with heartfelt enthusiasm. This was the kind of gift that made the giv-er and the giv-ee equally happy. Me, you couldn't drag me to a Donnie and Marie show with a herd of horses and a cattle prod, so that meant I had an evening to myself in Vegas. So, I treated myself to a solo dinner at Joël Robuchon at the MGM Grand, the only 3 Michelin star restaurant in Vegas. It was a very spendy affair, coming in at nearly $700 after wine pairings, tax and tip. It was also one of the best 3 meals I ever had in my life. Have a look at the menu I experienced below.
Joel Robuchon Menu | ©2016 Steve Kaye
2016 – Let's Try L'Atelier De Joël Robuchon
Fast forward to Fall 2016 and I was going to be in Vegas again. I was planning dinner with a long-time friend and business associate. I Googled up Joël Robuchon and hunted down the current pricing. Whoa! I mean really "WHOA!" The Tasting Menu was now priced at $445 and wine pairings were $295, $595 and a mind-numbing $995. I wasn't feeling that flush, so I slid my mouse over to Robuchon's other Vegas outpost – L'Atelier De Joël Robuchon. It's a bit less formal and has 1 Michelin Star. It also features an open kitchen, so you can watch the culinary creations as they come together. I opted for seats at the bar, so my colleague and I could take in the action, and maybe take a few notes to improve our own kitchen skills. I also read through Blackjacker1979's excellent review from last year. A couple of quick clicks later and we were all set for 7:15 reservation on a Friday night.

The Beginning
We were seated immediately at the bar and had a great view of the action in the kitchen. We got a big kick out of the fellow working the station directly in front of us at the center of the photo above. For the entire 2+ hours of our meal, he did nothing else but cut 1 pound slabs of butter into cubes and add them to potato puree along with some heavy cream. The man was a mashed potatoes / pomme puree making machine!
The menu offers a la carte selections, prix fixe choices and a 9 dish Seasonal Discovery Menu. There are also 2 wine pairings available. We opted for the Seasonal Discovery Menu priced at $195 and settled in a for the experience. I spoke with the Sommelier and asked if he could get us a copy of the $995 wine pairings from the other restaurant, but he demurred saying that they didn't have them printed out separately, and tailored them specifically to each diner's taste. Too bad, it would have made for good reading while we slummed it over here at L'Atelier.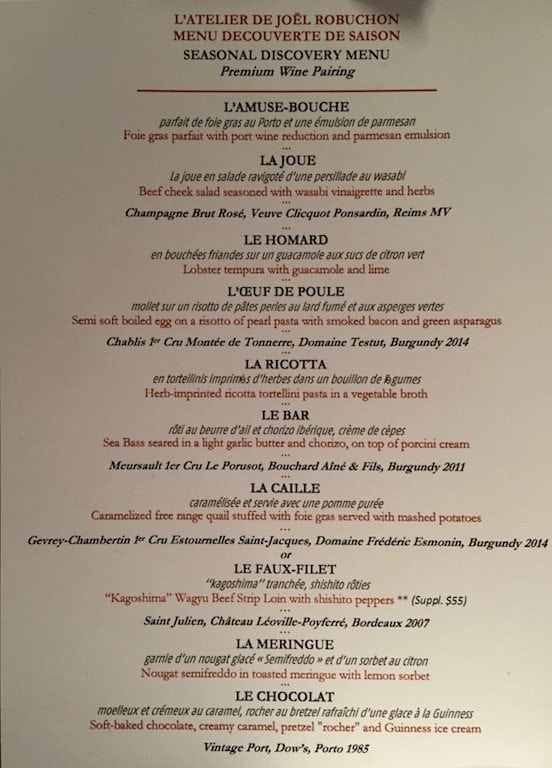 Seasonal Discovery Menu | ©2016 Steve Kaye
The First Half
They started us off with freshly baked bread and butter – a little nosh to take the "I didn't eat all day" edge off. From there things got serious.
©2016 Steve Kaye
The first dish – The Amuse Bouche – was a Foie Gras Parfait. It makes you think for a minute. I went through most of my life associating "Parfait" with dessert. In my mind, it was a fancy word for Sundae and that's really what it is – a savory, layered concoction, but not a dessert. This dish was layers of foie gras, port wine reduction and parmesan emulsion served warm to hot. You ate it with a spoon and made sure to capture all 3 layers in each mouthful. 5/5
©2016 Steve Kaye
Next up was a beef cheek "salad" with wasabi vinaigrette and herbs. There was some hard boiled egg on the top and a paper-thin wafer on the top left side. The three perfectly sized veggie slices on top of the wafer were just one of the details to be found in every dish served over the course of the evening. Very pleasant and light, in comparison to the foie gras parfait. 4/5
©2016 Steve Kaye
From beef, we moved to seafood. Lobster tempura with guacamole and lime. This dish was OK. There were 2 small chunks of lobster fried in a batter that was more "fried chicken / shrimp" than tempura. The greens were a good bitter complement with the lobster and guacamole. 3/5
©2016 Steve Kaye
Things got serious with the next dish. A semi-soft boiled egg on a risotto of pearl pasta with smoked bacon and green asparagus. By digging my spoon down through the center, I broke through the egg and released all of that unctuous, runny yolk goodness into the pearl pasta. It was seasoned perfectly and by the time I got to the bottom of the bowl, I wanted to beg for seconds. (Just now it occurred to me I could have asked for it off of the a la carte menu, but that might have been a little much, ya think?) 5/5
©2016 Steve Kaye
Time for soup. Herb-imprinted ricotta tortellini pasta in a vegetable broth. This dish felt over-described to me. Yeah, there were some tiny little noodles with even tinier flecks of herb on their surface. I never picked up on any ricotta, either in taste or texture and the broth was OK. The little, tiny mushrooms were adorable – actually the best part of the dish. 2 of the egg dish and 0 of this one would have been preferable. 2.5/5
The Second Half
Moving back to seafood for this course. Wow! Let me get that in right at the start. Sea Bass seared in a light garlic butter and chorizo, on top of porcini cream. There were two things about this dish that were killer. The fish was juicy and flaky all at the same time. I dabble at cooking and this is not easy to pull off each and every time. Time and temperature are key, but it takes practice, along with an eye and a discerning touch to pull off. The second thing, the crust you see on the top of the fish was amazing. It was thin as a sheet of paper, but crisp and tasty. This is the kind of crust that has me wanting a salamander for my own home kitchen. 5/5
©2016 Steve Kaye
The 2nd entree was carmelized, free range quail stuffed with foie gras served with mashed potatoes. Great dish. Quite rich but not over the top. I can't imagine what it took for one of the brigade to sit there all afternoon, day after day, stuff little medallions of foie gras into the tiny sliced quail breasts, one after the other. On the right side of the picture, you can see a small torchon of the mashed potatoes I mentioned earlier. Hey! Where's my bowl of mashed potatoes? I definitely saw him filling bowls. 5/5
©2016 Steve Kaye
©2016 Steve Kaye
Next came the first of two dessert items. Nougat semifreddo in toasted meringue with lemon sorbet. I wasn't expecting too much from the description on the menu. I couldn't have been more wrong. The exterior was crisp from a careful sear with a torch. The nougat inside was set off from the lemon sorbet and blended in with the crust. It was capped off with decorative bee made from sugar. 5/5
©2016 Steve Kaye
©2016 Steve Kaye
The very last bit was Soft-baked chocolate, creamy caramel, pretzel "rocher" and Guinness Ice Cream. At this point I knew it would be more than I can handle so I sampled a bit of everything. It was all incredibly good, but I was past the point of full and couldn't really do it justice. Still, amazing stuff. 5/5
Summary and End Notes
Anyone with 3 working taste buds and a credit card should go to L'Atelier De Joël Robuchon at least once. It will be memorable for many and the best meal of a lifetime for some.
A couple of notes:
There was an option to swap out the wonderful Sea Bass for Kagoshima Wagyu Beef Strip Loin with shishito peppers at a supplemental cost of $55. Strip Loin, depending on how it is divided, is sometimes known as Faux-Filet and that's how the menu describes it in French.
They also had another up-sell that was offered. White truffles could be shaved over any dish for $20 per gram.
That Egg and Pearl Pasta Risotto dish was a killer. My chef friend, Norm King, whipped up a home version that all of you foodie / aspiring chefs can try for yourselves.
And Finally, Making the Check Pay Me
The check for myself came out to $508.31 including food, beverages and tax. To maximize this spend I gave them my Mlife card which yielded me ~12,500 tier credits (25 tier credits per $1) and paid the check with my Chase Sapphire Preferred card which yielded ~1200 Ultimate Rewards point (2X for travel/dining).
L'Atelier de Joël Robuchon is located on the MGM Grand casino floor next to Cirque Du Soleil's KÀ theatre.