Just another day in Las Vegas yesterday (Friday) started at El Cortez around noon and ended a Bally's around 14 hours later. Spending days and nights with people who don't live in Las Vegas is a blast. Everything seems so new and fresh. It's great to see Las Vegas through the eyes of people who visit only a couple of times a year.
The crew of friends visiting Las Vegas this weekend are like most people who fly to Las Vegas. They get around by foot, taxi or rideshare service. They don't drive in Las Vegas and aren't concerned about the big news in Las Vegas. The fact that casino operators are charging for parking will never affect them. It might affect the local resident writing this, but hasn't yet.
Caesars To Charge For Parking On The Vegas Strip
Last week Caesars Entertainment announced that they would begin charging for valet and then self-parking. Valet fees will begin on December 19 when The Linq and Harrah's install a paid valet system. The valet fees will roll out to other properties on the Vegas Strip soon. They will begin charging for self-parking at an undisclosed date in 2017.
Valet fees will be different depending on the property that you visit:
Bally's, Caesars Palace, The Cromwell, Paris, and Planet Hollywood will charge $13 for valet up to 4 hours and $18 for 4 to 24 hours. If you stay over 24 hours there will be a fee of $18 for each additional day or fraction or fraction of a day.
Flamingo Las Vegas, Harrah's Las Vegas and The LINQ will charge $8 for valet up to 4 hours and $13 for 4 to 24 hours. If you stay over 24 hours there will be a fee of $13 for each additional day or fraction or fraction of a day.
Caesars Entertainment is keeping us guessing on when and where you'll have to pay for self-park. We do know that locals and Platinum or better Total Rewards members will self-park for free. Platinum members can also valet for free.
Rio is not on the Vegas Strip and will not charge for any type of parking. You can find more information on parking fees here and here.
Wynn To Charge For Valet, Not Self Parking
Wynn made their paid parking announcement shortly after the Caesars message. Rates to valet at Wynn and Encore will be $13 for the first four hours, $18 for four to 24 hours. Self-parking will remain free for the time being at both casinos.
Wynn and Encore have two of the most easily accessible parking structures in Las Vegas. If there are two casino parking garages worth paying to park, it's Wynn and Encore. That being said, they won't be charging for self-parking…for now.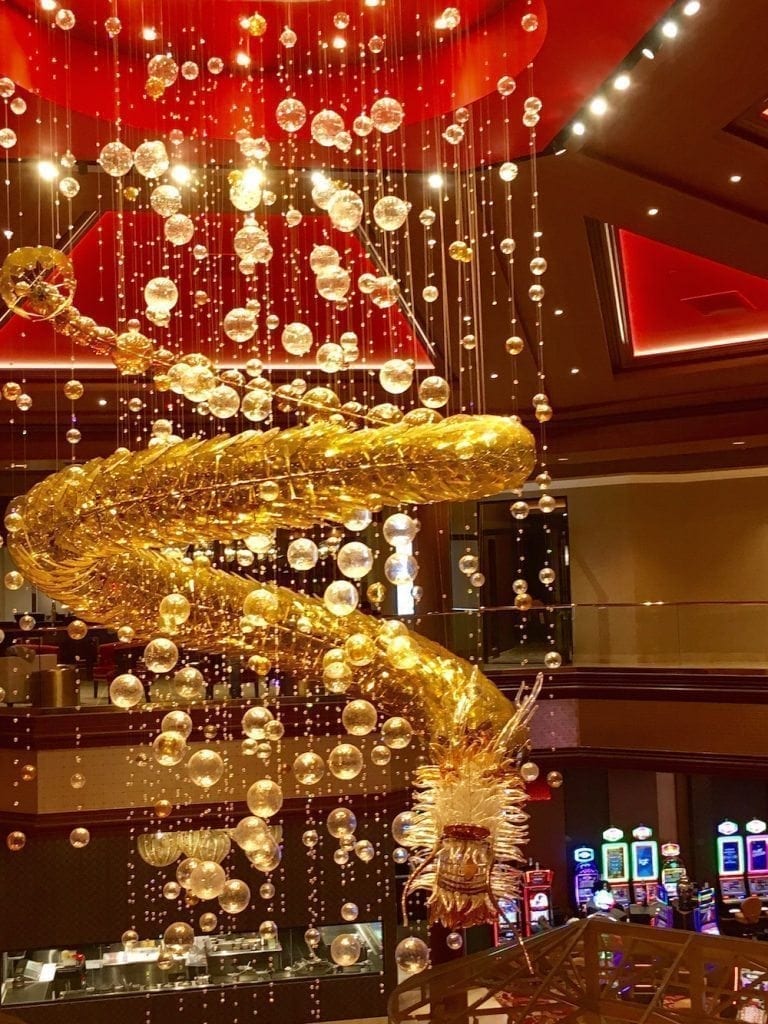 Photograph ©2016
Marc Meltzer
| Lucky Dragon Las Vegas 拉斯维加斯威龙赌场度假村
Lucky Dragon & W Hotel Now Open
The W Hotel (at SLS Las Vegas) and Lucky Dragon celebrated their Grand Openings over the weekend. As you may have read during the week I was able to spend a day and night at Lucky Dragon during their soft opening. If you missed any of the posts:
W Hotel Las Vegas is a renovation of a tower at SLS Las Vegas (you can see the preview here). I'll be checking it out tonight and hopefully, have deep thoughts on it coming soon. In the meantime, you can see some pictures from W Hotel before it opened at Vital Vegas.
"National Finals Rodeo sellout streak reaches 300"
The headline by the Las Vegas Review-Journal says it all. You might hear or read about the NFR in Las Vegas being a big deal, but headline this really seals the deal. The rodeo is 10 days each year and has been sold out every night since 1987! NFR Week(s) are bigger than ever before today with just about every casino hosting country music acts almost every night.
Hotel rates used to be inexpensive throughout December until Christmas was over. That's no longer the case as casinos are filling these 10 days with parties, concerts, and anything that would be fun for rodeo fans. December 11-24th should be back to the normal low rates we're used to seeing during the month. Keep this in mind when you're planning a visit next year.
Reba, Brooks & Dunn Sign Extension With Caesars
Speaking of country music, the combination of REBA BROOKS & DUNN: TOGETHER IN VEGAS signed an extension for their residency with Caesars Palace Las Vegas. The country music stars have a dozen more shows at Caesars Palace next year: June 21, 24, 25 and 28; July 1 and 2; Nov. 29 and Dec. 1, 2, 5, 8 and 9. If you're a country music fan expect to see even more big performances in 2017.
You're About To Get Rick Rolled
I guess telling you that you're being Rick Rolled sort of defeated the purpose. Anyway, Rick Astley is touring next year. Who knew?! Rick Astley is playing Las Vegas on January 21, 2017. The show is at Pearl Theater at the Palms. This is a bigger venue than I expected he would be playing.
MGM Resorts Takes EasyPlay Slot Tournaments Out Of The Casino
Earlier this year MGM Resorts started online slot tournaments while on property. The initial release of the easyPLAY online gambling platform came with a lot of hoopla (read: MGM Resorts International easyPLAY® Pushes Gaming Forward). Last week they quietly made the online slot tournaments available throughout the state of Nevada. While this might not be a big deal today because of the specific game, it could lead to more online gambling from MGM Resorts in the future.
When I wrote "There's No End In Sight For MGM Resorts' Growth" earlier this year I discussed the potential of MGM resorts online gambling growth in Nevada. The acquisition of Borgata brings new and successful online gambling partners. It would not be surprising to see some major moves in this landscape for MGM Resorts in 2017. Online poker would be the easiest partner to bring to Nevada. They could also initiate discussion of more legal online gambling like video poker, blackjack, etc.
TravelZork features you don't want to miss!

Please join the thousands of people who read TravelZork every month! Sign up here for one email per week updates. (Email is sent weekly on Monday at 13:00 (1pm) Eastern Time, and includes our popular Sunday News series)