"Shakedown in Las Vegas? Never."
The New York Post is reporting that hotel room rates during the Consumer Electronics Show (CES) in 2018 will continue the trend of "insane room rates" during CES in Las Vegas. You may remember (Vegas News March 5) that the average daily hotel room (ADR) rate in Las Vegas set a record high in January.
The average hotel room price for the month of January was $150.21. As always, Las Vegas was packed for CES and hotel room rates during the week of the expo were through the roof. It appears 2018 will bring another spike in prices. The increase of 3.7% from 2016 room rates doesn't seem like very much on the surface.
However, the all-in price for a Las Vegas hotel may explode next year. The ADR doesn't include resort fees, parking fees, and taxes. More casinos will be charging for parking by 2018 and existing fees may increase. We've already seen resort fee increase once this year. Two new room taxes to pay for an eventual football stadium started earlier this year.
The Consumer Electronics Show is January 9 through January 12 in 2018. You might want to avoid Las Vegas during CES unless you have to be in Las Vegas. You can find more information at ces.tech. Conventions and large meetings often affect hotel room prices in Las Vegas. Visit Vegas Means Business for a list of conventions. The larger the convention, the higher room prices should be.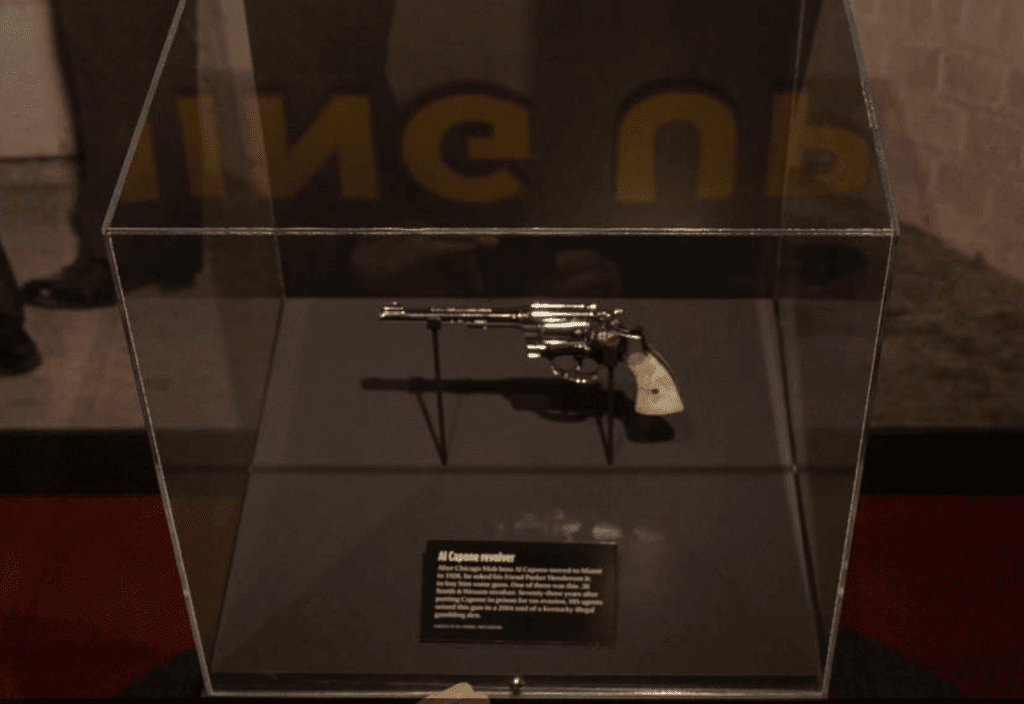 Image Source : Bridget Bennett/Las Vegas Review-Journal @bridgetkbennett | Revolver believed to have been seized from Al Capone, at the Mob Museum downtown Las Vegas.
Speaking Of Shakedowns…We Have News From The Mob Museum
Okay, there wasn't a need for a shakedown…this time. The Mob Museum in downtown Las Vegas will receive $6.5 million in upgrades over the next year. The Las Vegas Review-Journal says they will add three new exhibits: "Organized Crime Today," "The Crime Lab" and "Firearms Training Simulator."
The 2-hour plus tour time is a bit much for me but the Mob Museum is a popular attraction and attendance continues to rise. In its first year of operation, approximately 200,000 people visited the museum. That number has nearly doubled over the past five years. In 2015 350,000 people visited the Mob Museum. If you're looking for something different to do and a couple of hours of air conditioning during the summer you might want to head for a tour.
Related: Las Vegas | What Is A City Without It's Culture?
Neon Museum Expands
http://www.cbsnews.com/common/video/cbsnews_video.swf
You may have seen the Neon Museum in the news recently. The museum recently started an expansion that was granted in part by the city of Las Vegas. They'll be adding space and more sweet neon signs. According to NBC Las Vegas, the museum will add 30-40 signs. They've already added signs from the Riviera, Las Vegas Club, and the Spearmint Rhino. Nothing says Vegas Baby(!) like signs from two classic casinos and one from a strip club!
Breaking News (Saturday)
Bellagio Robbery: By now you've probably heard that the Rolex store at the Bellagio was robbed over the weekend. There are too many conflicting reports as I write this so I'm not going to deep dive on the topic. Here's the early story from the Las Vegas Sun and an update from KNTV that one person has been arrested.
Shooting On The Vegas Strip: There's currently a person barricaded on at bus near the Cosmopolitan on the Vegas Strip as I edit this article. CBS Las Vegas seems to be updating the situation here.
City Center Dubai Coming Soon!
Okay, it won't be called City Center but MGM Resorts International has won a bid to build a luxury hotel complex in Dubai. The 26-acre property will be situated on the Jumeirah Beach and include three separate hotels, MGM Hotel, MGM Residence, and Bellagio. Unlike City Center, there won't be a casino built as part of this project. Information is limited, and you can read the press release here.
Phase One Of Palace Station Renovations Underway
Last year Eater unearthed plans for a major renovation at Palace Station. Shortly after that post I was able to vaguely confirm those plans with an official at Station Casinos. Well, Red Rock Resorts/Station Casinos has quietly moved ahead with the first phase of those plans.
The first phase which includes a new Bingo Hall, valet area, and cosmetic upgrades started last year. This phase of renovations should be complete by late spring or early summer. You can read more details at the Las Vegas Sun.
Quick Hits:
Caesars Entertainment Officially Offers Pay Charging Things: This started last year but I guess it's official now that there's a press release. You can charge your phone in some new slot machines and at many new bars. There's no reason to pay the casino operator for charging.
LAX Nightclub At Luxor Is Closing: This has been a rumor for a while but the nightclub has given notice that the last night will be April 1. You can read the letter here.
Sbe Merging With Hakkasan: I feel like this merger of hospitality companies dealing with hotels, restaurants, and nightlife will be a medium-sized deal in Las Vegas once it all sorts out. You can read about the two companies here.
Ultimate Whisky Experience: This high-end whisky shindig will happen at Encore April 5-8. Tickets are expensive but could be a good value is the price range of these tasting pours is correct. You can find more information here.
Rumor Of The Week: Trump May Add Casino To Hotel
This isn't a new rumor. I wrote about the Trump Hotel potentially adding a Trump Vegas casino last year for another website. Forbes is bringing the rumor back again. #FAKENEWS maybe.
Related: Atlantic City | TBT | You're FIRED! TRUMP PLAZA, Atlantic City CLOSES!
TravelZork Happenings
Want direct access to casino news, casino reviews, narratives, loyalty programs and video poker? Visit our casino/Vegas section directly at CasinoZork.

Please join the thousands of people who read TravelZork every month! Sign up here for one email per week updates.
(Email is sent weekly on Monday afternoon Eastern Time, and includes our popular weekly Vegas news series) All verified subscribers are entered into a MONTHLY contest to win a $50 eGift card.
As long as you remain subscribed, contest is ongoing and you have a chance to win every month.