Vegas News August 29, 2021
Once again, we'll start with a quick COVID-19 update since it isn't going anywhere quickly. Plus it has been a busy July in Las Vegas. Businesses are choosing to give priority to those who are vaccinated against the virus. Last week we told you that the Las Vegas Raiders requiring proof of vaccination for entry to watch games at Allegiant Stadium without a mask. This is a team policy as Allegiant Stadium will allow all guests – vaccinated or not – for other events like the Guns N Roses concert on Friday.
COVID Quickie Hits
This week the World Series of Poker (WSOP) announced it will require all participants to show proof of vaccination against COVID-19. Additionally, all players and dealers will have to wear a mask in order to participate. You can read more details about WSOP's decision here.
WSOP and the Raiders are using Clear Health Pass for verification. Since I don't fly often, I don't use the service. I decided to sign up from scratch to see how the process works since it's free. I may eventually need this for work so this served two purposes.
It takes less than 5 minutes to sign up. In addition to having to scan your vaccination card, you'll have to include photos of your driver's license. I'm all signed up with nowhere to use this thing. Anyway, it's easy to sign up in case you plan on going somewhere that requires proof of vaccination.
Here are a few more COVID-19 vaccination policy updates:
Resorts World Las Vegas hasn't announced a COVID-19 vaccine policy for shows at The Theater because it doesn't open until November. Read more here.
SEMA Show (auto shot) is one of the largest conventions/expos annually in Las Vegas. It hasn't announced a health and safety plan for its gathering in November at Las Vegas Convention Center yet.
AAPEX (more auto) takes place at The Venetian and Caesars Forum during the same days as SEMA and will require proof of a COVID-19 vaccination or a negative COVID PCR test administered prior to arrival. Read more about the auto shows here.
The Electric Daisy Carnival (EDC) will require proof of COVID-19 vaccination or a negative test result within 72 hours before the event. EDC will release info on how to show proof this week. Read more here.

Las Vegas Quick Hits
Enough COVID talk! Let's go right to the Vegas News starting with a little fun at Resorts World Las Vegas.
This week, Resorts World introduced three robo puppies that can be found in the Conrad Hotel lobby. The pups are named Sinatra, Stardust and Elvis. I look forward to checking them out. Read more here.
There are still eight restaurants set to open at Resorts World. Read more here.
Busy July In Las Vegas
As expected from all of the positive teasing during the last run of quarterly casino earnings calls, visitation to Las Vegas was up from June. You can see the full report here.
The big takeaway from the report is that the average daily (hotel) room rate (ADR) was up almost 20% from June 2021 and June 2019. Don't get too crazy…I'll explain in a second.
Similar to visitation, Nevada casinos did big business in July. Read more about the busy July in Las Vegas here.
I think we should expect to see these numbers decrease slightly when August is reported. My barometer for visitation is from my monthly visit to Cosmopolitan. Lines at all the quick-serve restaurants were shorter than they've been since in a few months. Monitoring these lines has been fairly accurate all year.
I haven't had time to dig through this yet but the Las Vegas Visitors & Convention Authority released a mid-year visitor profile since there wasn't a report last year. You can read it here.
Speaking of my visit to the Cosmopolitan, Sangria Hour at Jaleo is a great deal. Check out the menu. While we're on the topic, here's a 2-second tour of my terrace suite.
Superfrico is replacing Rose.Rabbit.Lie at Cosmopolitan. The concept sounds like fun. Read more here.
Sometimes those random tips come true. As we shared last week, the buffet at Luxor will reopen soon. The buffet wil be open again on Sept. 1. You can learn about the buffet here.
The Beatle's "Love" and Michael Jackson "One" finally reopened at The Mirage and Mandlay Bay, respectively. Read more here.
The WynnBet sportsbook app available around the country is now linked with Wynn Rewards. Ironically, Wynn Bet isn't available in the states that have Wynn casinos. Read more here.
The Caesars Sports and BetMGM apps are linked to Caesars Rewards Loyalty Program and M Life Rewards, respectively. If the odds are the same as other sportsbooks, it doesn't hurt to place a bet where you'll get reward points or tier credits to use in Vegas, baby!
Lady Gaga is coming back to Vegas this Octbober with nine performances of her Jazz & Piano residency at Park MGM. Read more here.
The Pac-12 Coast-to-Coast (basketball) Challenge will take place at T-Mobile Arena in December. Matchups were just released here.
The Vegas Loop is looking to add new stations including UNLV. Read more here.
The parent company of Tix4Tonight filed for Chapter 11 protection. Supposedly the restructuring won't impact customers. Read more here. ​​
The Vegas Golden Knights fan fest returns to the Downtown Las Vegas Events Center (across from The D) in September. Read more here.
Jim Gaffigan is coming back to Wynn for more shows in December. Read more here.
Saul "Canelo" Alvarez returns to Las Vegas in November. He'll be boxing a dude named Plant at MGM Grand. Read more here.
The Mint collectibles (sports cards, memorabilia, etc.) show will take place at UFC Apex arena and MGM Grand in January. Read more here.
MGM Resorts has a tailgating/beer garden concept for Raiders games and other events outside of Mandalay Bay and Luxor. Read more here.
The Vegas Knight Hawks will play Indoor Football League games in Hendertucky. Read more here.
---
Also, be sure to join the ZorkCast Group on FaceBook.
This is the Facebook group to continue the conversation from the ZorkCast podcast and TravelZork website. Feel free to start a conversation related to anything TravelZork or ZorkCast.
---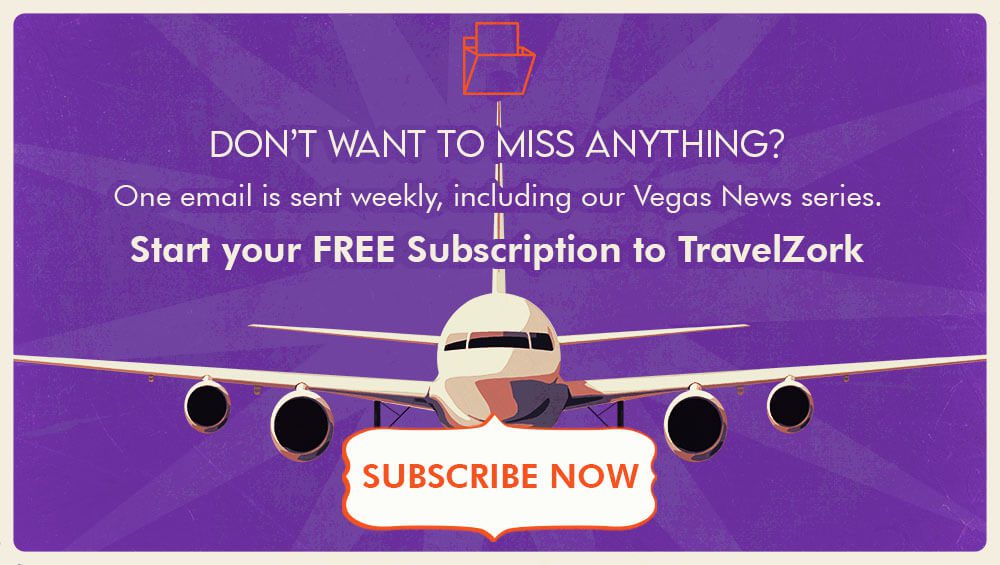 ---