Vegas News July 1, 2023
Welcome to a very special birthday edition of Vegas News! This one will be a doozy since it covers most of June and previews a little bit of July and July 4 Fireworks!
The good news is that the first news item will never get old for some fans of Las Vegas. Even this sports fan that doesn't follow hockey enjoyed seeing so many people enjoying the Vegas Golden Knights.
Enough with the introduction. Let's get to the Vegas News!
You may have heard that the Vegas Golden Knights won the Stanley Cup for the NHL championship. The scene outside of T-Mobile Arena during the series' last game was great. Here it is in case you missed it:
Station Casinos is renovating Green Valley Ranch similarly to what the company did to Red Rock Casino last year. Read more here.
The Las Vegas Convention and Visitors Authority put together a list of things to do during the July 4 weekend. Read more here.
The pools at PLANET HOLLYWOOD Las Vegas Resort were shut down by the Southern Nevada Health District. Read more here.
Guy Fieri's Flavortown Sports Kitchen at Horseshoe/Paris is accepting reservations beginning June 29. See more here.
Awakening
"Awakening" at Wynn is back. Read more here.
When the Vegas Golden Knights were celebrating their Stanley Cup victory at Wet Republic I learned that dayclub has something called a Tot Yacht with a billion tater tots. See the cup, $500 worth of tots, and players below.
The New Plaza
The Plaza reimagination is complete. All of the new venues at the downtown Las Vegas casino are open.
I shared pics and info about the Carousel Bar when I visited during the soft opening. You can see pics and read about the bar here.
Last week I went to the ribbon-cutting ceremony to check out the other new features. I don't go to many media events but I knew this would be something I'd enjoy so I wanted to check everything out as soon as possible.
The smoke-free BC Slots room is nice but it looks like it might be a little tight when busy. That said, it's clean and has plenty of games. You can see a few pics below.
If you're a fan of Brian Christopher, he'll be making monthly visits to the new room at the Plaza.
The 10th Pinkbox location in Las Vegas is now open at the Plaza. I haven't been to one of the doughnut shops since before the pandemic. The doughnuts are as good as I remember and the cold brew was delicious. You can see a few pics below.
During the ceremony, the owner of Pinkbox mentioned they were expanding out of Las Vegas soon. Look for details in the future.
One more item about The Plaza. The property is having a contest to name a showgirl at Carousel Bar. There are solid prizes for the winner. Get more info and sign up here.
I like the additions at the Plaza. It will take some time to get used to the look visually but I'm not too sentimental so I think I'll grow accustomed to it quickly.
The smoke-free room is a great idea. The casino floor at Plaza always feels too smokey. It's great to have a gambling space without smokers.
Pinkbox is a nice addition to the Plaza. Depending on the day it's either open 24 hours (weekends) or opens at 5 am. As an early riser, I love the ability to get my first cold brew before the sun is up. The doughnuts are great and addictive. Consider this a warning about the sugary treats.
Let's get to the rest of the news in and around Las Vegas.

Las Vegas Quick Hits
The Hangover is 14 years old. Just sharing.
Nevada's Governor signed a bill to help fund a new baseball stadium on some of the land where the Tropicana currently stands for the Oakland A's when they move to Las Vegas. Read more here.
The deal isn't complete yet as MLB has to approve the move.
Bally's doesn't have a plan for the non-stadium portion of the land just yet and may not touch the casino for another two years. Read more here.
Caesars finally updated its Nevada sportsbook app to the same tech used around the country. Read more here.
Coincidentally, the company also changed how sports bettors earn Caesars Rewards points. See the tweet here.
The Binions Million Dollar display is back. See the hype video here.
NBA Summer League is one of the best entertainment values in Las Vegas during July. This year the league added NBA Con. Read more here.
I'm unsure if I missed this rumor but I'm sharing it now. Phish might do a residency at The Sphere. Read more here.
Enjoy a fun read from a person who forgot their iPad at Circa and how it ended up in Oklahoma then China here.
Chicken Guy is now open at the Caesars Palace Las Vegas food court. Read more here.
CHICKEN GUY is my favorite restaurant name since JACK POTS opened at Circa.
Lily Bar at Bellagio is closing. The press release didn't have much information but I believe this will become the Bruno Mars Lounge. Read more here.
Taxi prices are going up for the first time since 2015. See specifics here.
The MGM Rewards "gaming day" is now 12a-12a instead of 6a-6a. Just something to keep in mind for those concerned with their ADT or taking part in their point accumulation promotions. See the tweet with the info here.
Bruno Mars added two shows in August to his Park MGM residency. Read more here.
Resorts World made some changes to Genting Rewards. Read more here.
Resorts World Las Vegas launched a new national branding campaign as part of the new branding. Read the press release here.
The casino has been working on this campaign since late 2021 according to its website. If this is true, the company realized the launch campaign was bad after about six months and spent about a year and a half to come up with the new campaign. You can see the ad here.
Jackson Brown is playing five shows at The Venetian in October. Read more here.
The CEO of Wynn Resorts signed a contract extension. Read more here.
Mohegan Sun, the casino inside Virgin Hotels Las Vegas, has a partnership with Virgin Voyages. Read more here.
The Vegas Strip monorail will operate for at least three more years. Read more here.
The Mirage has been fairly active with the types of promotions only locals casinos do in Las Vegas. Check out the slot multiplier for upper-tier Unity rewards members here.
Speaking of The Mirage, I just noticed that the grandstands for the Las Vegas Grand Prix have space so people can see the volcanos during the race. Check out a screenshot of the rending below.
The last batch of Las Vegas Grand Prix tickets is now on sale. It looks like more than half the sections are sold out. See what's available here.
Hilton Grand Vacations will have a hospitality area at Elara on Harmon. You may know Elara as the time-share hotel in the Miracle Mile Shops that are connected to PLANET HOLLYWOOD Las Vegas Resort. Read more here.
The Sphere Zone of the Las Vegas Grand Prix circuit sounds like fun. Read more here.
You can see a short rendering video or the Sphere Zone here.
It looks like Netflix will be recording a golf event with pro golfers and F1 drivers in Las Vegas later this year. Details are slim but you can read more here.
Construction on the OVG arena being planned for south of Mandalay Bay might start next year. Also, it might not. Read more here.
Ocean Prime Steakhouse is now open. Read more here.
Wynn is having a car show in November. Some cars will parade down the Vegas Strip. Read more here.
Someone is trying to legalize brothels in Las Vegas. Read more here.
A new non-gaming hotel will be built near Allegiant Stadium. Read more here.
Angel Park golf course has been sold. Read more here.
A jewelry store at the Caesars Palace Forum Shops has reopened. Read more here.
Rampart Casino has a "Snowbird Form" so people can temporarily opt out of marketing if a person is having issues with their gambling. See the letter here.
It looks like Raiding The Rock Vault will remain at the Hard Rock Cafe on the Vegas Strip until June 2024. See the tip here.
Enchant Las Vegas is returning to Las Vegas Ballpark across the street from Red Rock Casino for Christmas. Read more here.
Elon Musk might fight Mark Zuckerberg in Las Vegas. Read more here.
On a related note, I'm still waiting to see a schedule of when the new Boring Vegas Loop stations will be opening.
Circa Sports Ultimate Contest Weekend is back in August. Read more here.
Looks like there will finally be some cannabis consumption lounges before the year is over. It appears as though Thrive will be first. This is located near Resorts World and Sapphire. Read more here.
South Point has a $2 million Bingo Extravaganza in July. Read more here.
If you're flush with cash, you can invest in Electric Playhouse's Las Vegas – a venue with "interactive and immersive experiences" looking to open inside the Caesars Palace Forum Shops. Read more here.
Avelo Airlines now flies to and from Las Vegas from cities like Dubuque, IA, and Bend, OR. Read more here.
Everi, the company that makes most of the bill breaker/ATMs in Las Vegas casinos is now working with Inter Miami soccer team. This has nothing to do with casinos today but it's interesting to see what else the company can do. Read more here.
The Onion did a funny about Las Vegas stadiums. Read it here.
Zouk, the club at Resorts World, is expanding to Los Angeles. Read more here.
Caesars is bringing a Lisa Vanderpump restaurant to Lake Tahoe for the first time. Read more here.
There's a thing called Las Vegas Spaceport. Read more here.
You can see some pictures of the Vegas Golden Knights Stanley Cup celebration here.
---
Also, be sure to join the ZorkCast Group on FaceBook.
This is the Facebook group to continue the conversation from the ZorkCast podcast and TravelZork website. Feel free to start a conversation related to anything TravelZork or ZorkCast.
---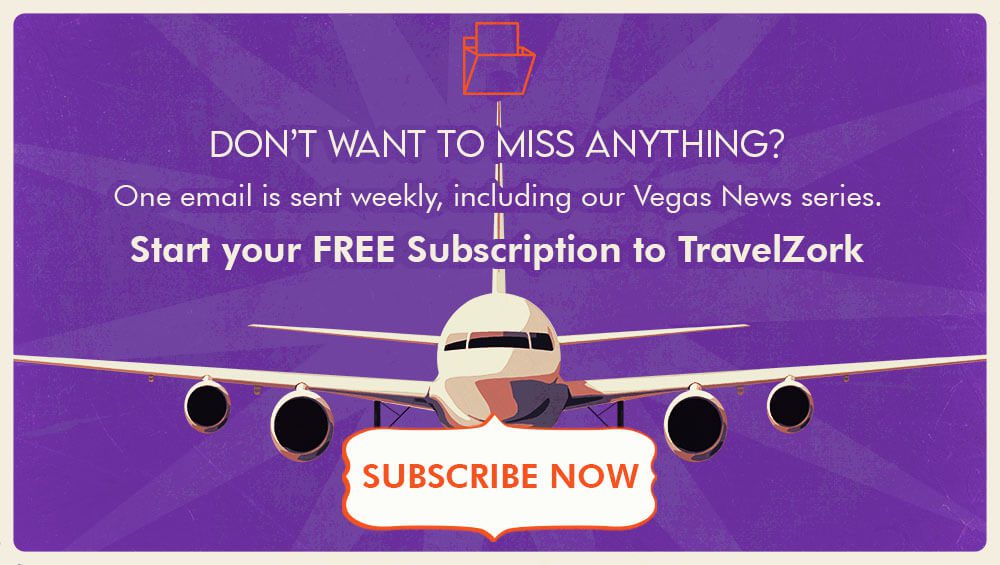 ---